Type 97 "Te Ke" Japanese tank 1/35 scale by FineMolds GuP version
This is a Girls und Panzer rebraneded version of type 97 Japanese tank "Te-Ke" by FineMolds. This is a 1/35 scale.
This tank is specifically crewed by the two protagonists from GuP Ribbon warrior, Tsuruki Shizuka (AKA Shizuka hime) and Matsukaze Rin. GuP Ribbon warrior (manga) has gone much further than any of GuP stories. With over 10+ volumes as of now (2020, May), indeed it has. The manga also portrays much darker side of human emotions.
If you are familiar with Japanese Sengoku era, I am sure you will recognize the crest and the drawing (Centipede). The crest belonged to Takeda clan and the centipede sign was used by an elite unit that belonged to Takeda clan.
Let's not go too off topic though. If you'd like to know more about GuP Ribbon warrior, please check out my article on it.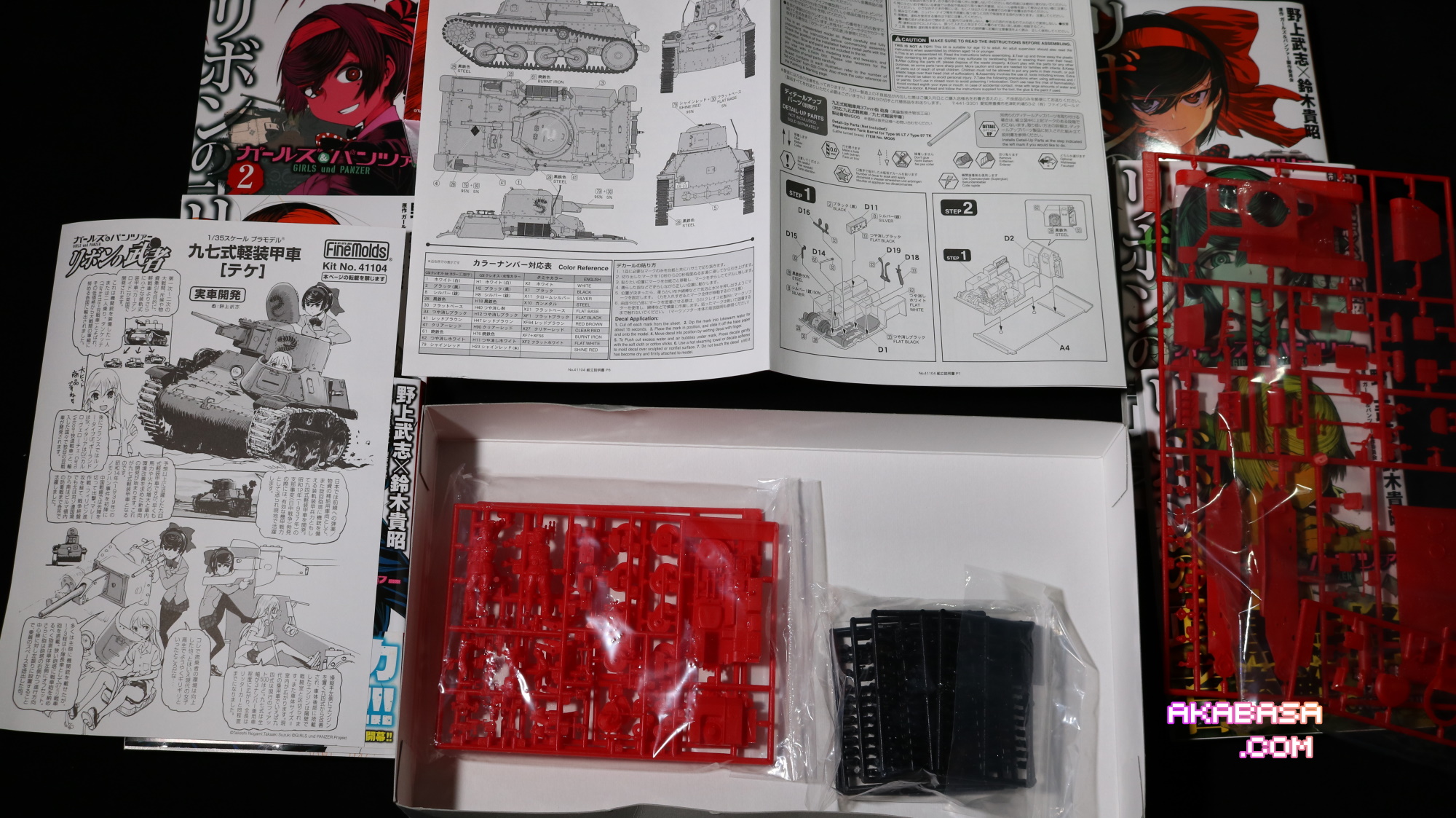 This is a 1/35 scale Japanese type 97 tank by FineMolds. The type 97 tank was a very small tank to begin with, so I fully expect this model to be tiny. I would have loved a 1/16 scale version but beggars can't be choosers.
There are also garage kits for Shizuka and Matsukaze but, for the life of me, I cannot locate neither of it anywhere.
I purchased this box from Amazon Japan for 2,700 yen + 1,600 yen shipping/tax. It was on a heavy discount which was why I purchased it. Sadly, the box arrived crumbled. Its content was undamaged though. As with every GuP rebranded tank kits, it also comes with a comic page explaining few things about the tank in question.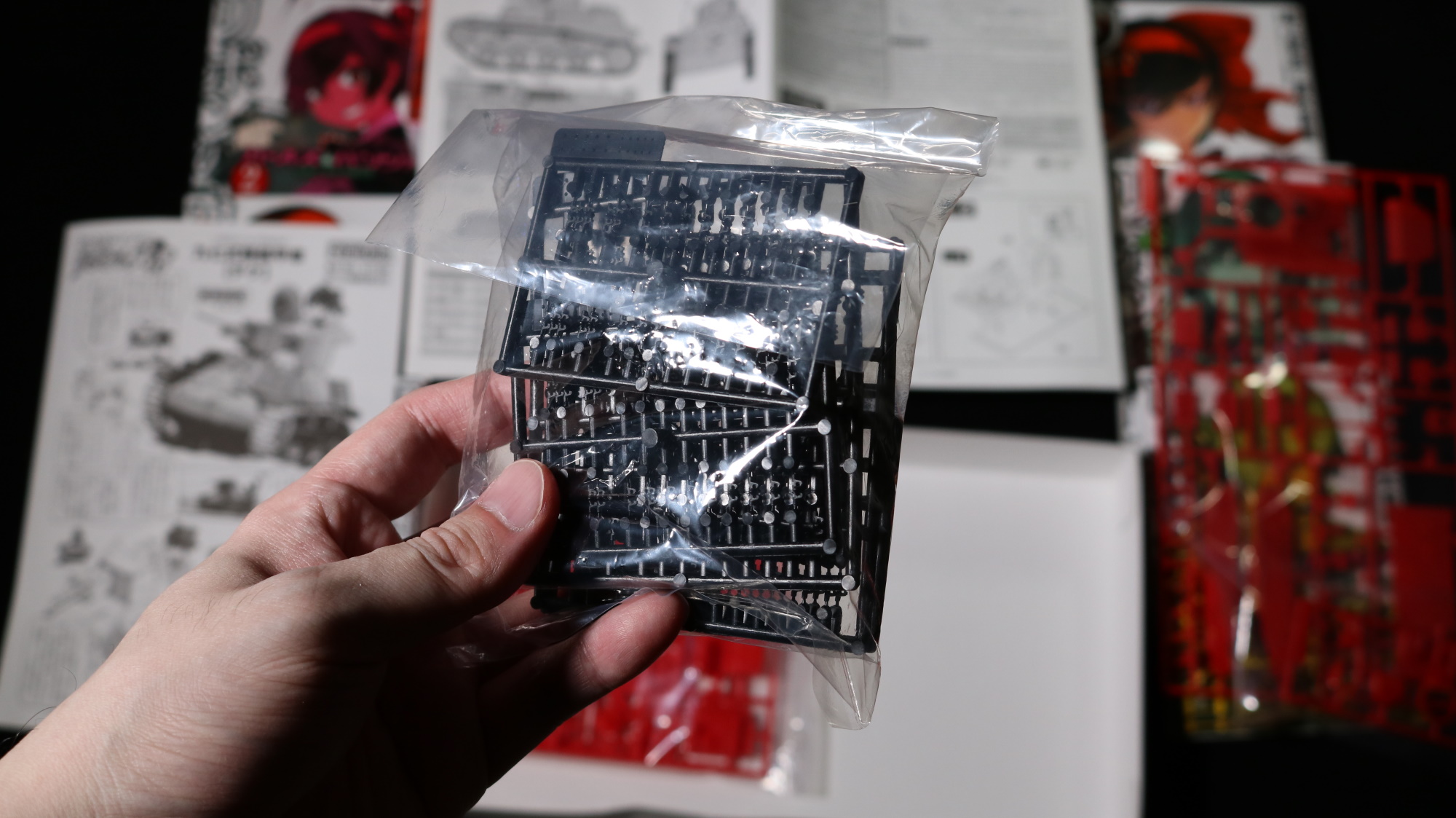 Ooof, manual tracks, this is gonna hurt (my fingers and neck). But manual tracks do look far better when assembled and painted. I feel it is also important to mention that this is a simplified kit. There are not many parts in the box and a lot of things are molded together already, so the build didn't take that long overall.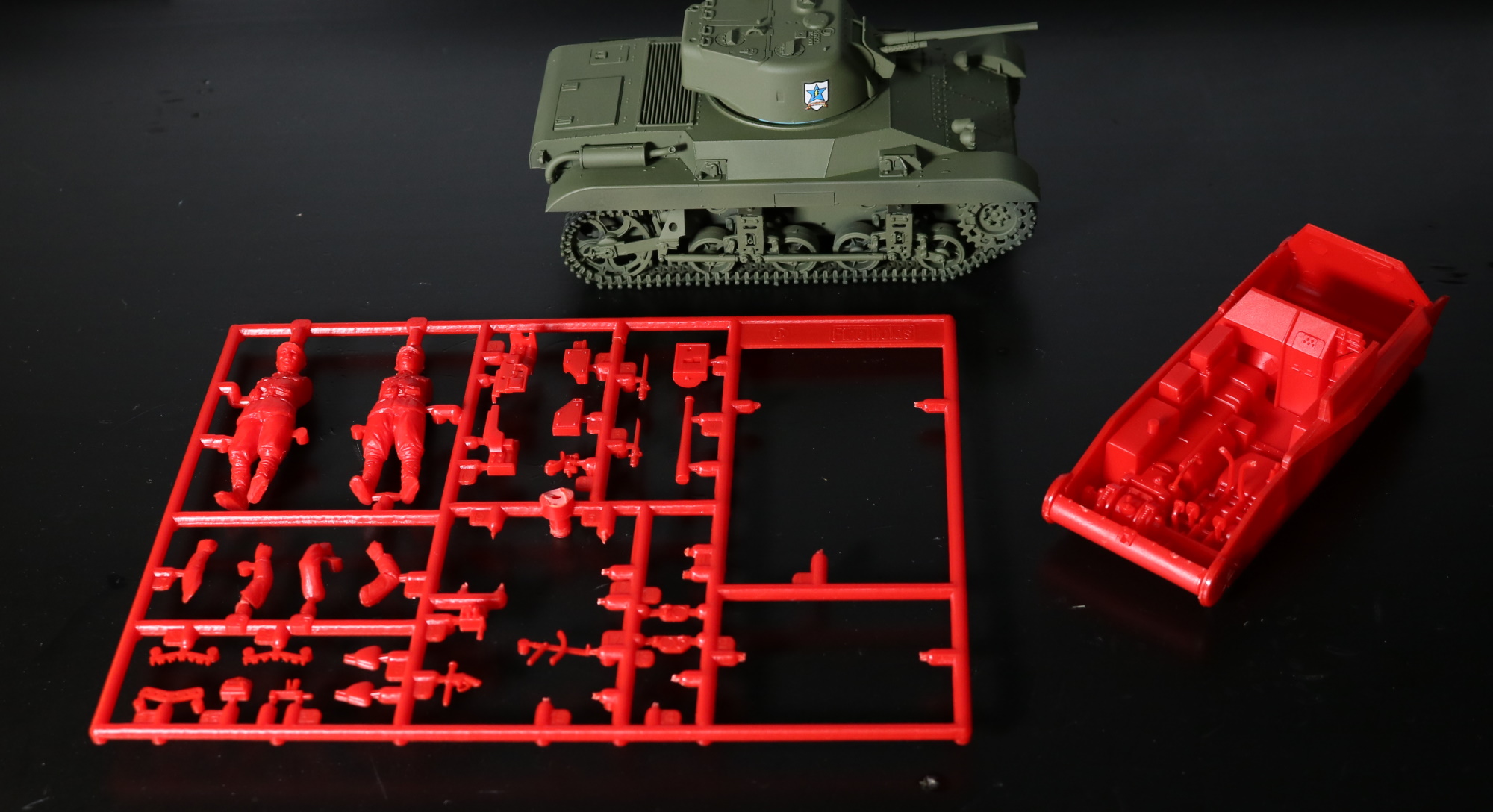 Also, as you can see from these two 1/35 scale Japanese soldier figurines, this is a clearly rebranded (and simplied) kit with Ribbion warrior materials thrown in. I would have really loved 1/35 scale version of Shizuka and Rin though.
I heard that, to lower the entry bars for model kits, a fair bit of manufacturers are rolling out simplified kits with less than a hundred parts. This appears to be especially true when it comes to GuP rebranded kits. This is my 5th GuP tank kit and they have all been simplified kits with Pravda KV-2 having less than 50 parts.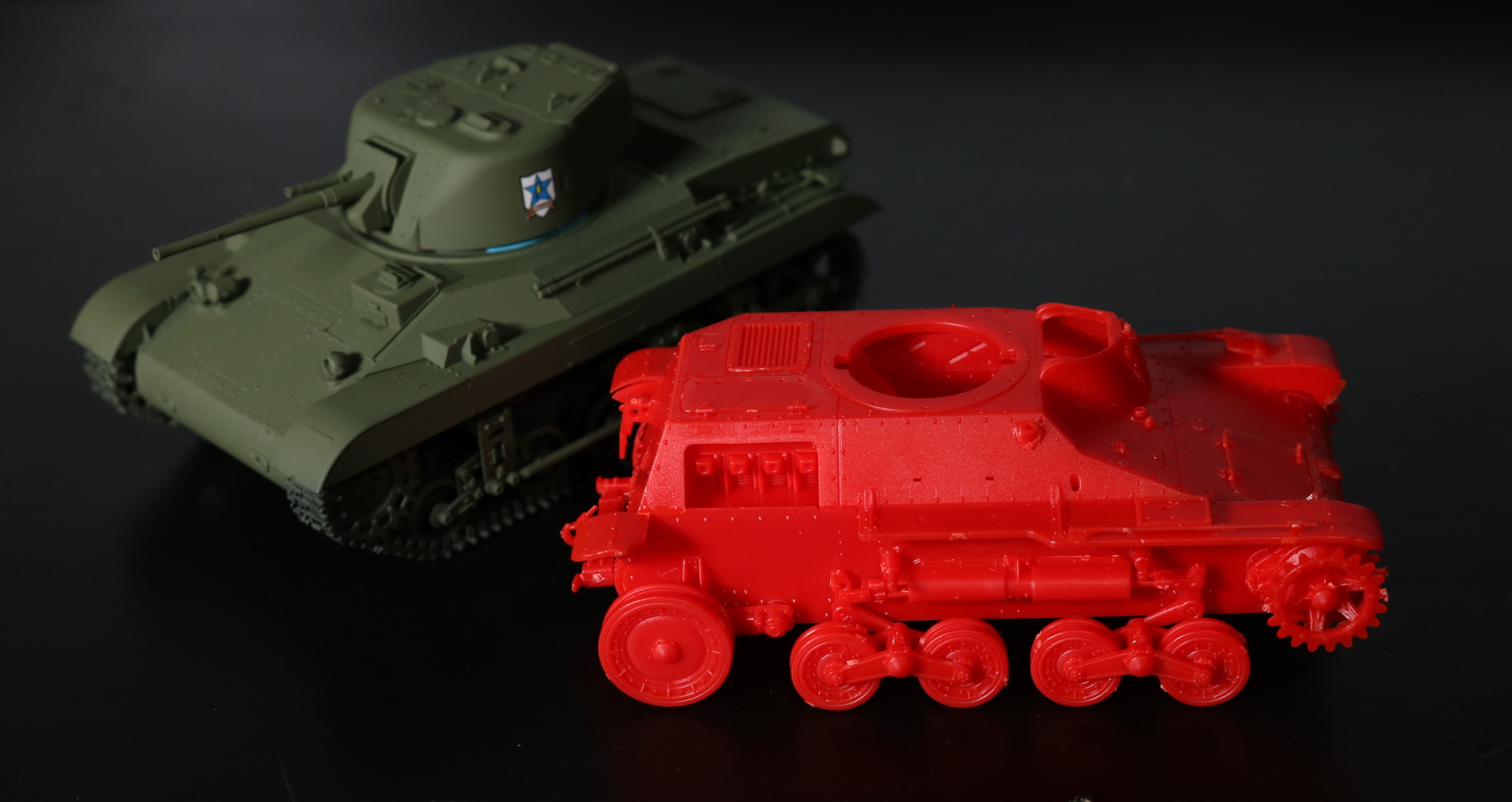 It may be a simplified kit but this kit give you a lot of options. Although, for me, I will be going the traditional way, you have options of opening the engine as well as gear compartment. Options like this is mightly useful in Diorama scenarios and not many kits actually have these options.
Speaking of which, I've considered making a Ribbon warrior diorama. However, due to lack of 1/35 figures from the series, I've abandoned the idea.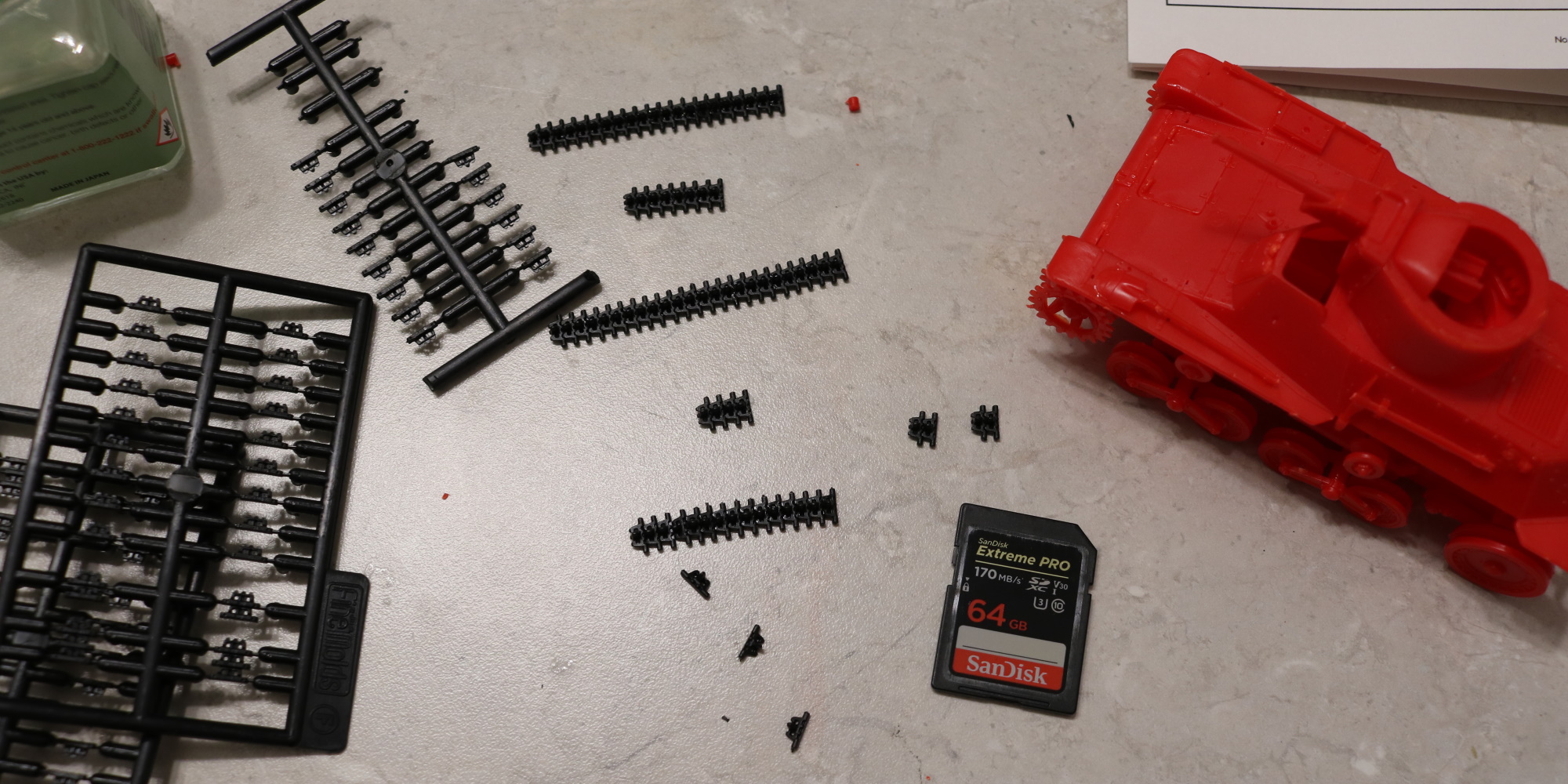 Assembling the track hurt my eye, neck, shoulders, and finally back. But they weren't hard. It was just that the pieces were too tiny to deal with comfortably. A track requires about 70 pieces to complete. A rubber track would save hours. However –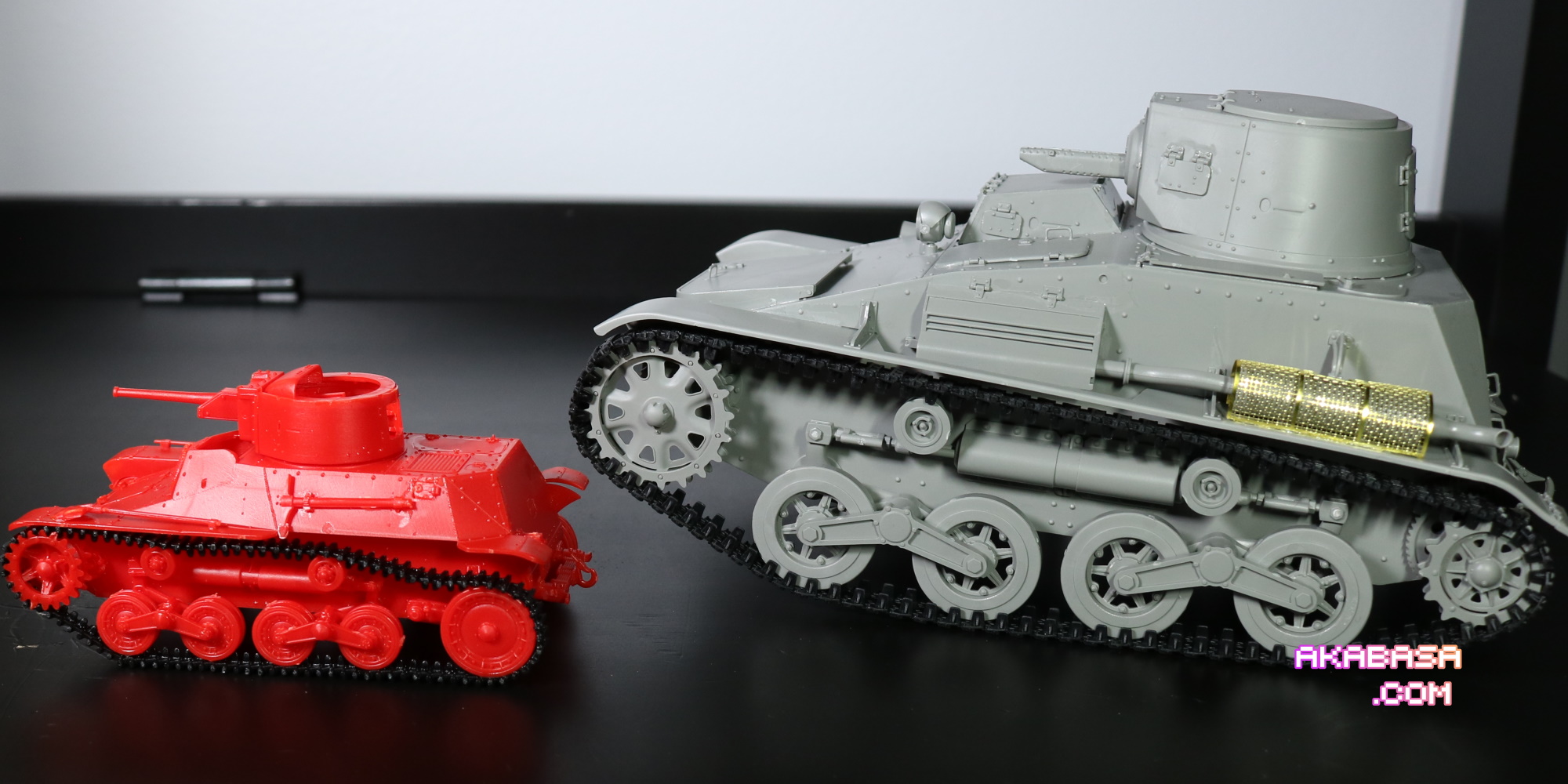 Here I have a 1/16 scale type 94 and a 1/35 scale type 97. Both are very similar tanks. Type 97 is type 94's younger brother. You can see that the wheels are almost identical.
If you look closely, type 94 has rubber tracks whereas type 97 is manual tracks. Rubber tracks don't look realistic, and I think this is a good comparison to look at. The type 94's upper part of rubber tracks is flat due to tension. However, this should not happen to real, heavy, tracks.
It is now fully assembled. Time to prime and then paint.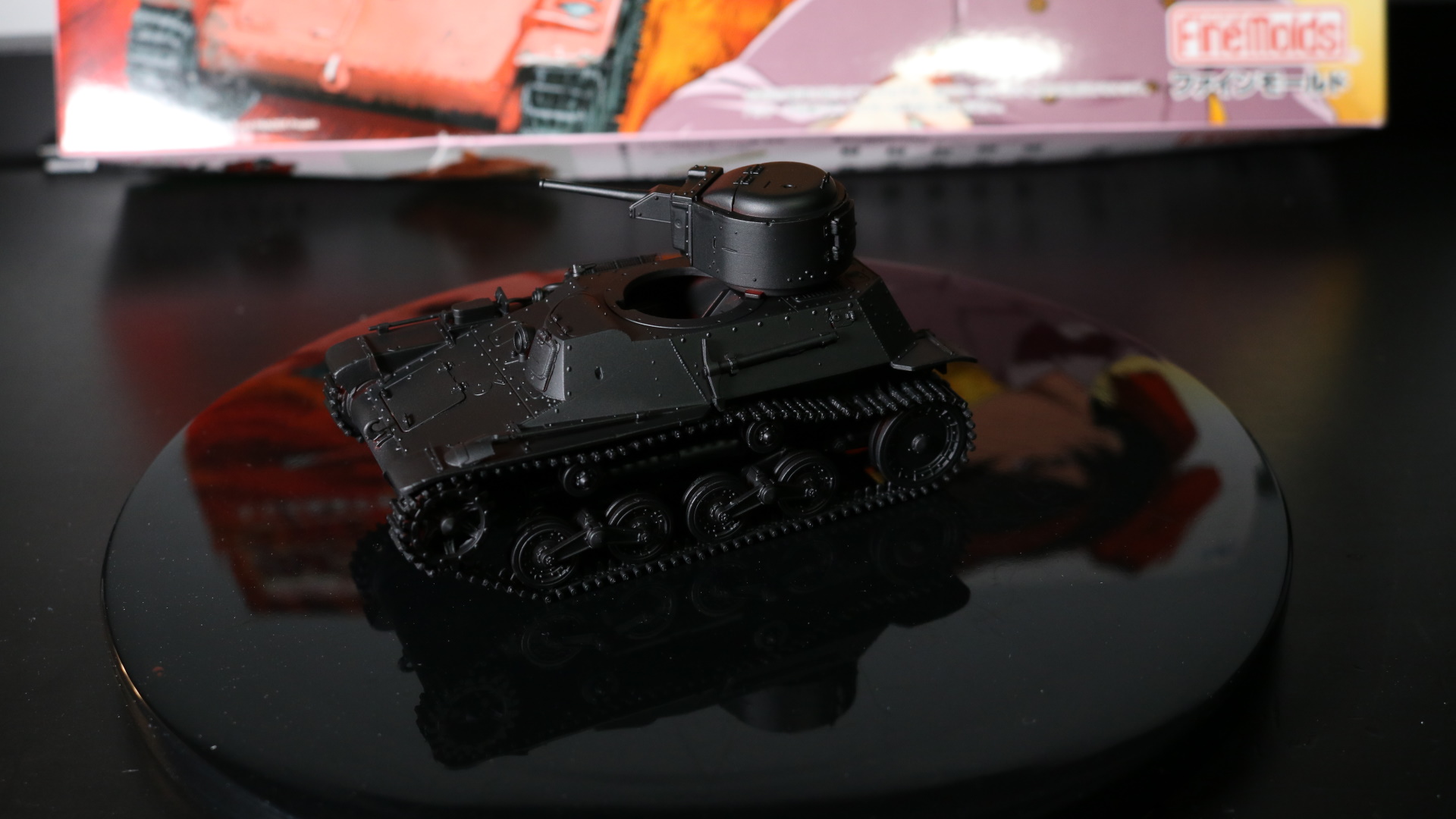 Now, normally, for GuP related tanks, I do not apply weathering because tanks in GuP are well maintained. However, in this case, the Te-Ke is not very well maintained because the only mechanic, Rin, is often too busy just getting the tanks up to the shape for frequent battles. It is often mentioned by Rin in the manga that she alone is not enough to keep Te-Ke in pristine condition. Her flea is always ignored by Shizuka though.
Therefore, it is only right that I apply some weathering on the tank.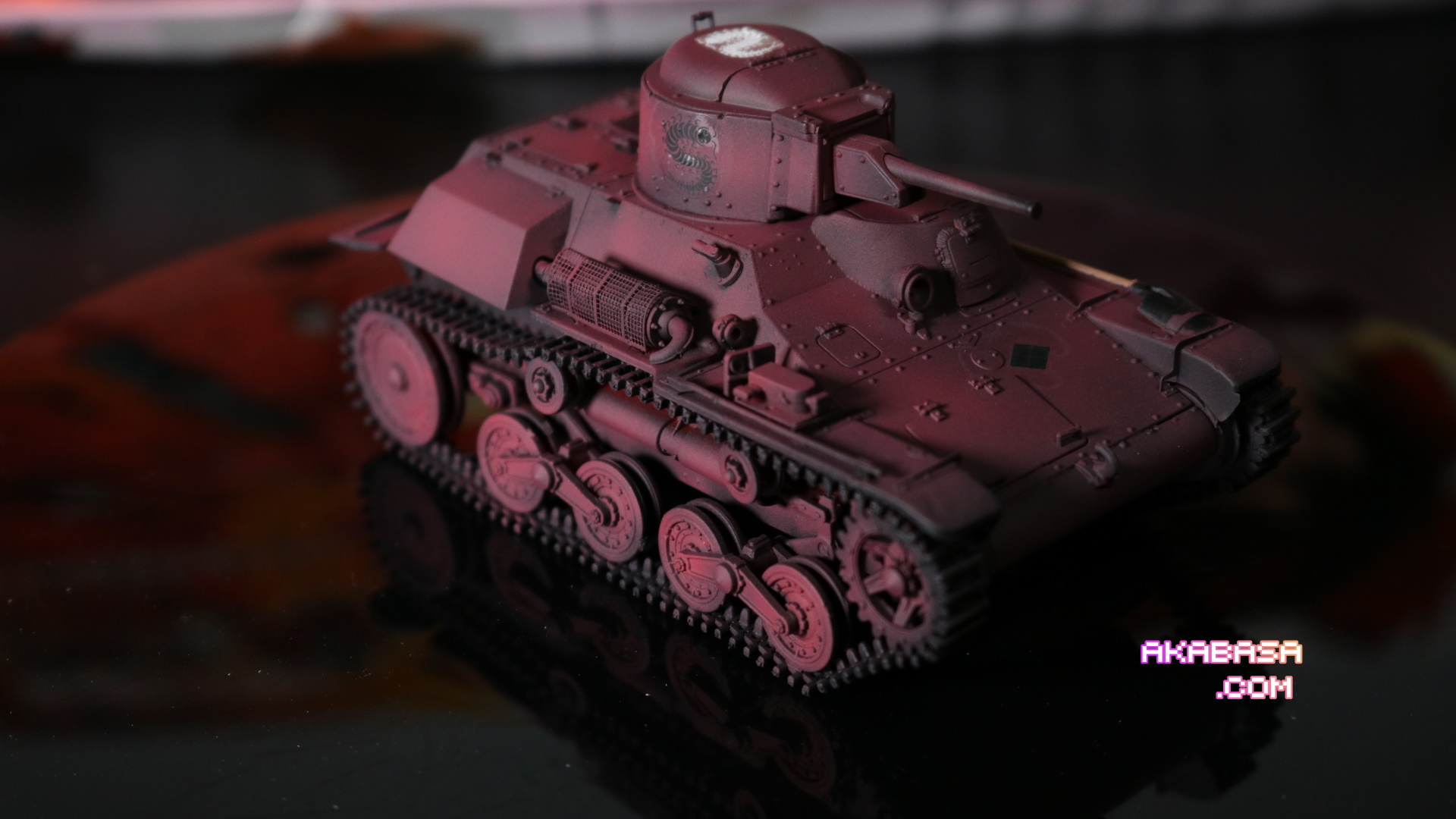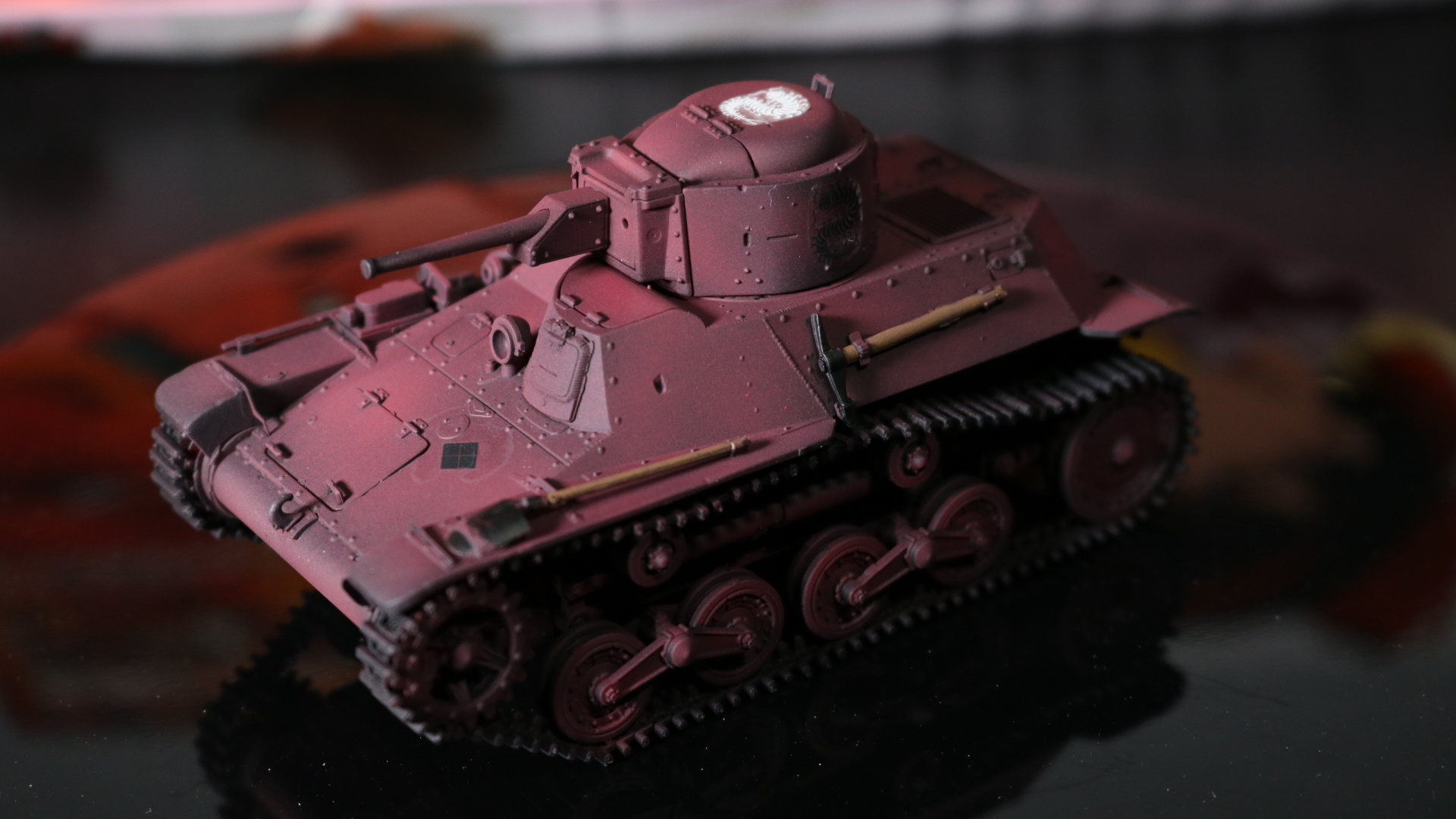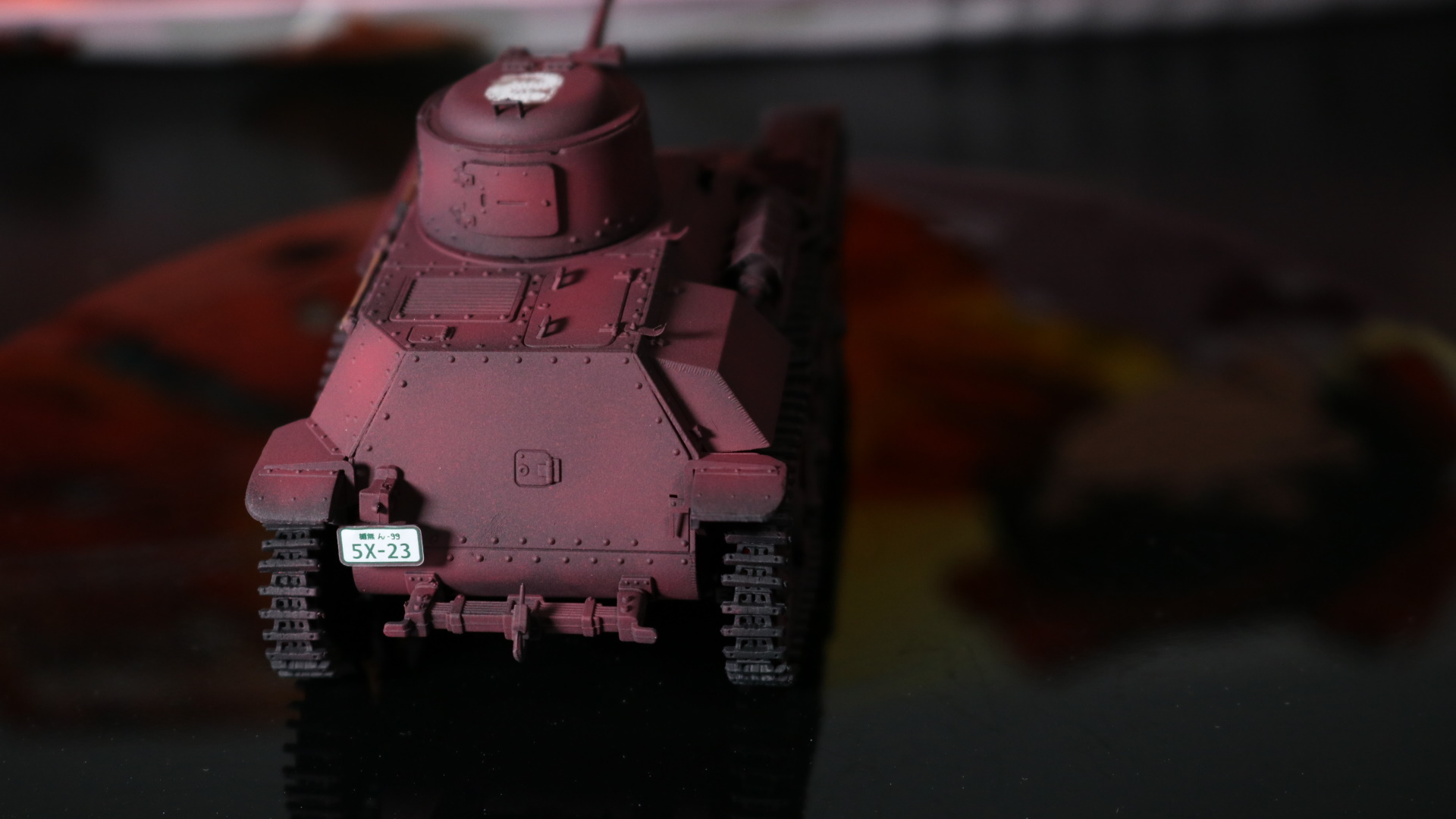 Once primed back, I airbursh dark red paint loosely over to create pseudo weathering. This whole process doesn't take long actually.
Priming itself took about 5 minutes. Once dried, loosely airbrushing the final color took about the same. This is a tiny tank after all.
Sadly, I kind of messed up the decals. Not the decal itself but tap water used to activate the decals appear to have left stains. I should have sprayed varnish first and then apply decals. Oh, well, too late now.