Sd.Kfz. 2 Kettenkraftrad 1/16 scale by Freedom model kits
Finally, a 1/16 scale Kettenkrad. Its product number is FRE16001.
A 1/16 scale Kettenkrad is something I've wanted for a long time. It is not because this vehicle is my favorite or anything like that. It is because I have figures that'd go with it.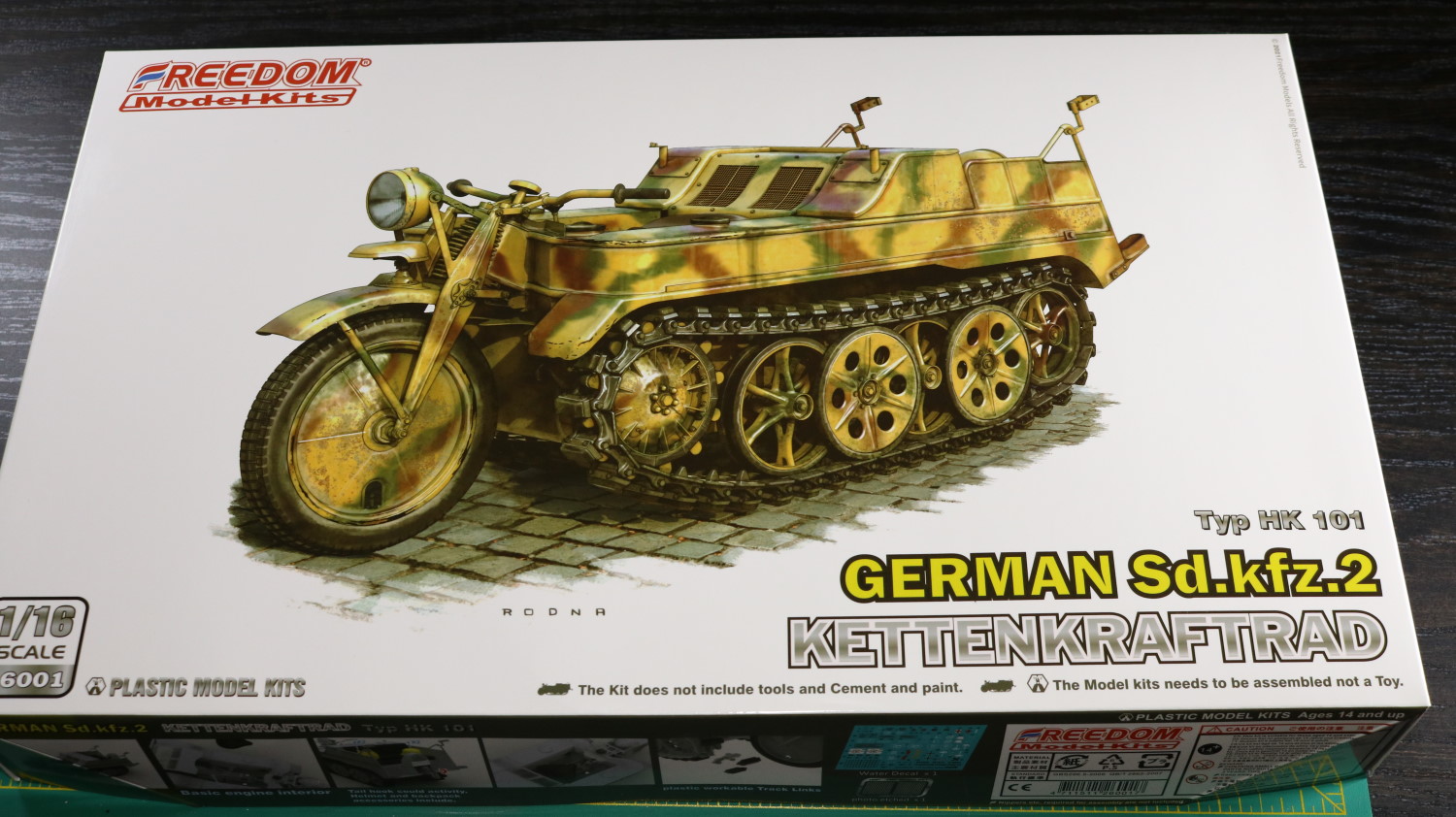 Now, I was actually waiting for another version with a cart and Goliath demolition vehicle (FRE16002) but, as I saw it kept getting delayed over and over, I figured I'd go for this one simply because the stock for this was running lower every week, and I kind of need two of these.
I sourced this from Amazon Japan. It cost me 5,000 yen + shipping. Overall, not too bad.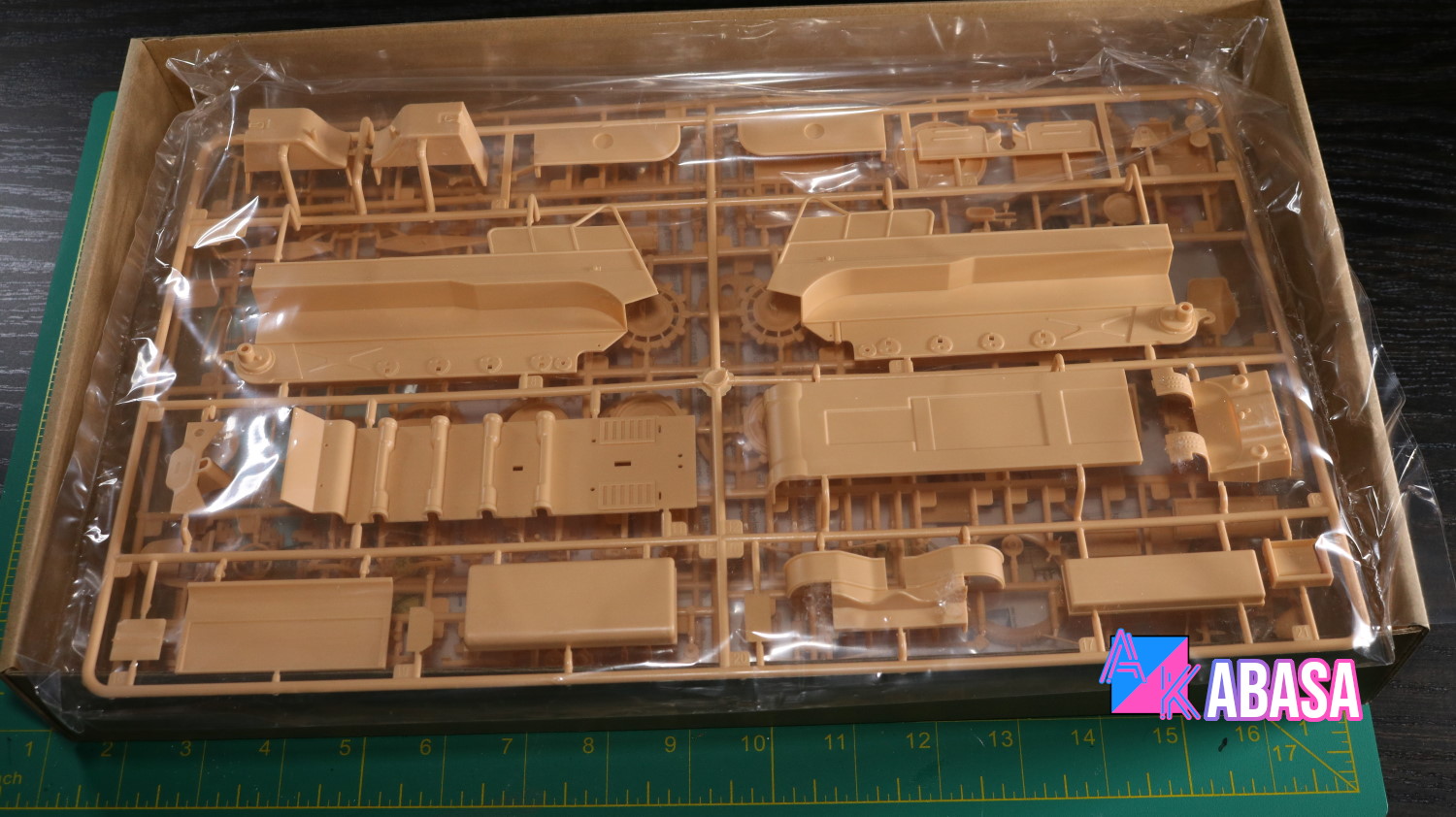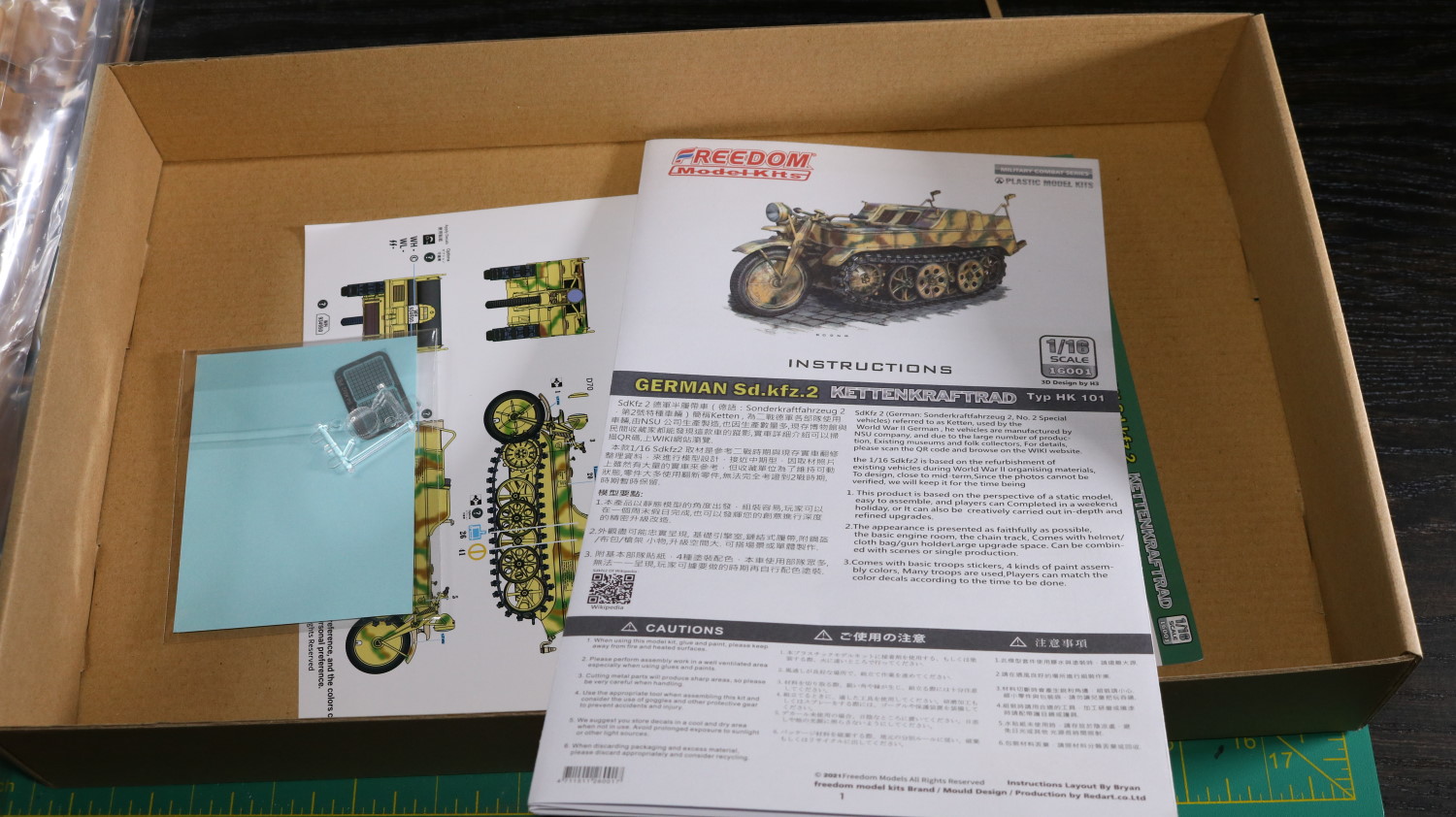 Packaging and content seem alright. I have not heard of Freedom model kits company before. But then I have not heard of most kit companies anyway, so doesn't matter.
I've built two 1/35 scale Kettenkrad before, and it was painful due to its small size. And let's see how this one goes.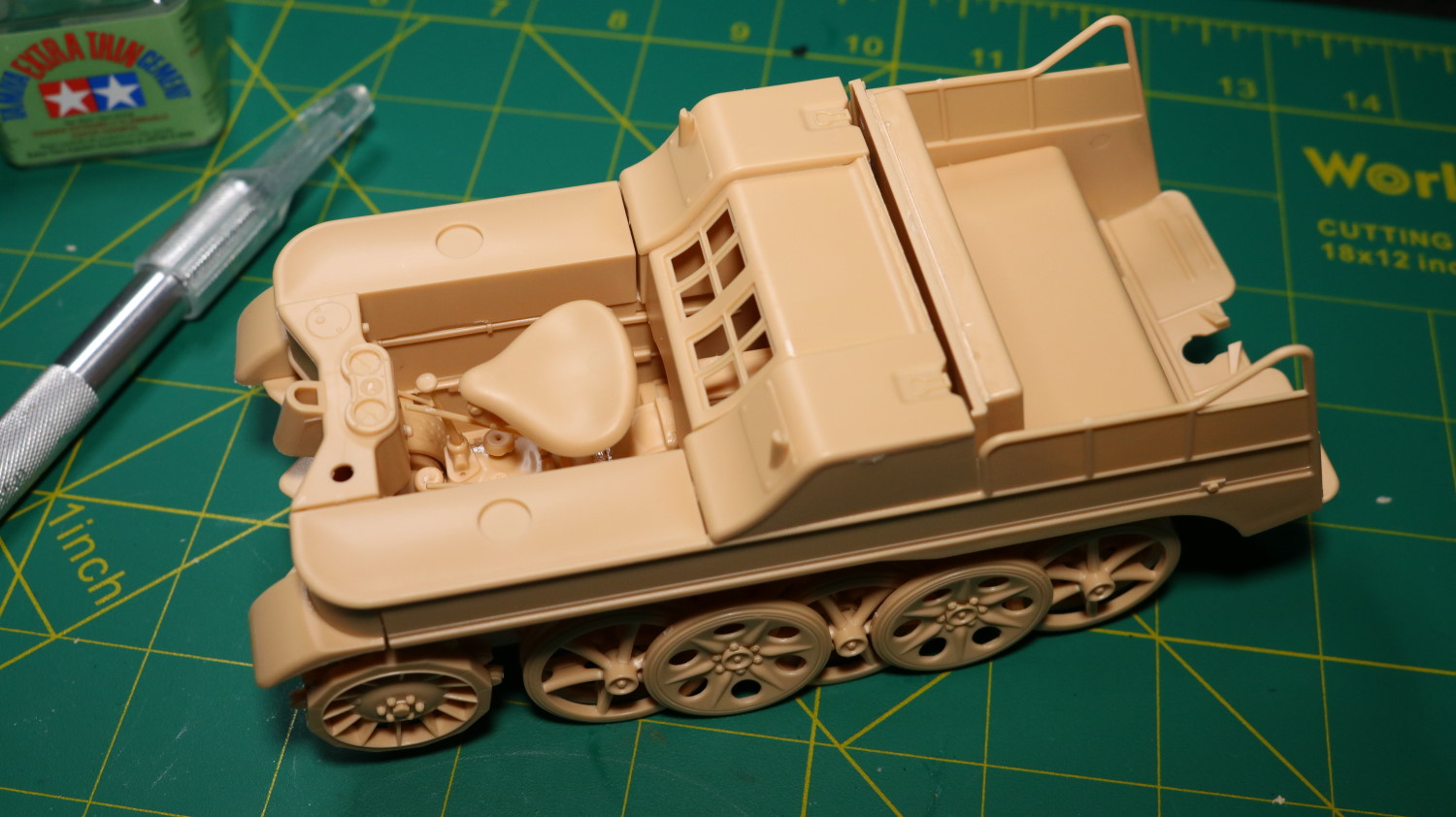 Dear God, the 1/35 scale version of this was a pain in the butt to assemble due to tiny parts. This one though? What a breeze. A kettenkrad is not a complex unit to begin with. Thus, assembly has been rather easy. Above took only about two hours.
I will show you the size difference later when it's all done.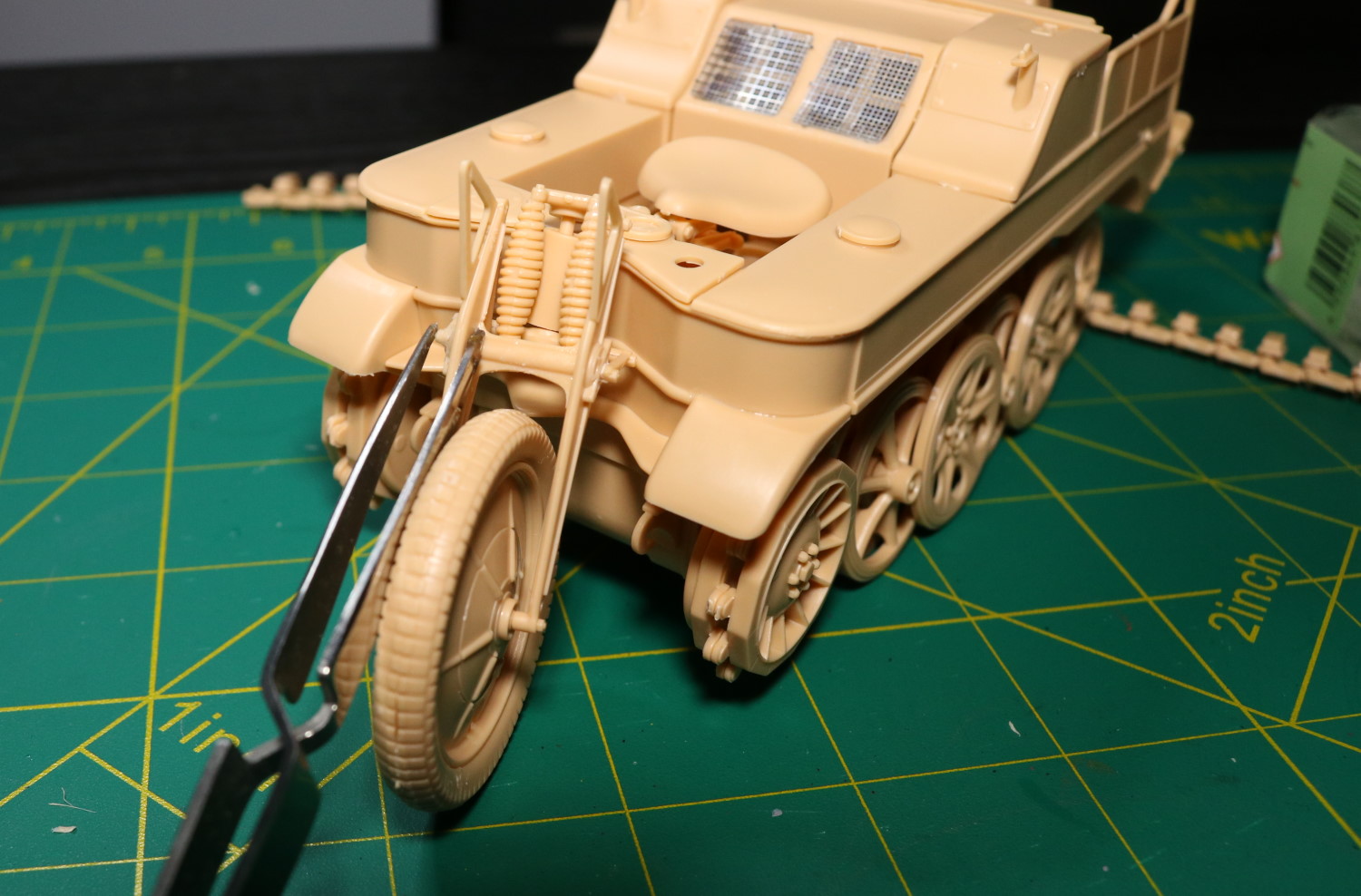 Some parts, especially where the front wheel and the rest of unit meet, it's … not ideal. They are jointed by a series of rather thin plastic poles. You basically need to eye the positions and just glue them together. There are guiding holes but it's so tiny that it's virtually useless because, once plastic glue hits, it melts away.
I had to use superglue to get some parts to stick together strong enough.

As for its tracks, they are painless. The way you assemble is exactly the same as what you'd do with its 1/35 scale counterpart, except this time the parts are big enough that it's a piece of a cake.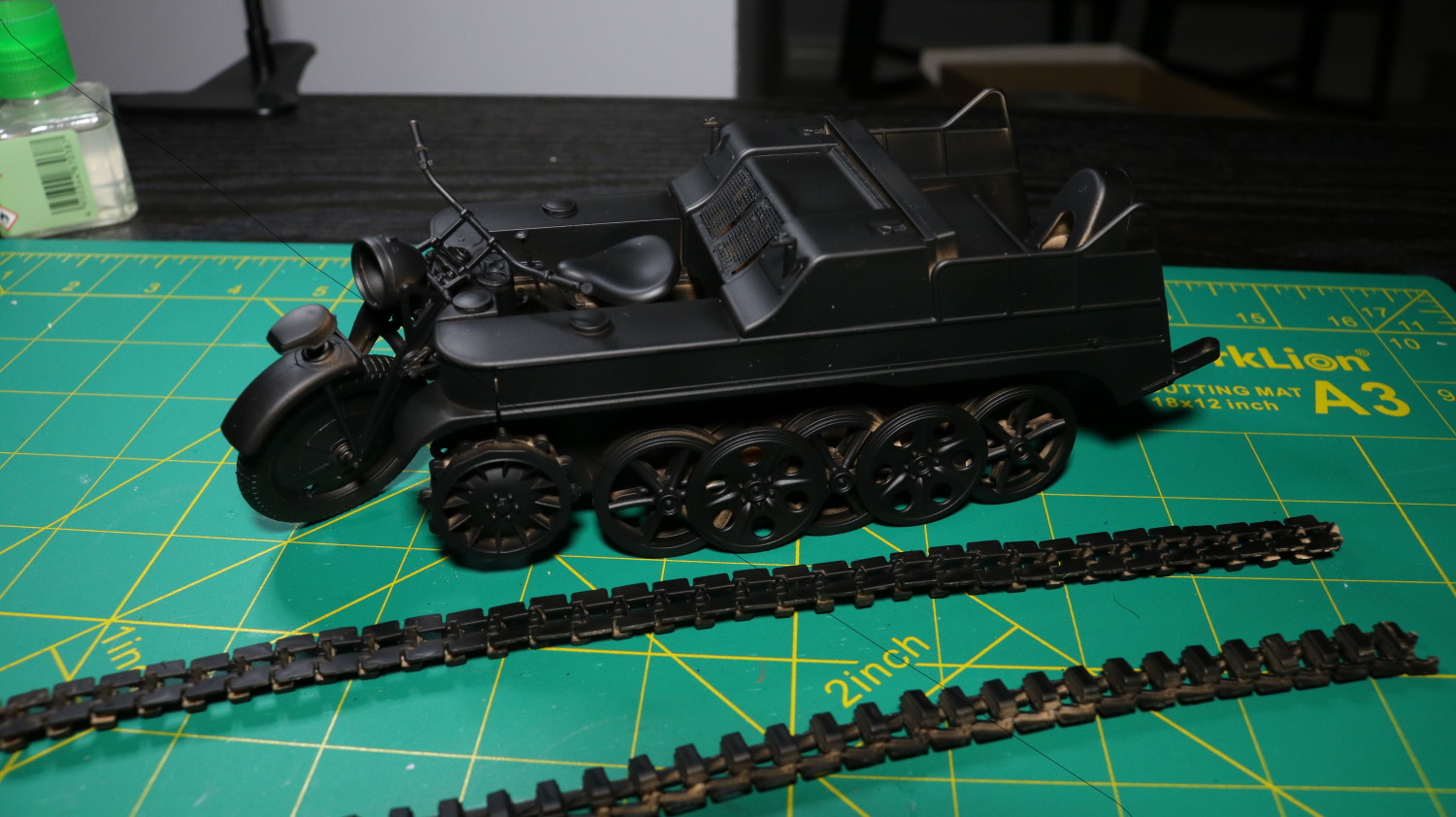 Now, it has been primed. I am going to paint this in Tamiya dark yellow.
At this point though, I had a decision to make. It is the seat. With it, I could not make any 1/16 figures I have sit. It was simply too large. Therefore, after some consideration, I've decided to take the seat out.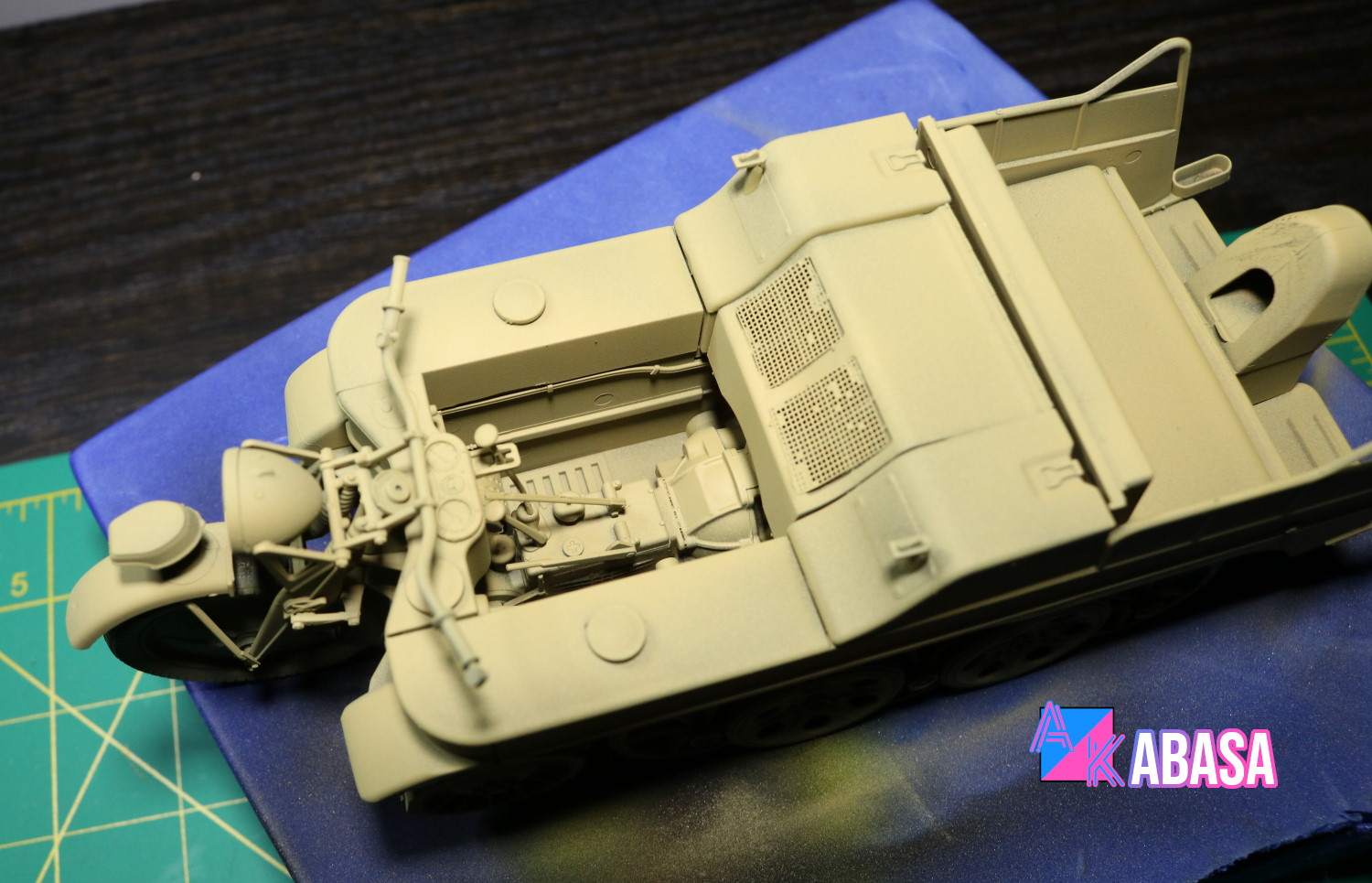 This is after it's been painted with Tamiya dark yellow. You can also see that the seat has also been taken out. You will see why later.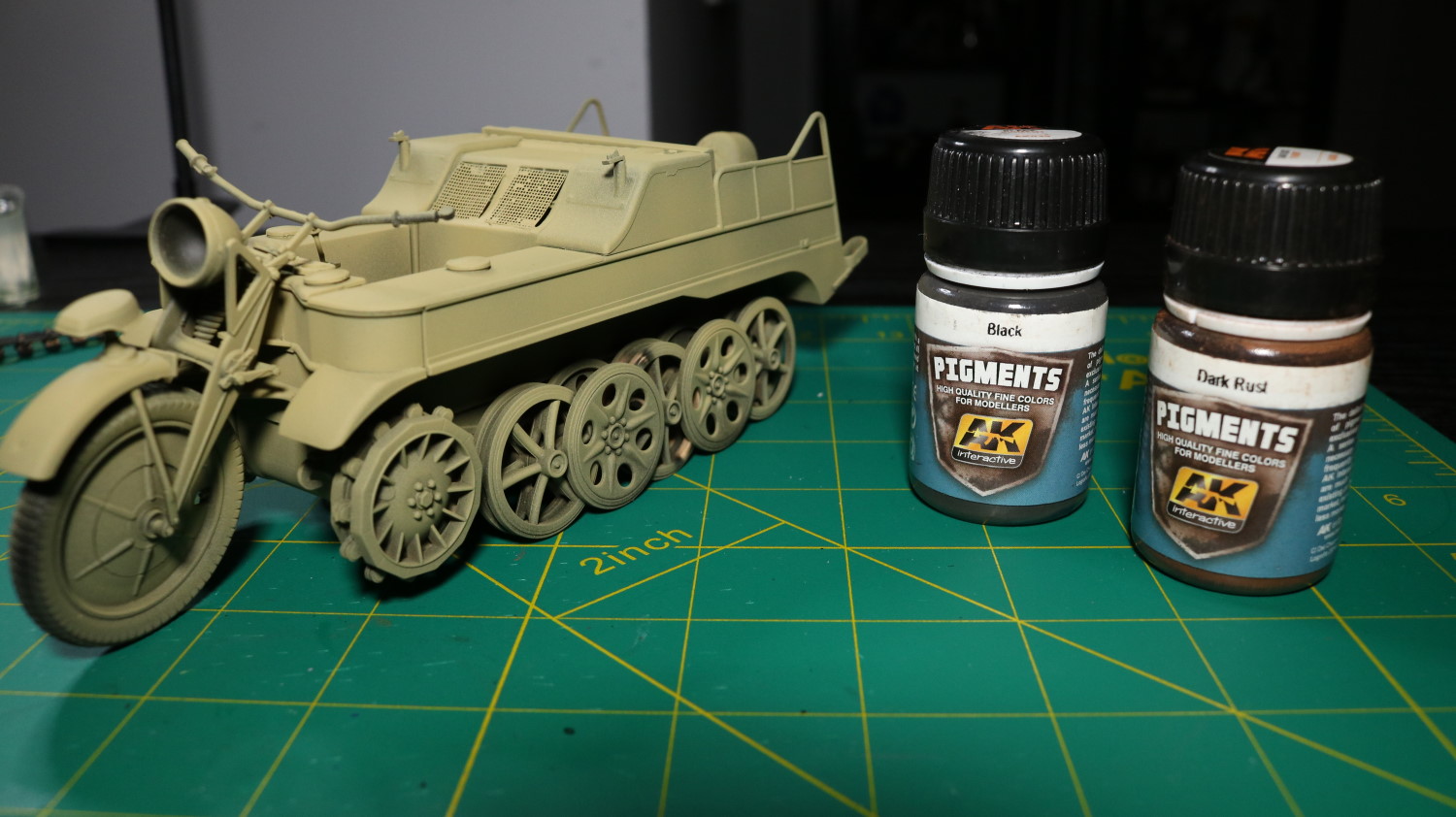 Now, I am going to weather this. I haven't normally weathered 1/16 tanks so far because such tanks have belonged to Girls und Panzer universe where tanks are normally clean.
Another reason was that I wasn't confident enough. I've weathered 1/35 scale stuff because risk vs. reward was acceptable. 1/16 tanks cost hundreds of dollars. I wasn't ready to ruin it.
But now I am confident enough. I've done this enough to know that I can do it.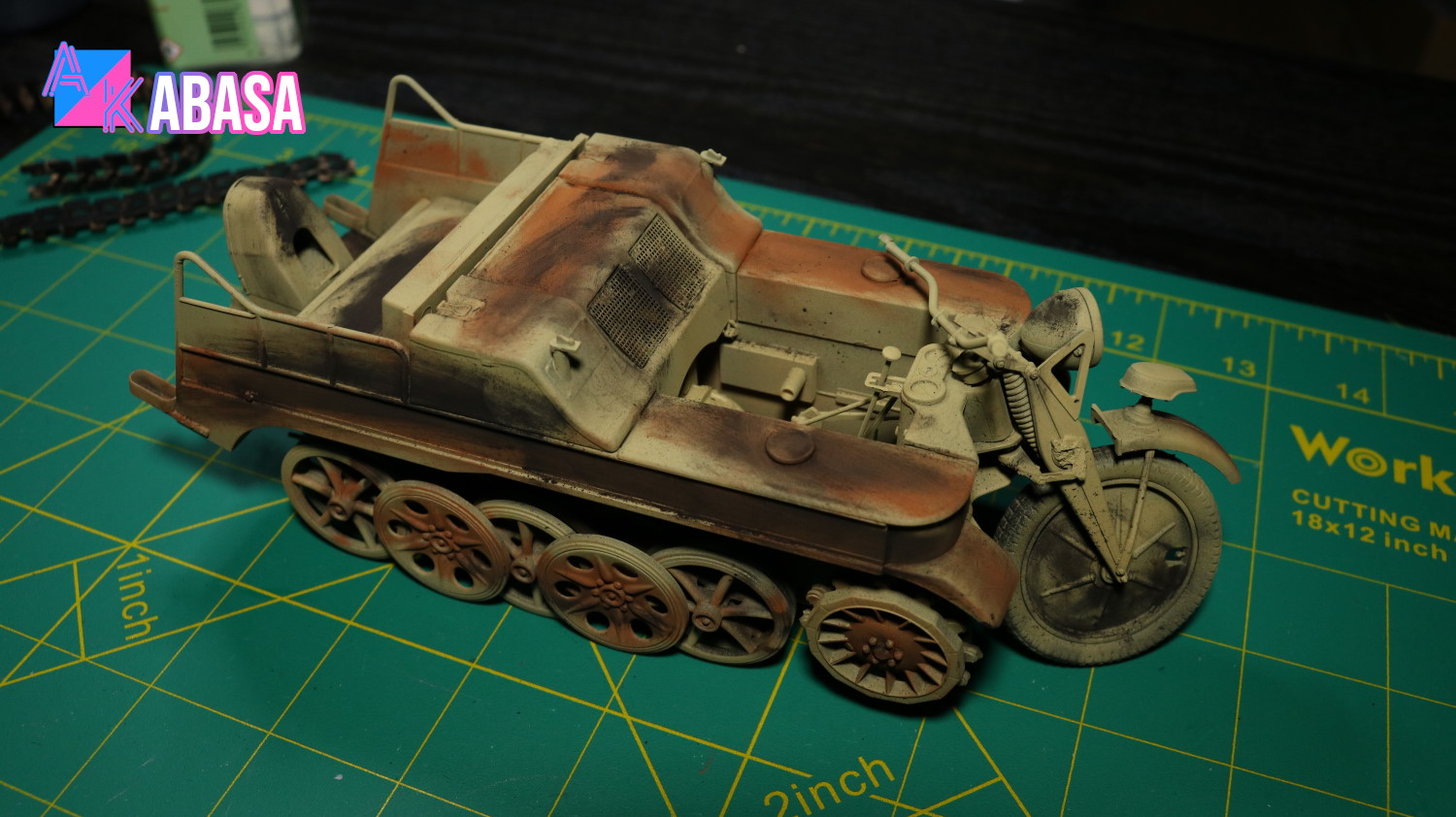 My method of weathering is a bit messy. I am using two fine black and dark red powder (pigment). They are actually meant to be mixed with water, I think. In my usage though, I just brush'em over.
Okay, it may look like a total mess, but that's how it goes. Once I am done with messing it up, I airbrush once more with Tamiya dark yellow. This time, though, I airbrush carefully and do not entirely cover the area.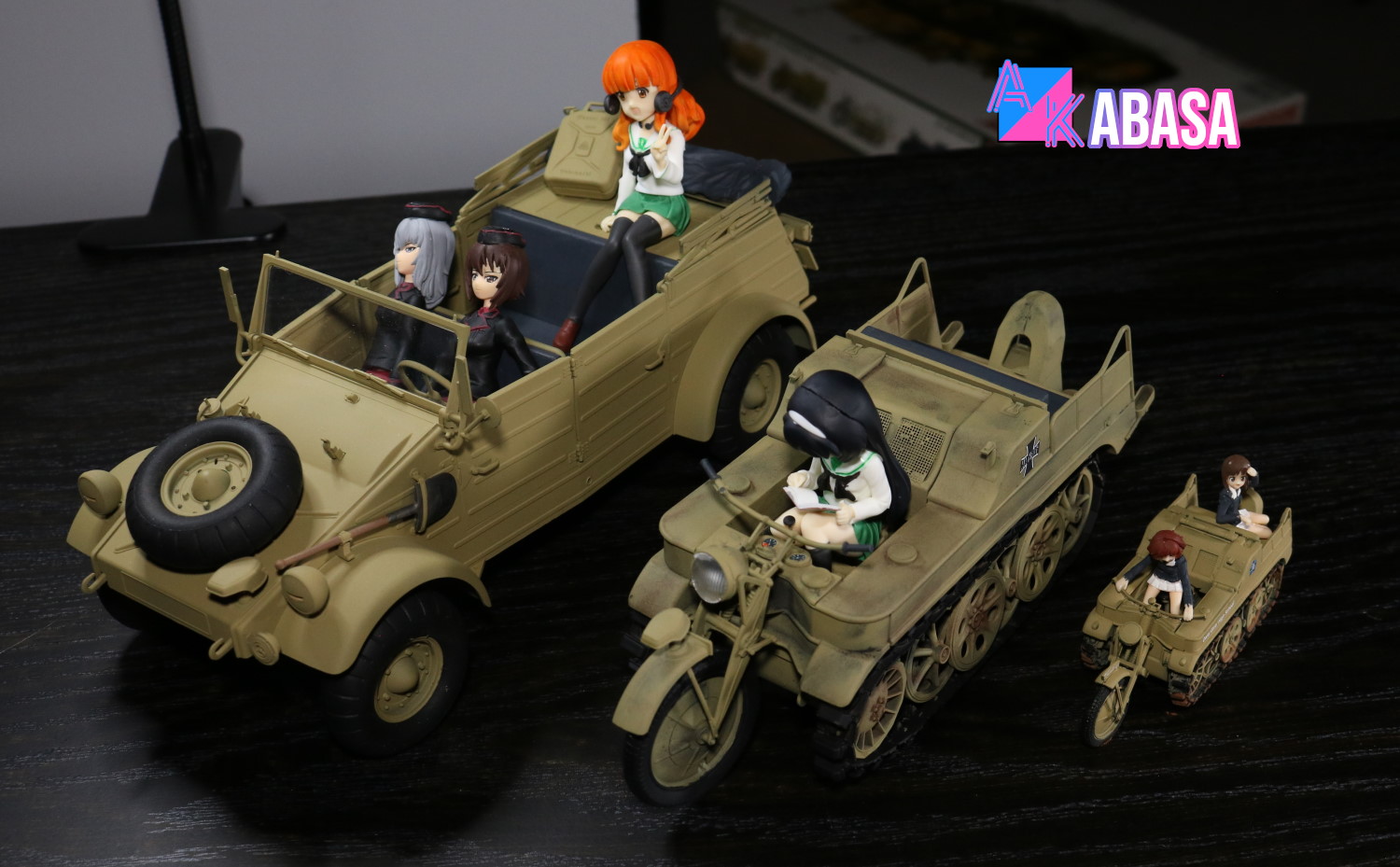 The end result is like above. You can see a clear difference between one that's been weathered and that has not been. You can also see the size difference between a 1/16 and a 1/35.
This method of weathering has been good for me. Thus, I will probably continue to weather tanks this way. It IS very messy but its results are too good to just ditch the method. I've tried the brush method after watching how others do it on Youtube but didn't really like it.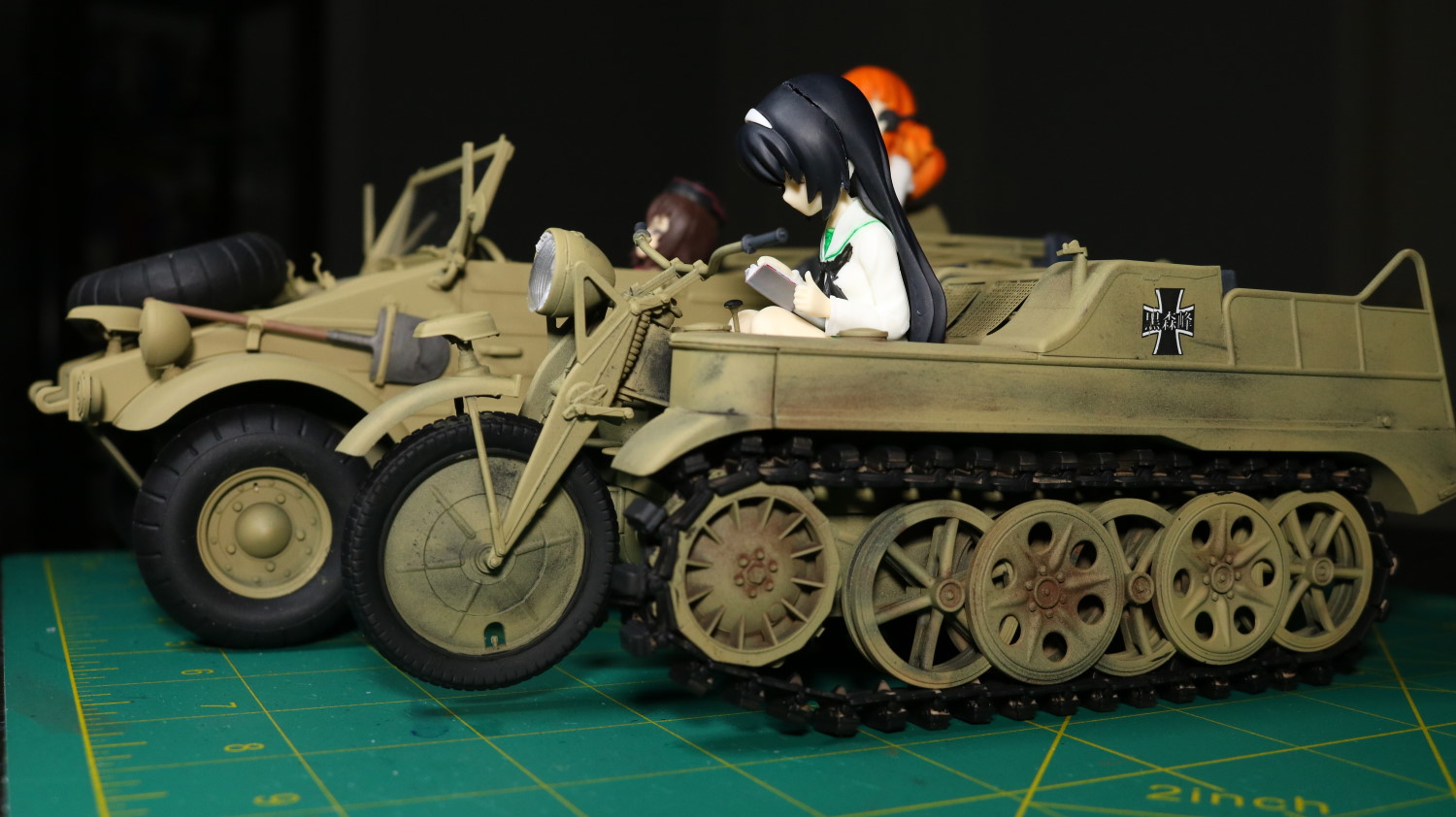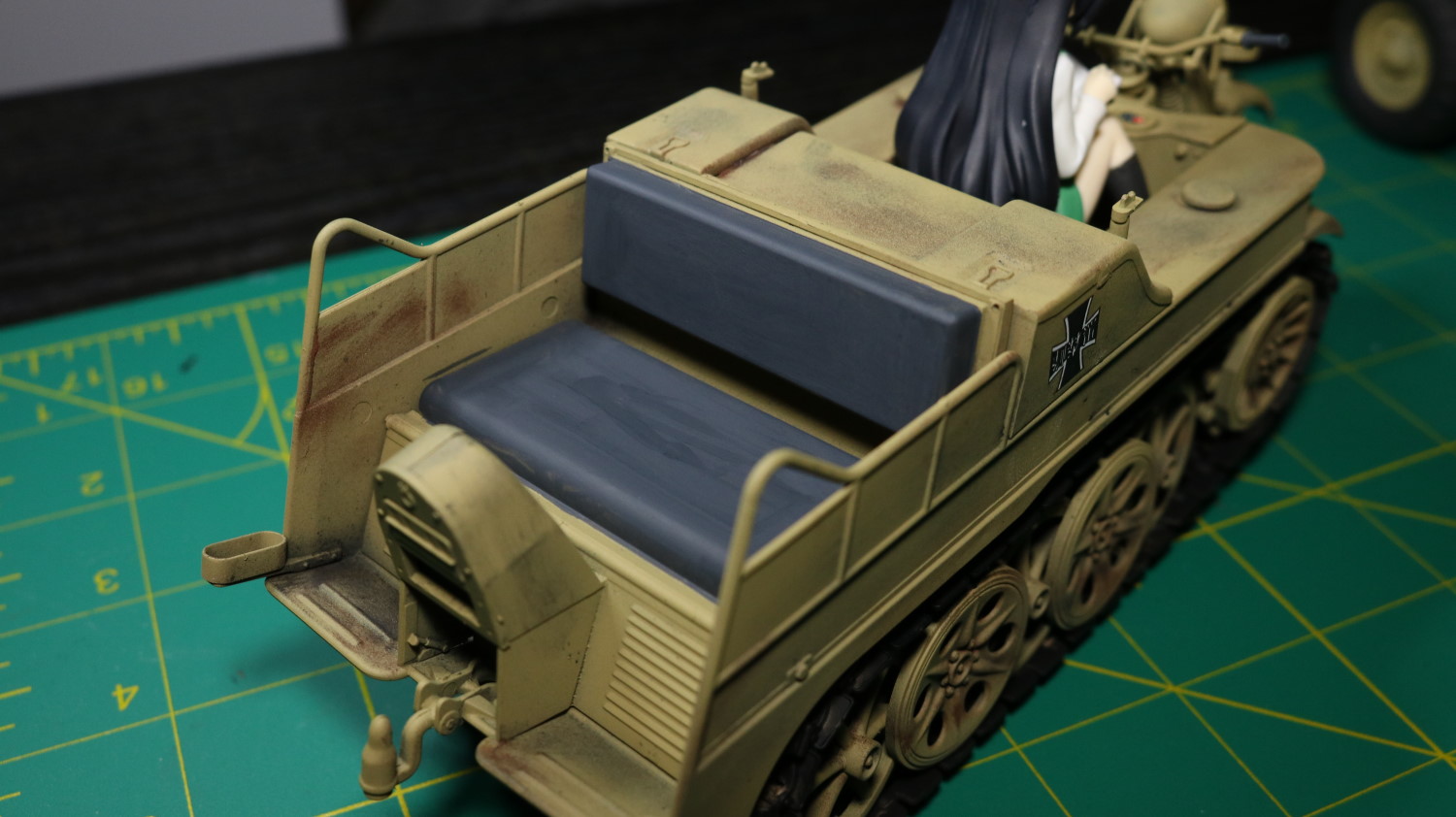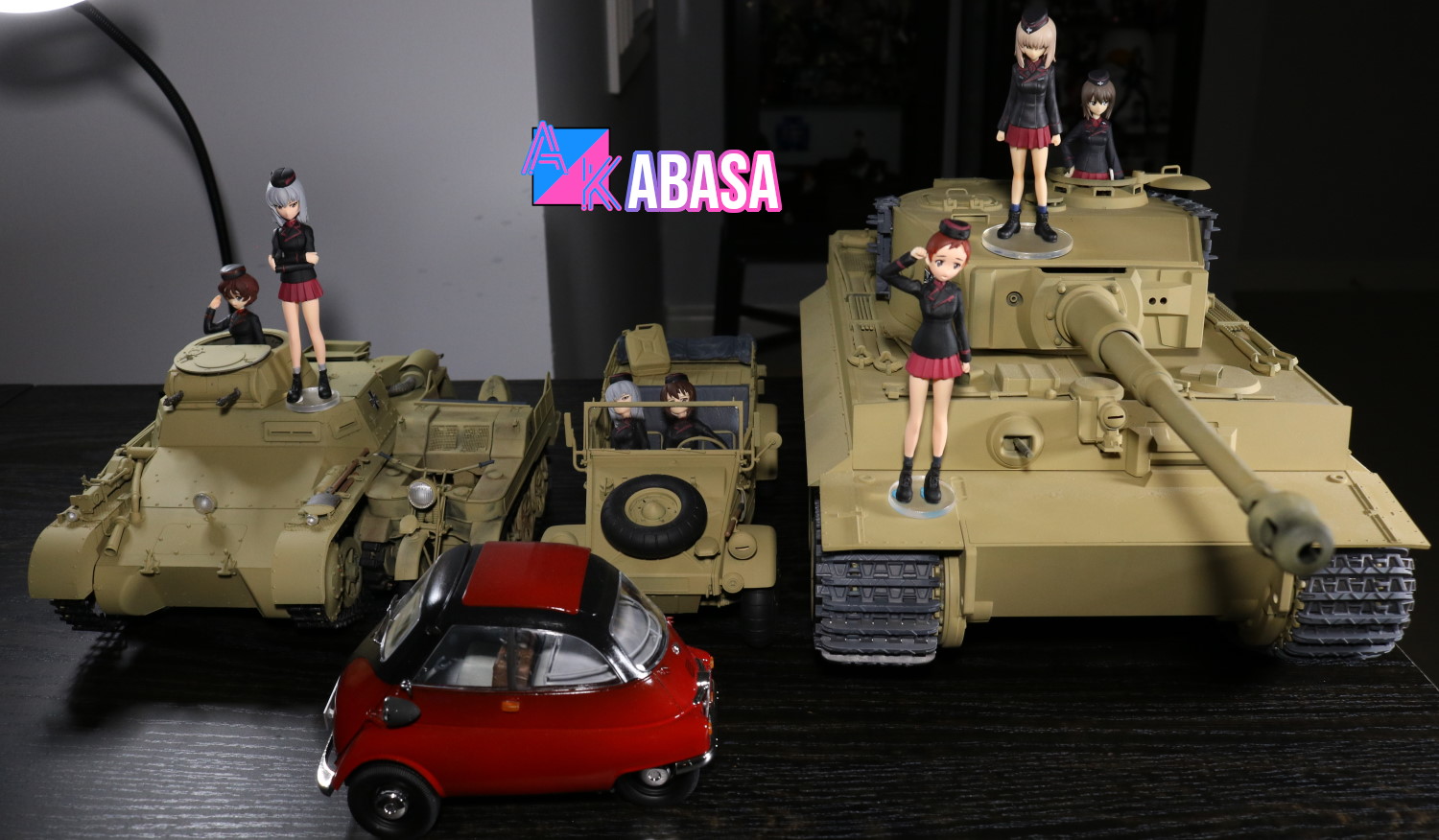 My collection is getting a bit too large. Above is my Girls und Panzer Kuromorimine collection. And this is where this 1/16 scale Kettenkrad belongs to. This is a German-theme collection, so anything German goes to here.
You may also see that the Kettenkrad is the only unit that has been weathered.
Conclusion
The kit is alright. I don't have any major complaints simply because the model is very simple in concept and design. If you are experienced, it will be a breeze from start to finish.
If I must make a complaint, I will say that a soldier figure should have been included in the kit. I say this because a soldier is sold separately for this kit specifically. That itself is fine, but it's not easy to source the soldier. I am assuming here that they wanted to make this kit as cheap as possible.