F.S.S. Erniuth dai gu Fillmore V 1/8 scale by Volks
A guy in a skirt.
About character himself
Erniuth becomes the emperor of Fillmore by around volume 10 or so. He is one of the 2nd generation characters.
He is frequently seen wearing a kilt (a skirt). We, readers, are told that it is one of traditions of his house. I guess the Fillmore house is Scottish descendant. Either way, it is what it is.
He is a fairly level-headed guy with right priorities. He is very well aware of his duties and boundaries as the prince and the future king of Fillmore empire. He has had feelings for Christine V, and so does she. However, their love cannot be materialized due to several factors outside of their control.
He is also Kaien's student, one of many.
His fatima (Chandanna) is quite unique because she is one of very few dark-skinned ones and she rarely speaks. You have to read her face.
A spoiler, but he is posed to die soon as it is revealed that he has a fatal disease in volume 15. He will likely be the first 2nd generation character to die.
I really don't know what his death will do to Christine V. It won't be pretty for sure.
The kit
As expected from Volks, the resin quality is very good. There is really nothing to complain about, really nothing at all.
The most important aspects when I saw the reference picture is that his kilt as well as his thigh boots are very glossy. I feel those two elements should be respected.
His skin has a lot of scars also along with visible vein spots here and there. So, those are what I should keep in my mind.
I've been progressively gathering spray paints and do happen to have a Mr. Color glossy black spray-can. Therefore, I will be using it for his boots and kilt.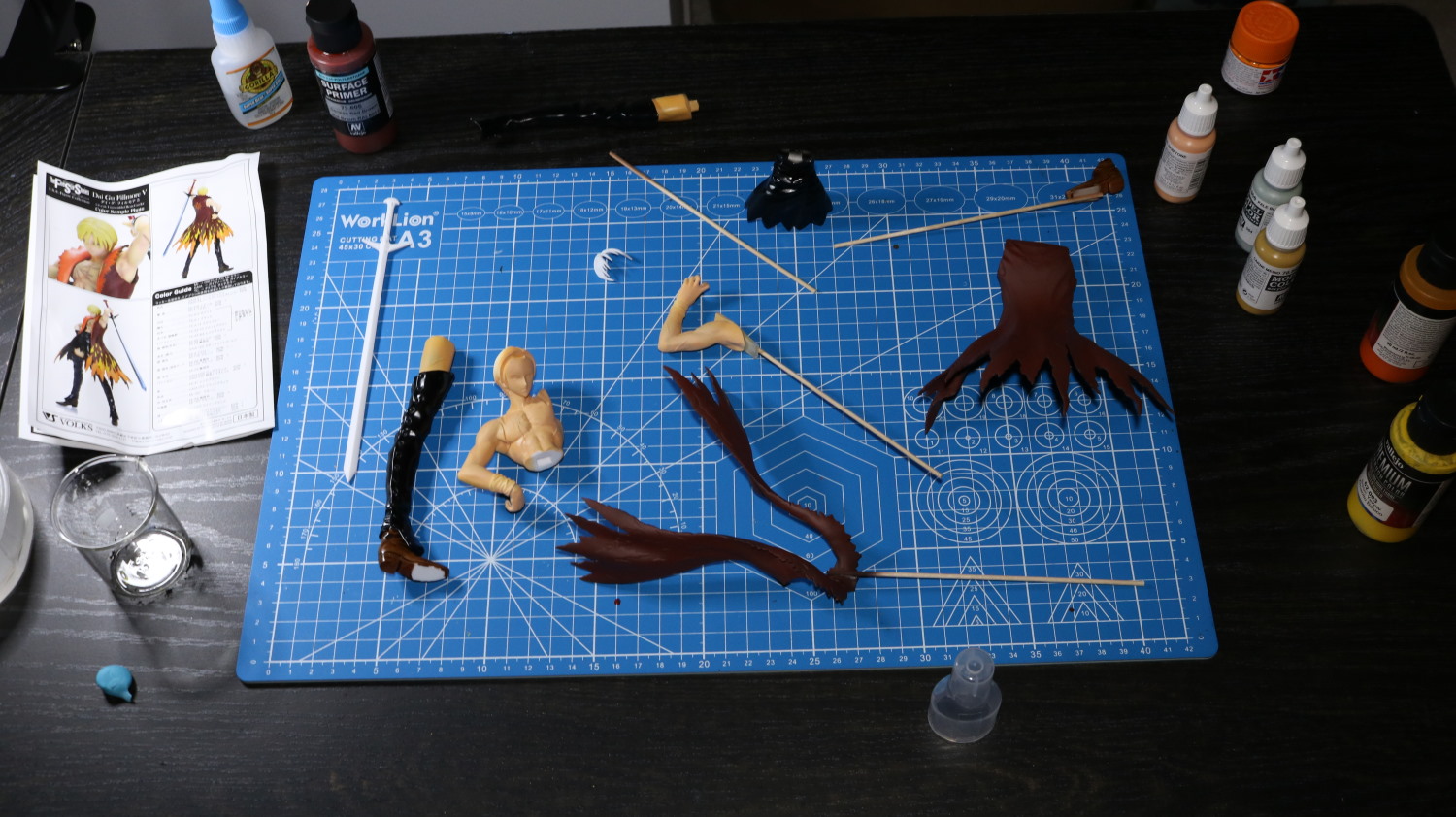 Parts were painted individually. I didn't feel there would be any complications and, at this point, I did not foresee any potential troubles.
Again, how wrong I was.
The glossy spray paint did a wonderful job on his kilt as well as boots. But the spray paint, which was Mr. Color glossy black, proved to be a bit weak as few balding spots were found after handling it few times.
I am going to need a glossy paint to repair those tiny spots. Thankfully, those are really hard to spot.
Even his upper body turned out well. His skin was a bit of a chore however since I attempted skin shading although this was not picked up by my camera due to bright led light sources.
His face turned out very good as well.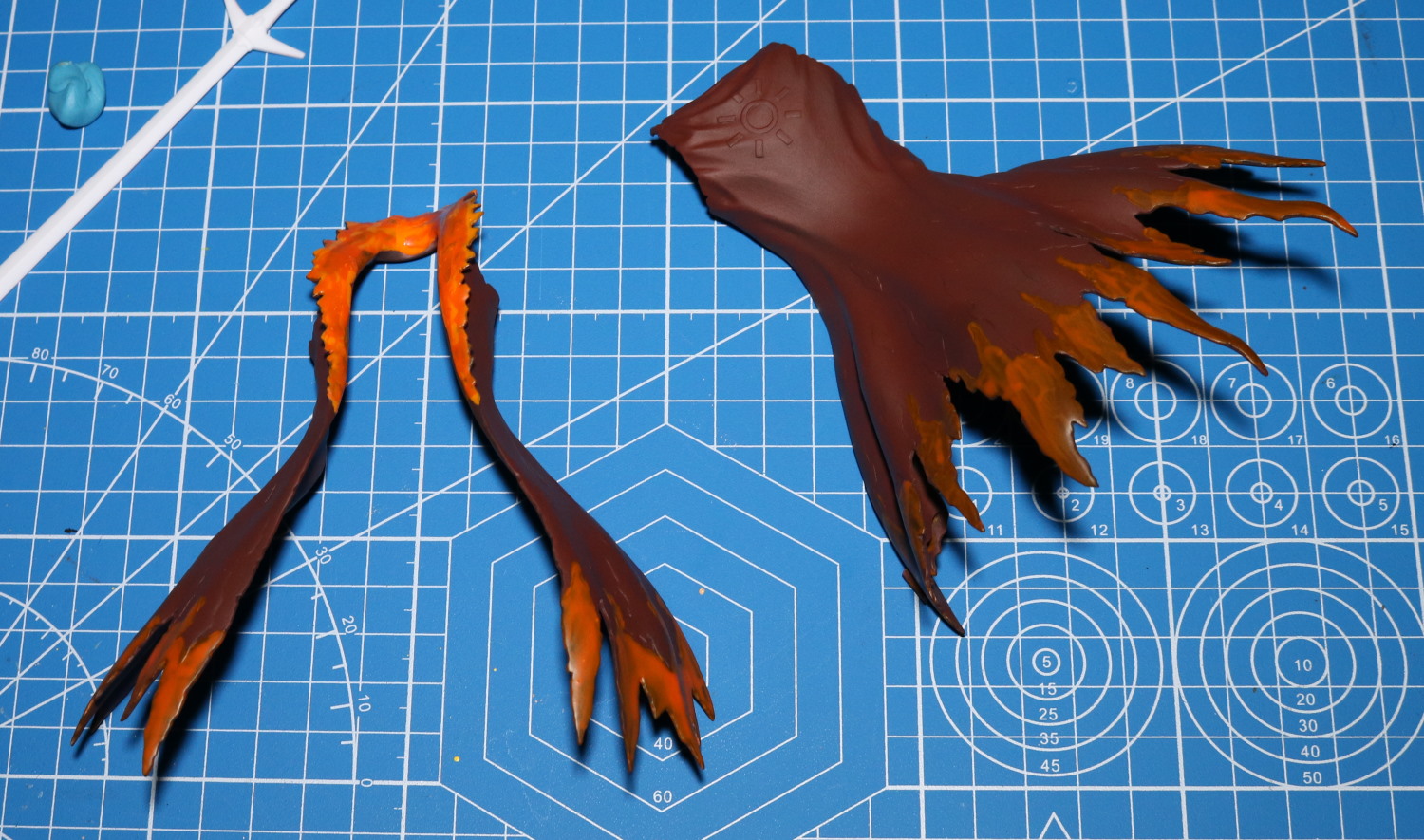 This was the hard part. His coat was initially primed in black and then painted in dark red. Then I attempted to paint orange via a brush for the coat pattern. I believed this would work since the orange paint I have is fairly thick.
But it didn't. As you can see above, it wasn't quite working out. The above photo is after 3rd layer of paint of range.
This meant only one thing, at least for me. I had to airbrush.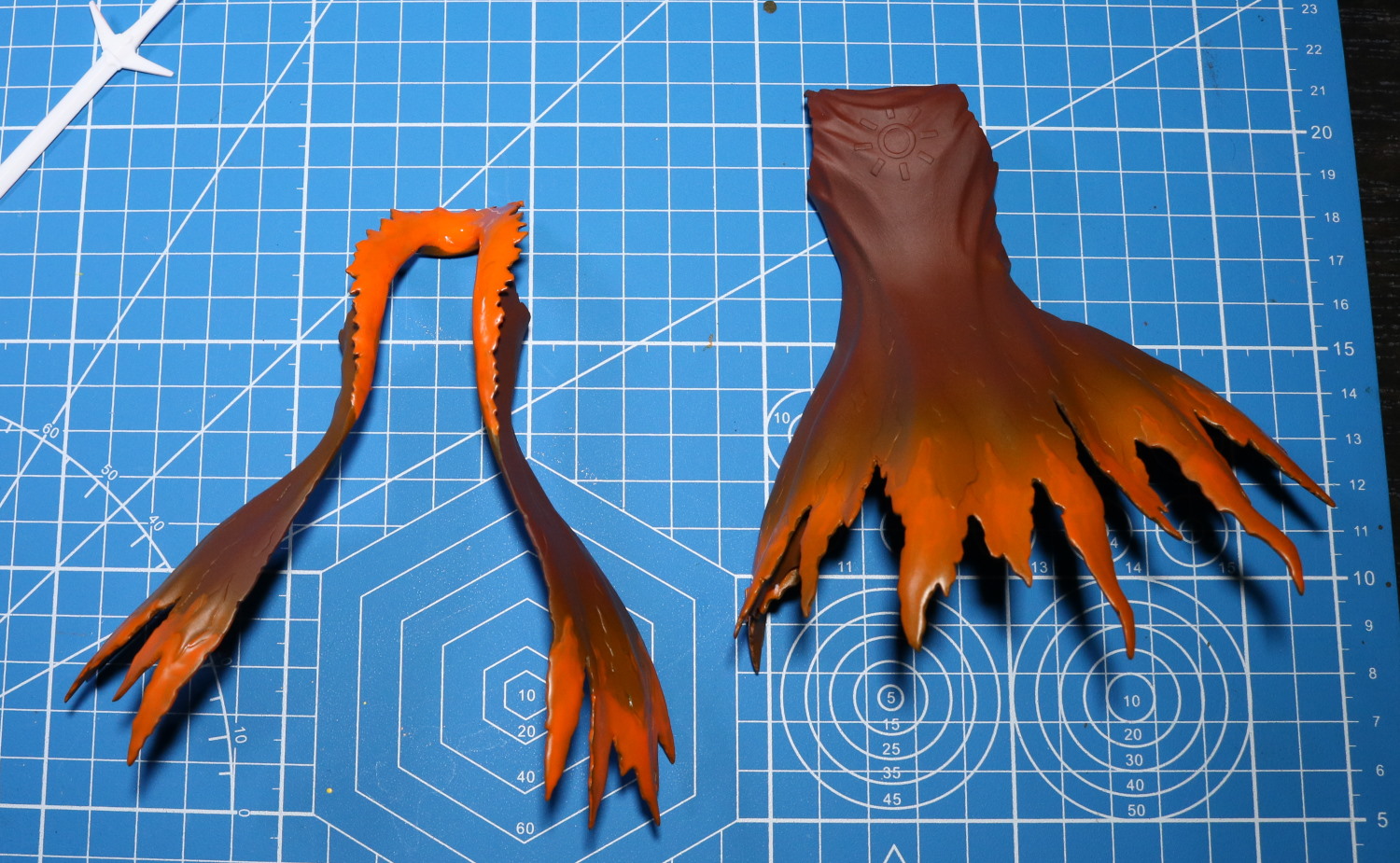 So, I did. The result was much better. Now, there was another issue.
In the reference picture, his coat pattern is that of a flame. I got the orange part done. What of the yellow part then? The yellow paint I had, it was just too thin to work on it. The orange paint was far thicker and it didn't work out. There was no way that the yellow paint would work.
Therefore, I improvised.
I picked a paint that I knew it'd stick which was Mr. Metel color brass which is kind of similar to yellow (or golden) in some ways.
This was the closet color I could have chosen without purchasing new paints. I think it has turned out okay.
His sword was not my priority at all, so it was an afterthought;I had completely forgotten about it. In fact, I would replace it with something else.
At the end of the day, he has turned out to be pretty good.
That is a pretty boy right there, and Christine V does love pretty boys. I am not making that up. In her youth, she had a crush on Blreno who I made a mention of in my F.S.S. Appendix 1 entry.
Ah, the two Fillmore members from F.S.S.
Those man and woman liked each other. Sadly, circumstances prevented their romance to blossom. They eventually lead their own lives apart from each other.
They do have something in common though. The scars on their shoulders.
See you next Sunday.