[The Poppy Puppet] Nishi Kinuyo 1/8 scale garage kit
This is Nishi Kunuyo 1/8 scale by the Poppy Puppet.
A strange name for a circle but I've seen stranger ones. They no longer host a website, so it's hard to track down their history, but given what I've seen on auction sites as well as Mandrake, this circle has been around for a long time and has a good selection of Girls und Panzer garage kits.
However, all of their kits I've seen are 1/8 scale and bigger and command fairly high price tags. Therefore, my interest in their kits has not been strong.
This Nishi figure popped on Yahoo Japan auction site in September of 2020 @ 9,000 yen. It wasn't sold. I wasn't hugely interested in it, either.
This kit was put back on auction for 1 yen a few weeks later. This time, I simply put in a bid of 5,000 yen. That was as high as I was willing to go for this kit. I didn't really care whether I would win or not. My bid of 5,000 yen was just as high as I was willing to go.
Long story shot, this kit is in my hands now. I scored this at 4.770 yen. 10% tax on it, Buyee fee, and EMS fee …, in total it cost me about 8,000 yen.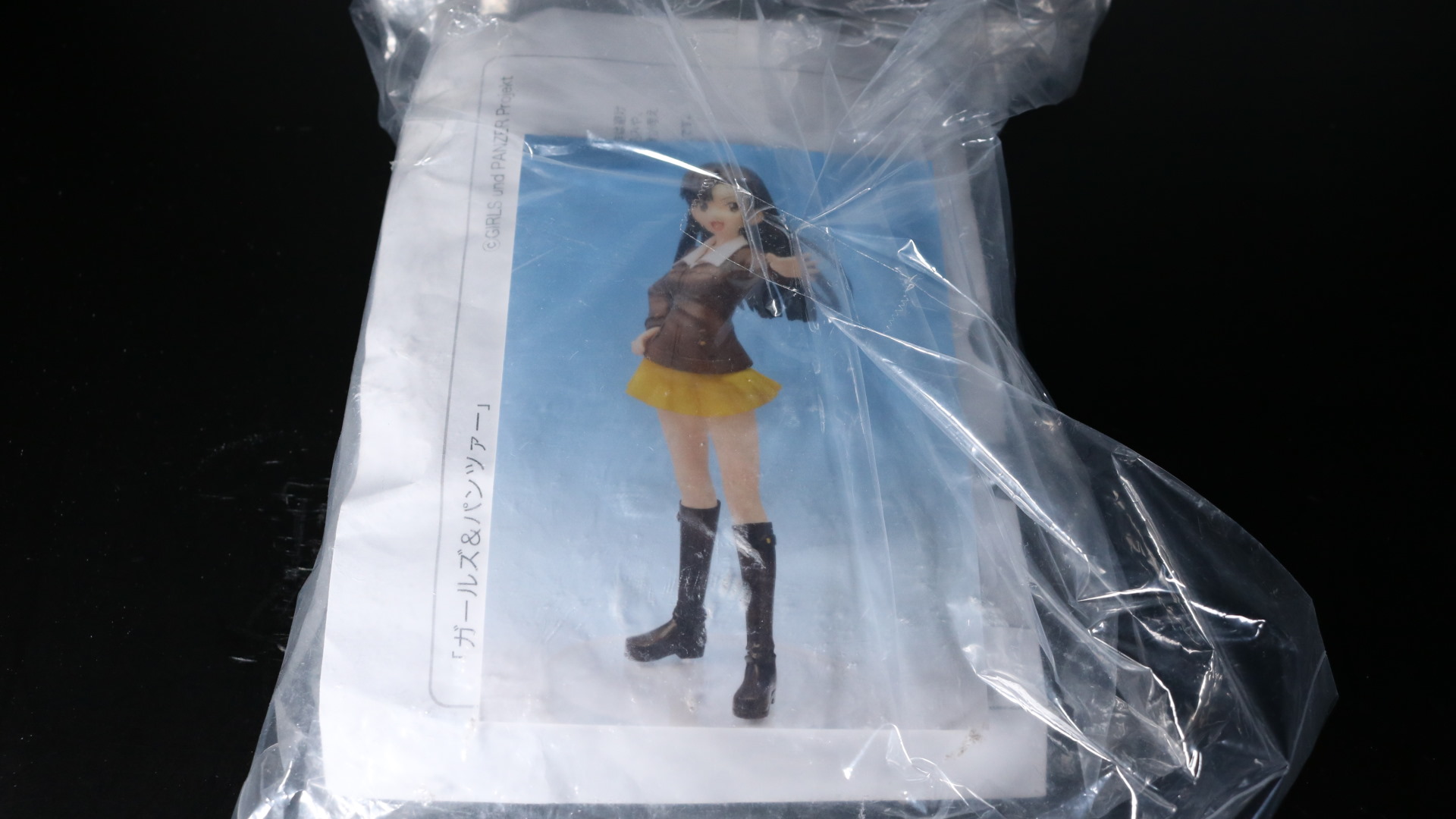 The outer packaging is in a heavily battered condition but that was expected because the seller said so. He even listed its condition as "B" which is pretty low.
There was also no guarantee of parts accuracy. The auction showed two photos which displayed its eye decal. I had to gamble it pretty much.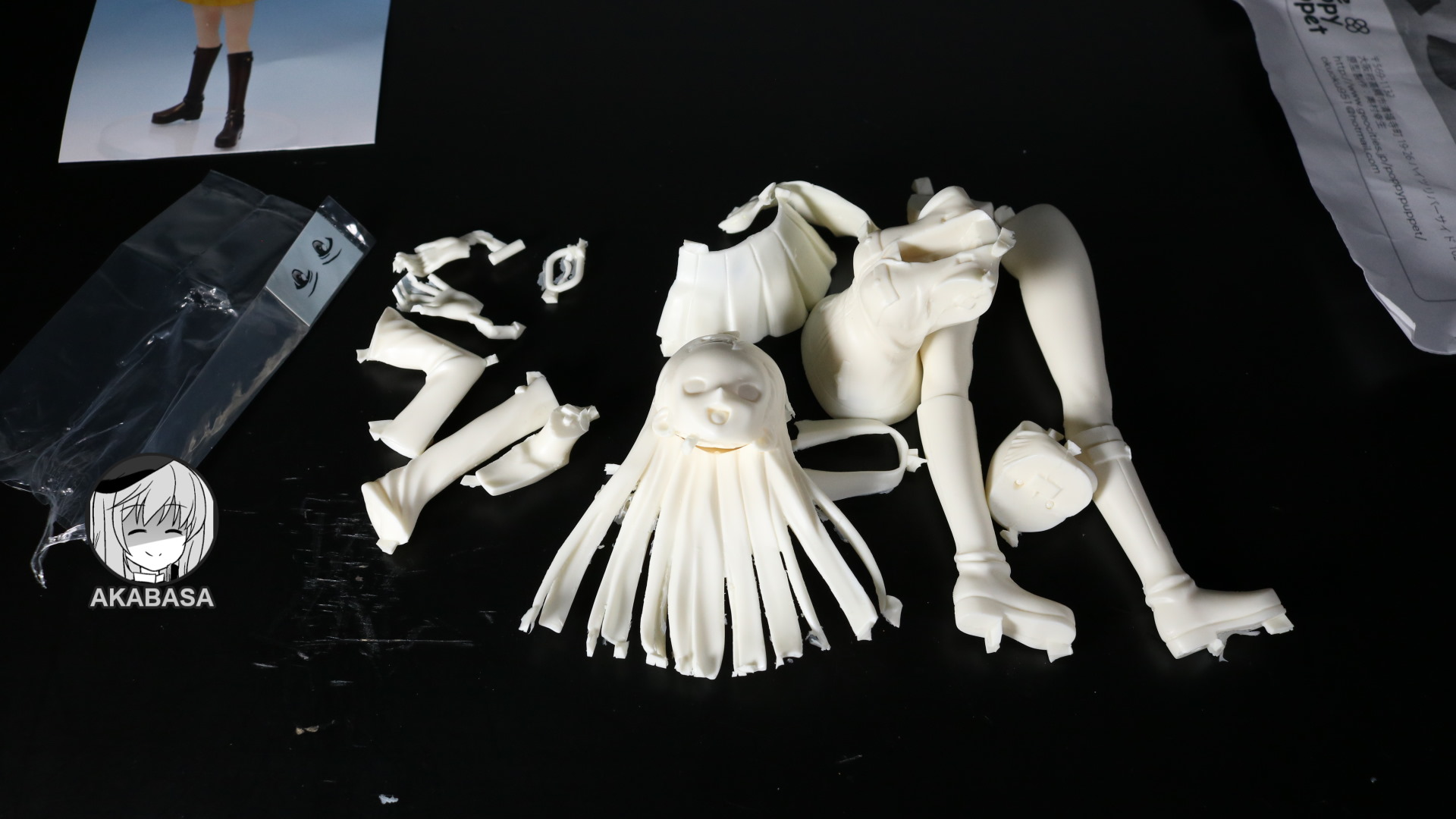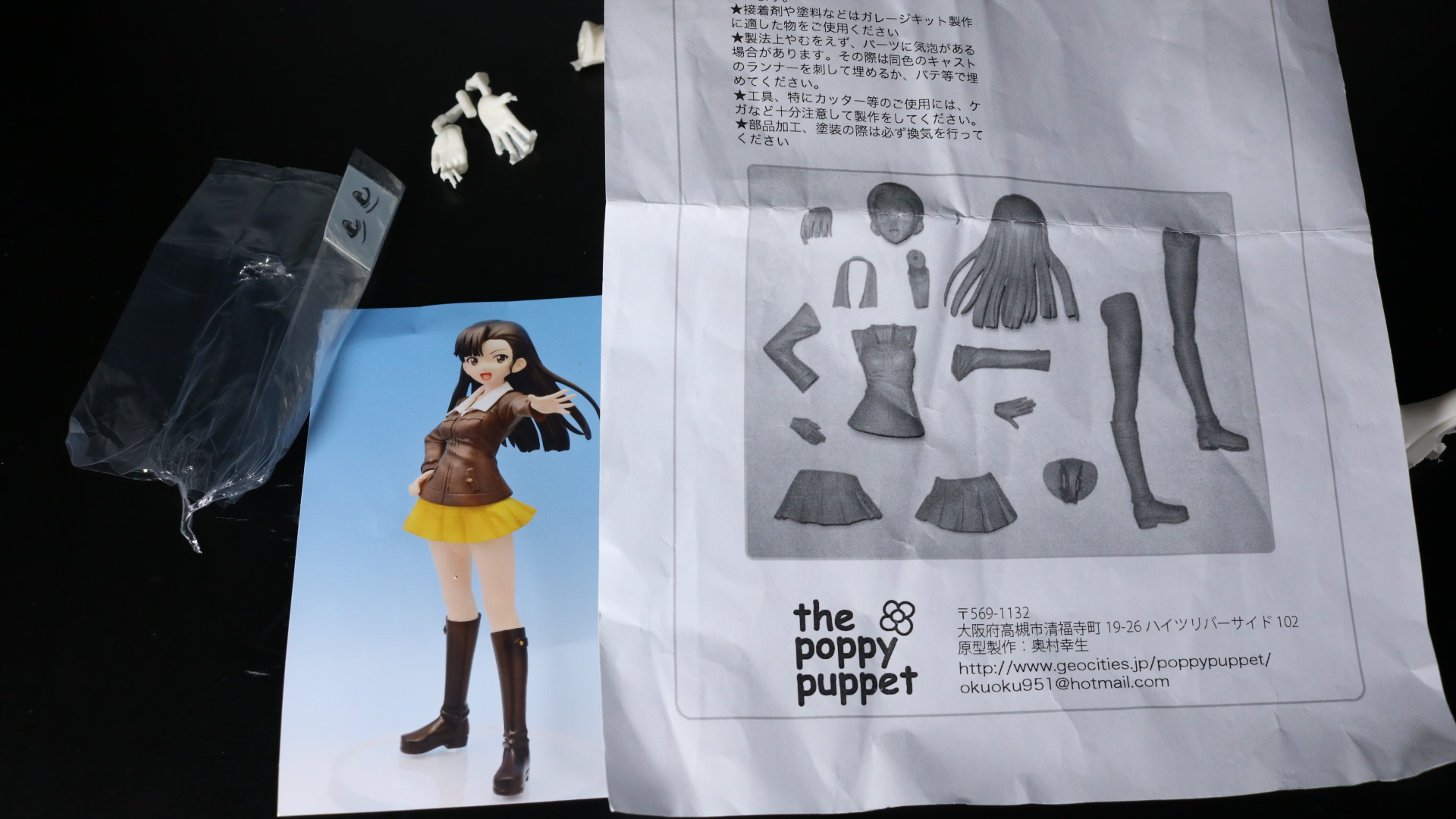 Good news is that all parts are present. I do not like that there is only one pair of eye decal (meaning no failure allowed) but I don't have a choice in the matter. I sourced it fairly cheap and knew what I was getting.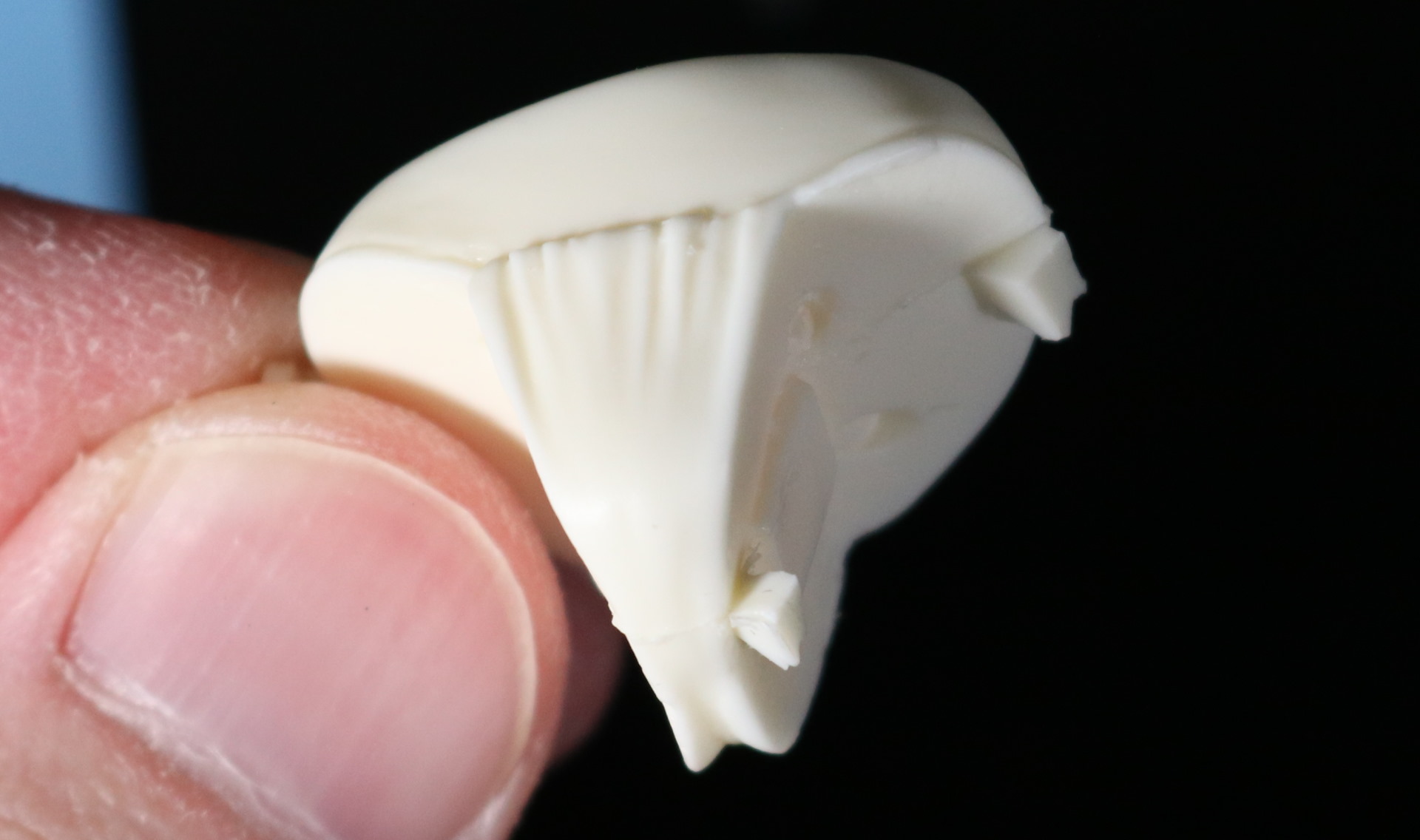 Interestingly, Nishi is wearing traditional Japanese underwear. It looks similar to fundoshi which is for males. It looks like it's been slightly modified to make it more like fundoshi + thong.
Given how little it covers, Nishi is apparently wearing the most revealing underwear of all GuP garage kits I've worked on which, to be honest, is unexpected. I'd expect either Nonna or Clara to wear a thong, not Nishi.
Two separated legs also mean that I can fully work on her underwear although … what's there to work on? It isn't even covering a lot. You will see more on that later.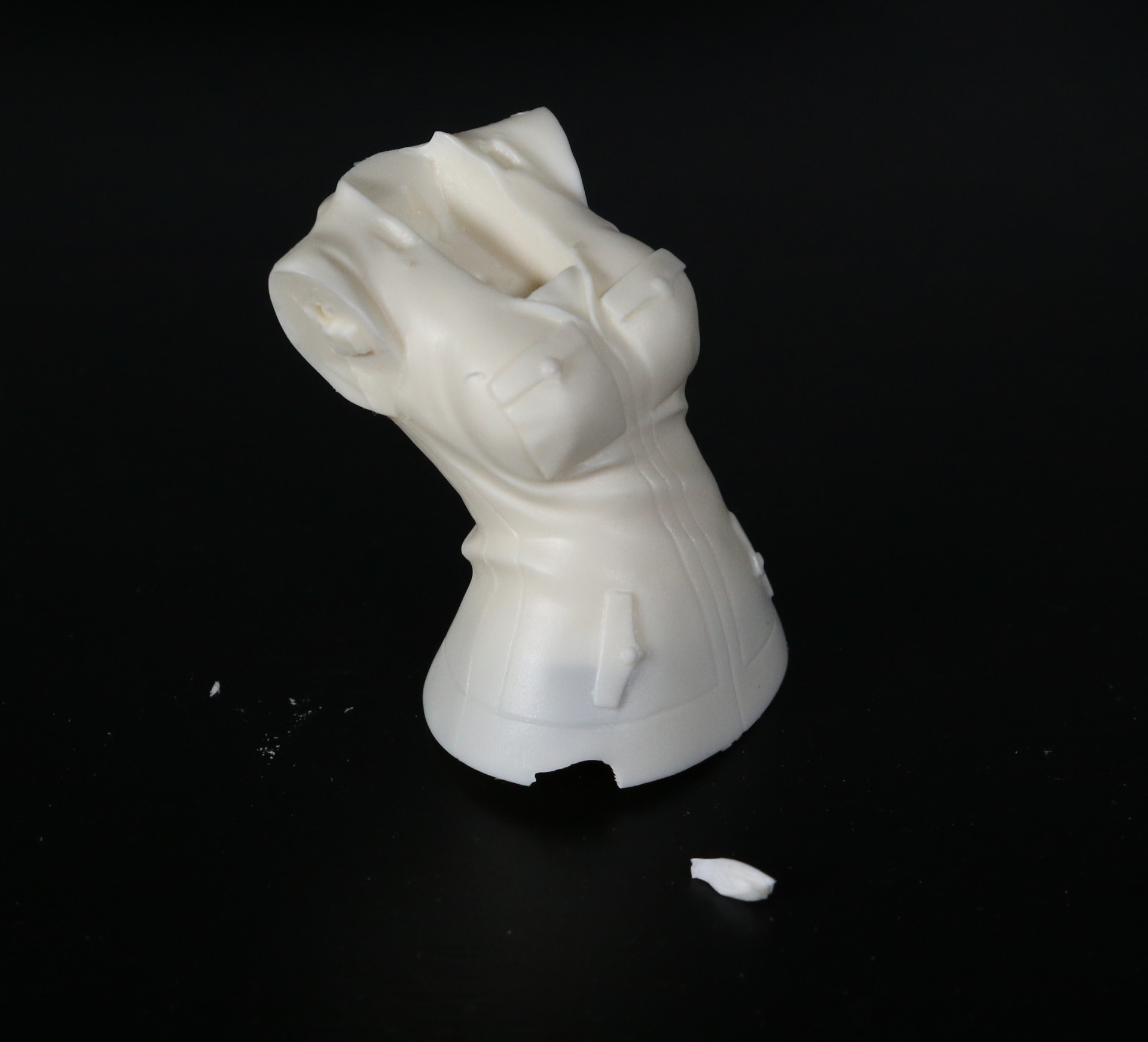 Anyway, this kit turns out to have a fault, resin wise. While there are no dreaded air bubbles, resin flew too thin on some parts.
You can see that it's so thin that the color of the black floor is being seen through. Mold injection point was on such a thin part that I eventually broke a small bit off – this is fixable.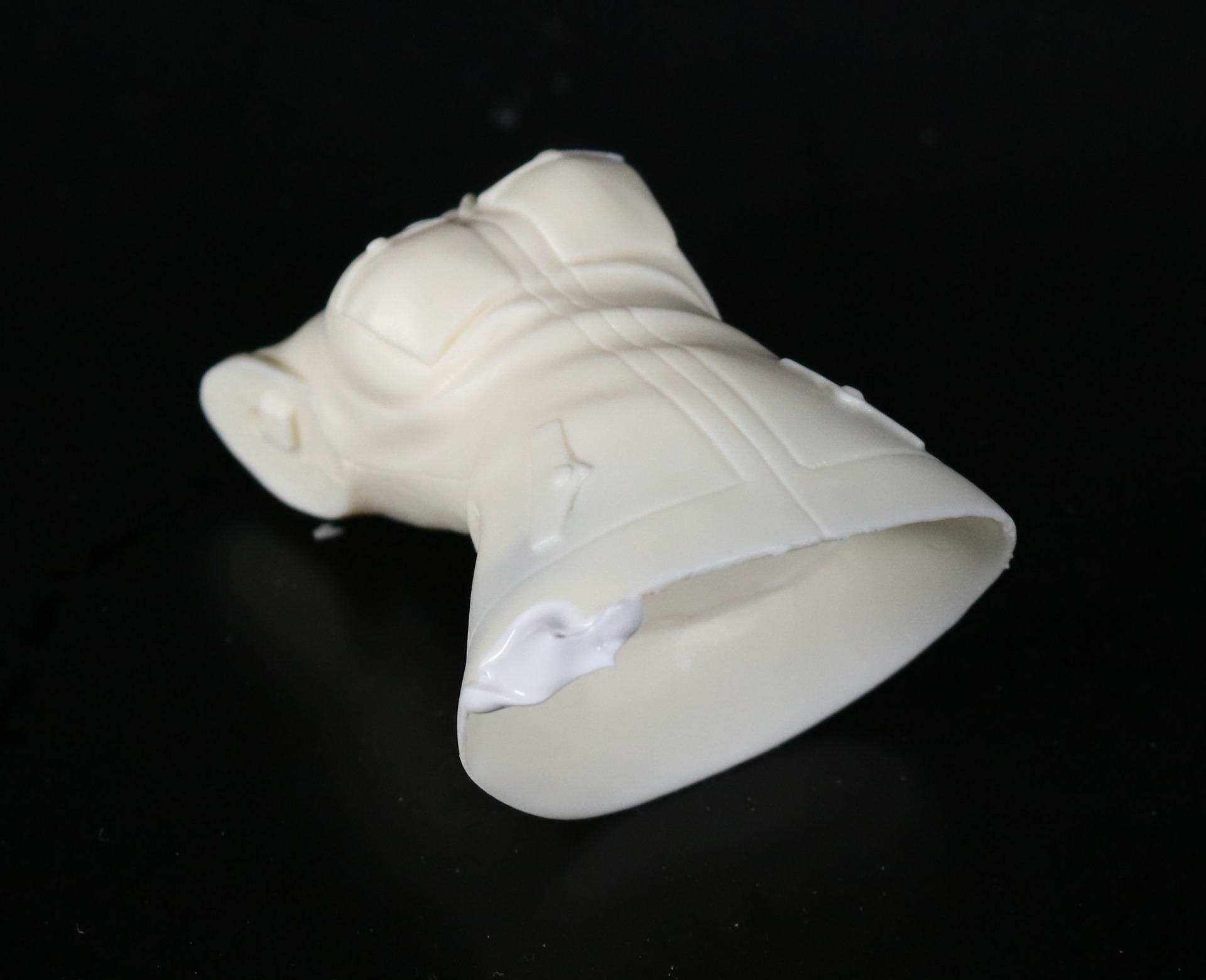 Basically, just pill the zone with a substitute material and trim/sand it later.
I have an option to use the existing broken part and just glue it back. However, the broken part is where mold injection point is, and I am not confident that I will be able to make the broken part thin enough without actually destroying it.
It's just better to do this way in my situation and skills.
Additionally, her skirt pieces also have such spots where resin flew too thin. I was extra careful with the skirt pieces and basically chose not to sand at all.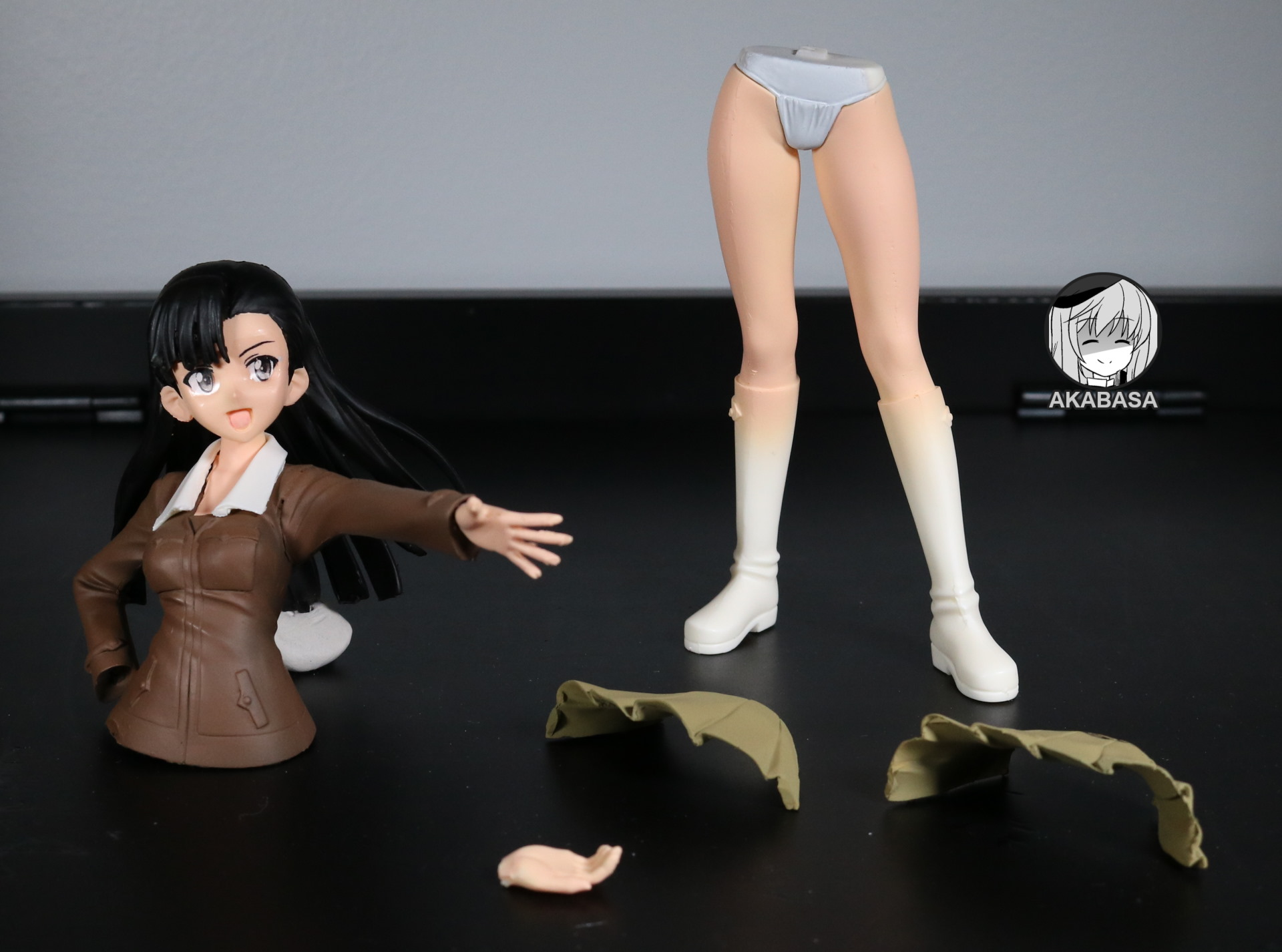 Other than the broken piece, the overall progress is smooth. I have done this enough to have grown my own know-how and procedure.
Anyway, I generally do not like two-piece skirt though because –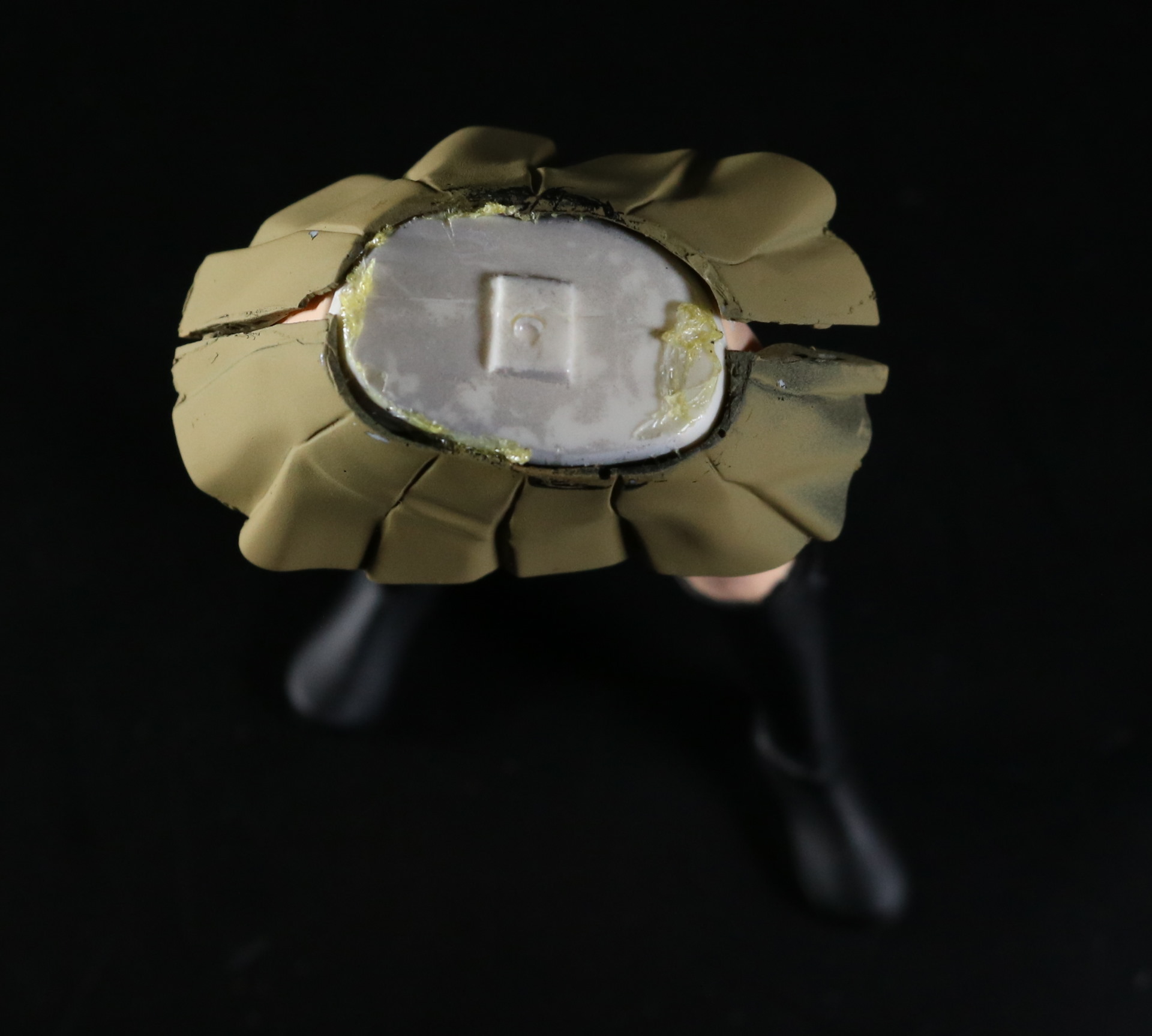 As you see, the pieces aren't exactly tight fits. I have had exactly same issues with other kits with two skirt-piece setup. Personally, I do not see any benefit of this setup. It might certainly be easier to make two pieces instead of one whole skirt.
Well, I have a way around this. It is the same method I used with GuP Flint kit.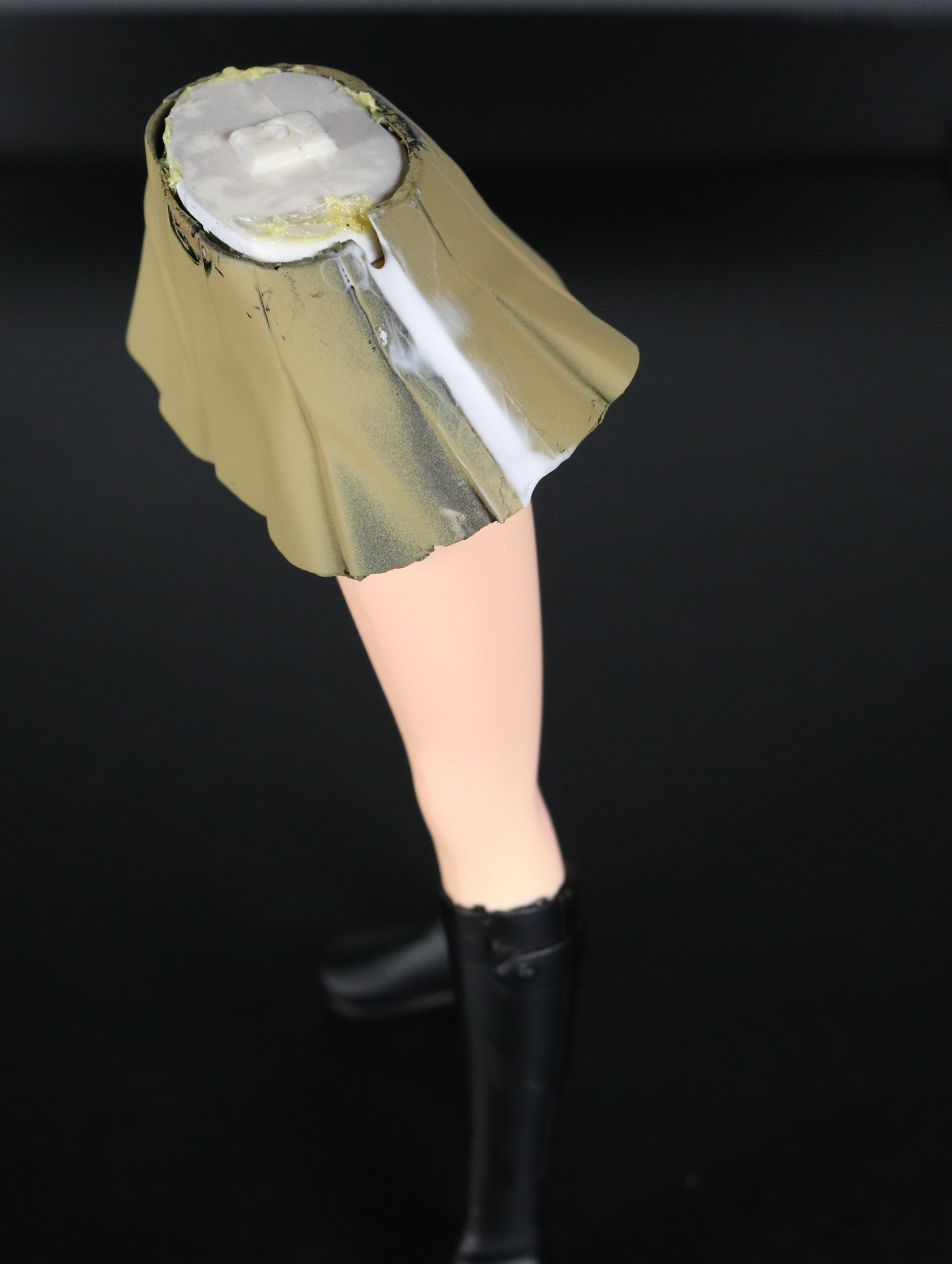 Basically, I use a paste to cover the gap. It is not plaster and paris. The paste is for painting and modelling which is resistant to water once cured.
It takes about a full day to harden enough to be able to paint over it and withstand some pressure. This has complicated an otherwise uneventful build.
Looks alright. Can hardly tell whether the skirt was two pieces to begin with.
Additionally, this is where two leg-piece setup shines. I was able to properly paint her fundoshi and you can see that it does look pretty nice down (or up) there.
Basically, the lines are very clean between the skin and the underwear.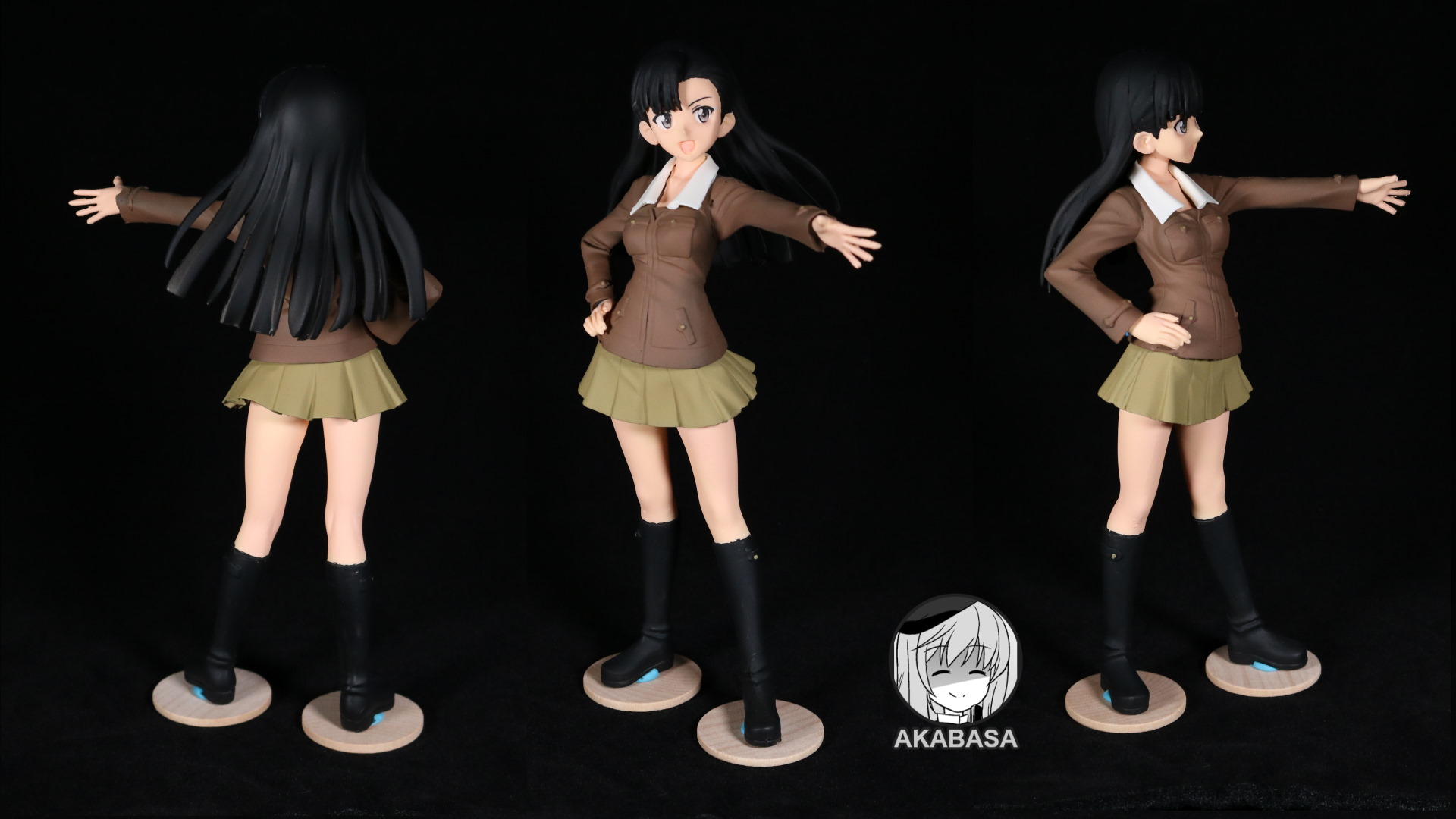 Once done, all there is left to do is glue the upper body to the lower body. Then final touches.
Now, what you see up there is not 100% complete. It is 95% complete with a little bit of final touches left. I just need to glue her right hand firmly and paint over some of spots that weren't painted enough. Most of paint inconsistencies aren't shown under normal light.
Only under super bright LED light, they are seen. It can even be ignored.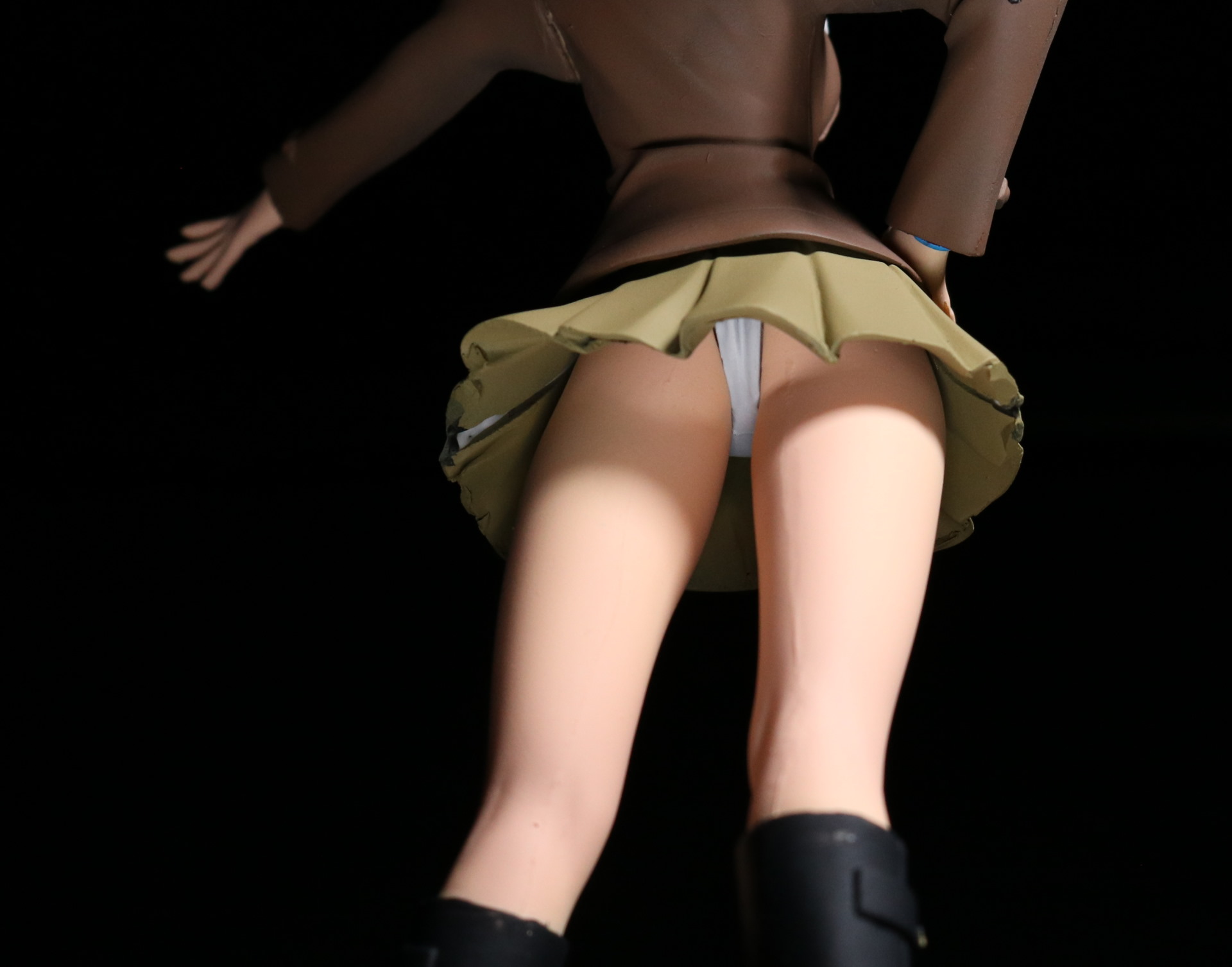 Now, it's virtually impossible to see her undies from front. Even from rear, it's pretty hard to see. This is despite the fact that Nishi is wearing a micro skirt.
Taking a clear picture of it was even harder. Color me surprised.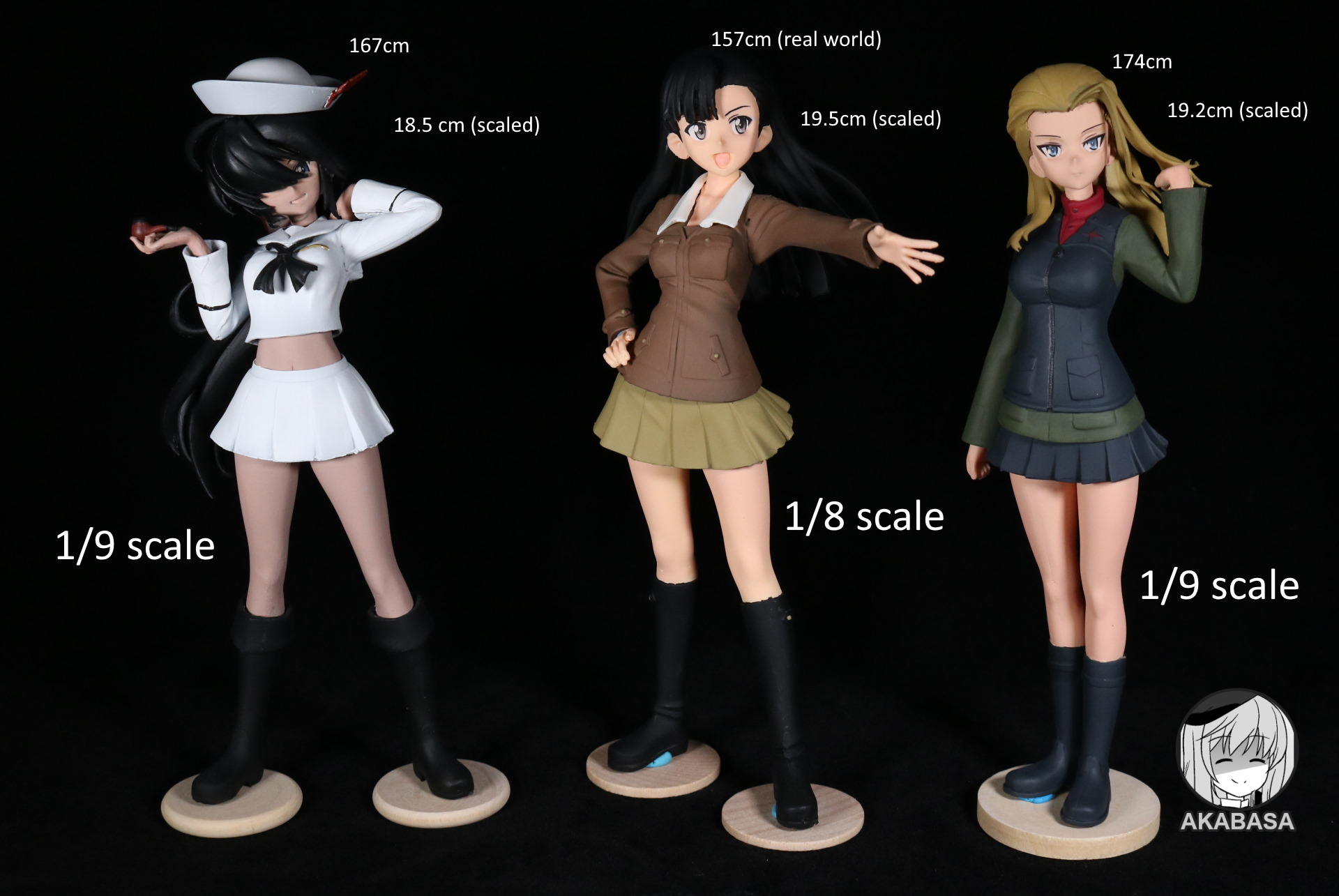 Finally, let's talk about its scale. The scale of this figure is declared 1/8 by the Poppy puppet and the scale is indeed accurate. This is the first real 1/8 scale I've worked on.
Previously, I've worked on a kit that advertised as 1/8 scale which was Amie-Grand Katyusha and Nonna kit, which was utterly false.
Nishi's height is 158cm. Clara is 174cm. Ogin is 167cm. As shown above in the picture, she stands taller than Clara because she is a scale larger. Even then, despite Nishi being a scale bigger, the figure gets along okay with 1/9 scale figures from Bronze Circus. Nothing seems terribly amiss from a first glance.
Meaning, as long as you do not have the knowledge of their heights, it's fine.
Until next time.