[Volks] CharaGumin Laios Thorden
Laios Thorden. If you don't know who this guy is, you should probably read up my take on Delicious in Dungeon.
The manga is basically a dungeon crawler series with a heavy focus in cooking with ingredients coming from monsters. Now, a dungeon crawler series is very common, and so is cooking. But mixing those together, plus cooking monsters is something new.
I did like the manga although I felt it was going downhill near the end. What really surprised me was that Volks had all four main characters in Charagumin series. It is surprising since the manga does not have an anime adaptation, meaning it has a limited audience.
It also means the series has a strong niche following. Otherwise, Volks wouldn't have bothered making these kits.
In this entry, I will specifically cover Laios since his kit is all I have, for now. I did not order the other three since I wasn't sure what I'd get.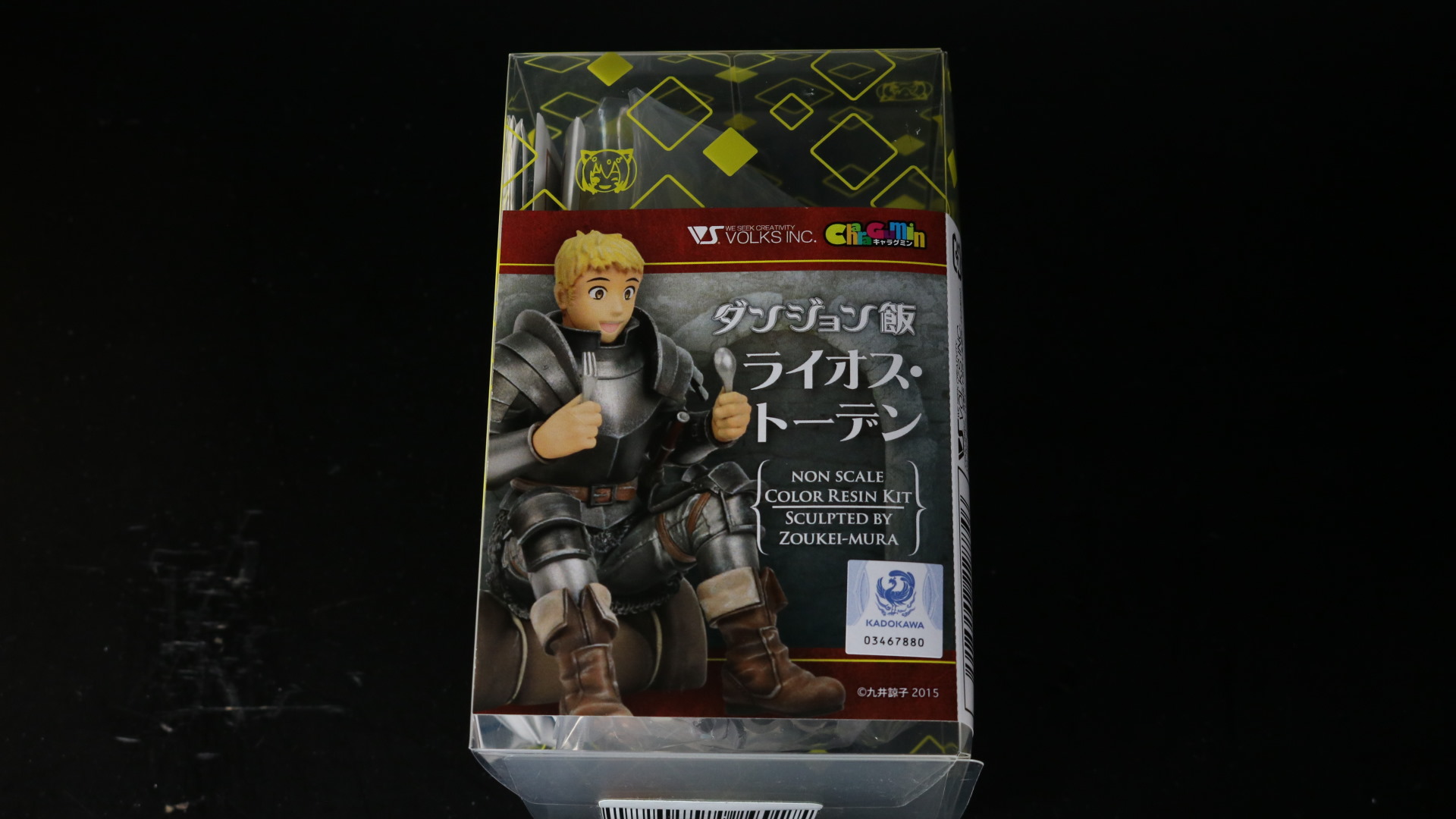 Volks's "Charagumin" series garage kit is a beginner friendly garage kit where parts come colored. You just need to do assembly and finishing touches. I've dealt with charagumin kits before on this site. Just follow the Charagumin tag.
The colored parts makes everything a lot easier and faster. The parts are colored resin. Thus the base paint peeling off is not a concern. Additionally, Volks resin parts are the best quality resin you are going to encounter. Sanding is usually not required at all, and tiny parts, like fingers, are very crisp.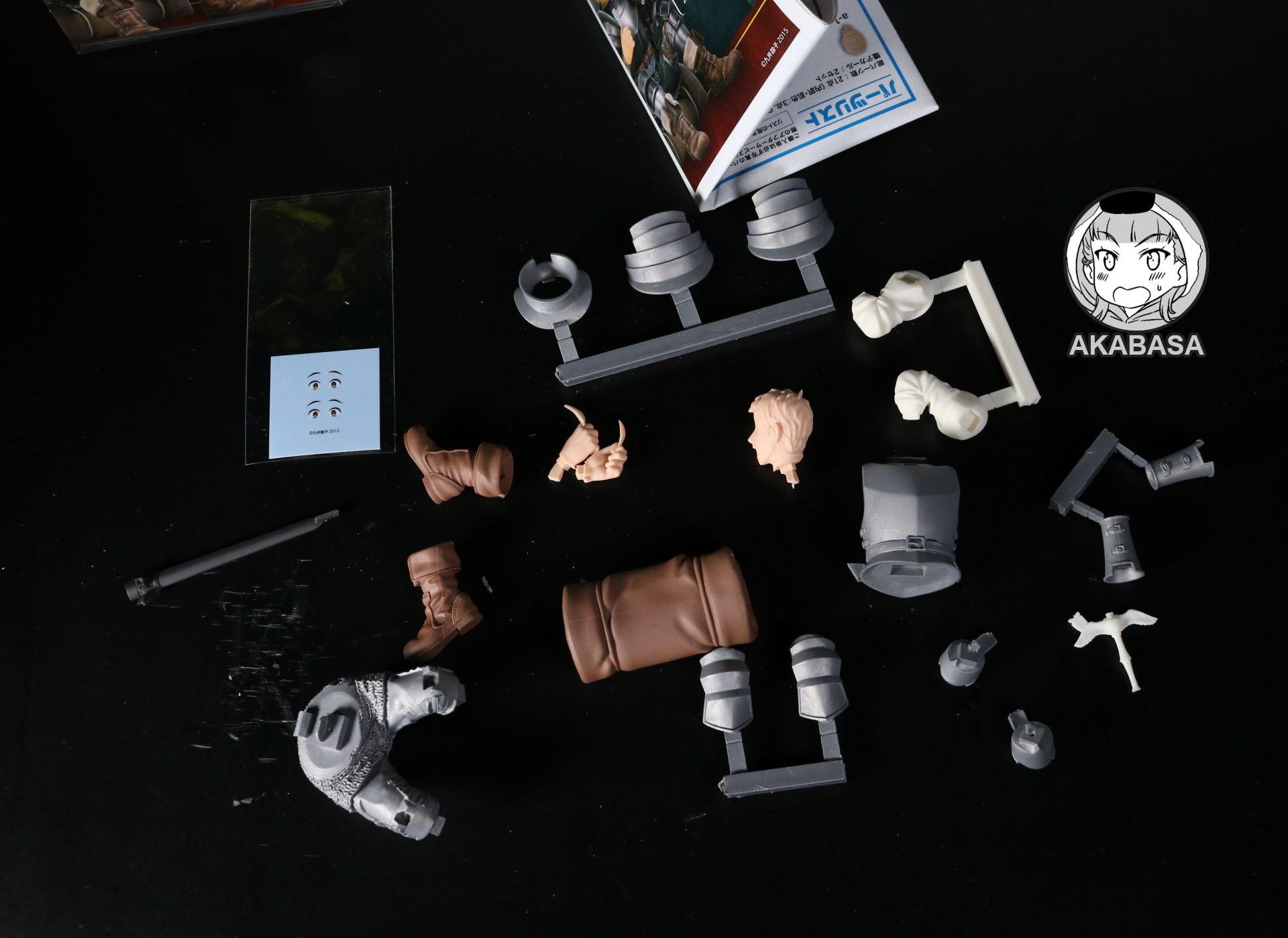 Anyway, let's begin.
As mentioned, this is a CharaGumin kit, so parts are colored. It shouldn't be hard to work on this kit. Now, this is a non-scale kit. Looking at overall size of the face, I think this is more of a 1/16 scale.
Now, Laios being in a plate armor, I am going to need metal paint and I have perfect paint for his armor.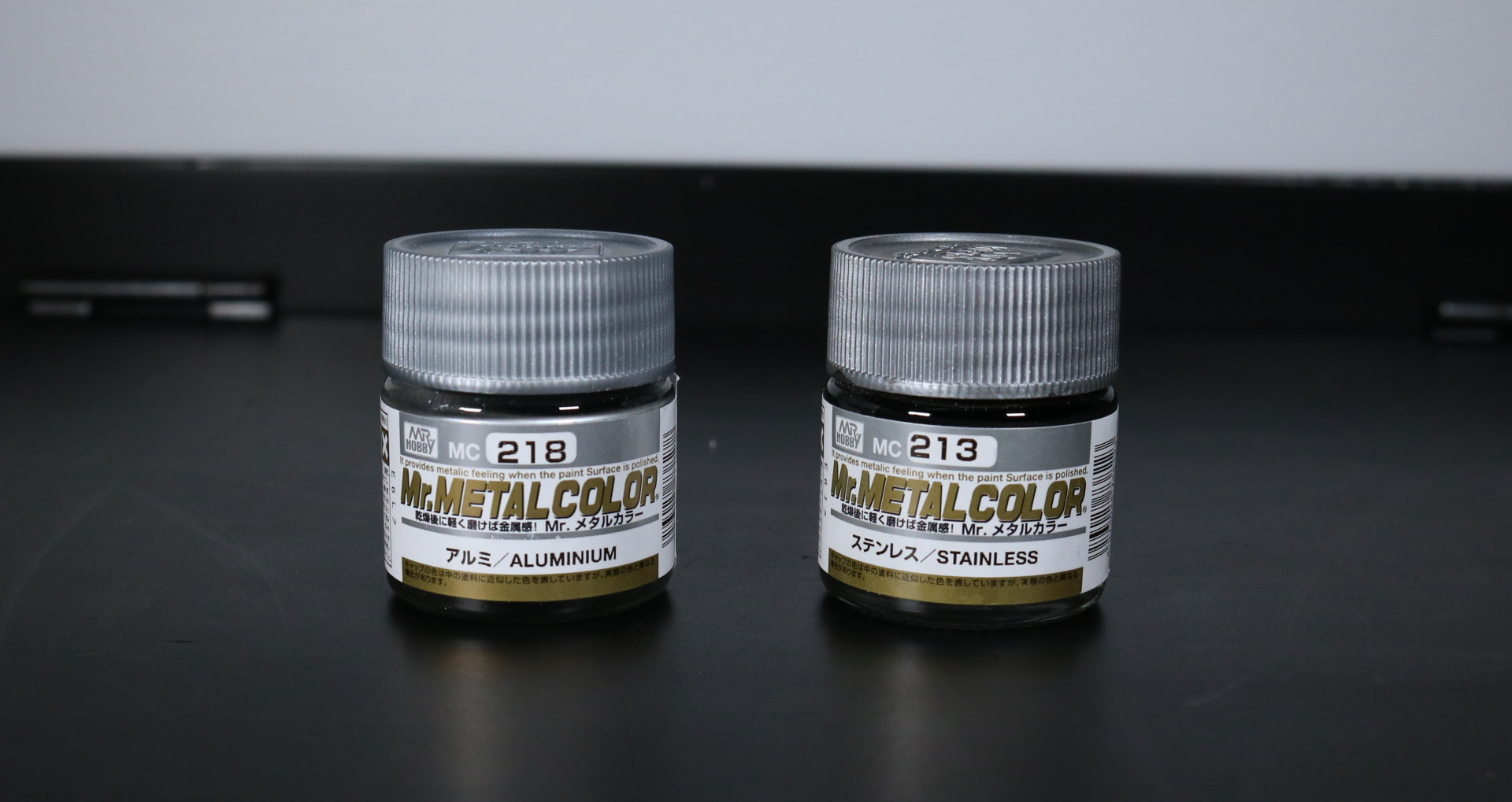 It's Mr. Color metallic paint. It's not water based paint and its fume is pretty toxic but, in my experience, nothing gets metallic surface done better than Mr. Color's metallic paints. It is one of few paint that I do not bother to varnish because it's very tough and can stand on its own.
Mr. Color paints should also never be used with an airbrush. Use a brush because the fume is pretty potent and there is also no need. It dries in about 10 seconds, and once dried, it's not coming off.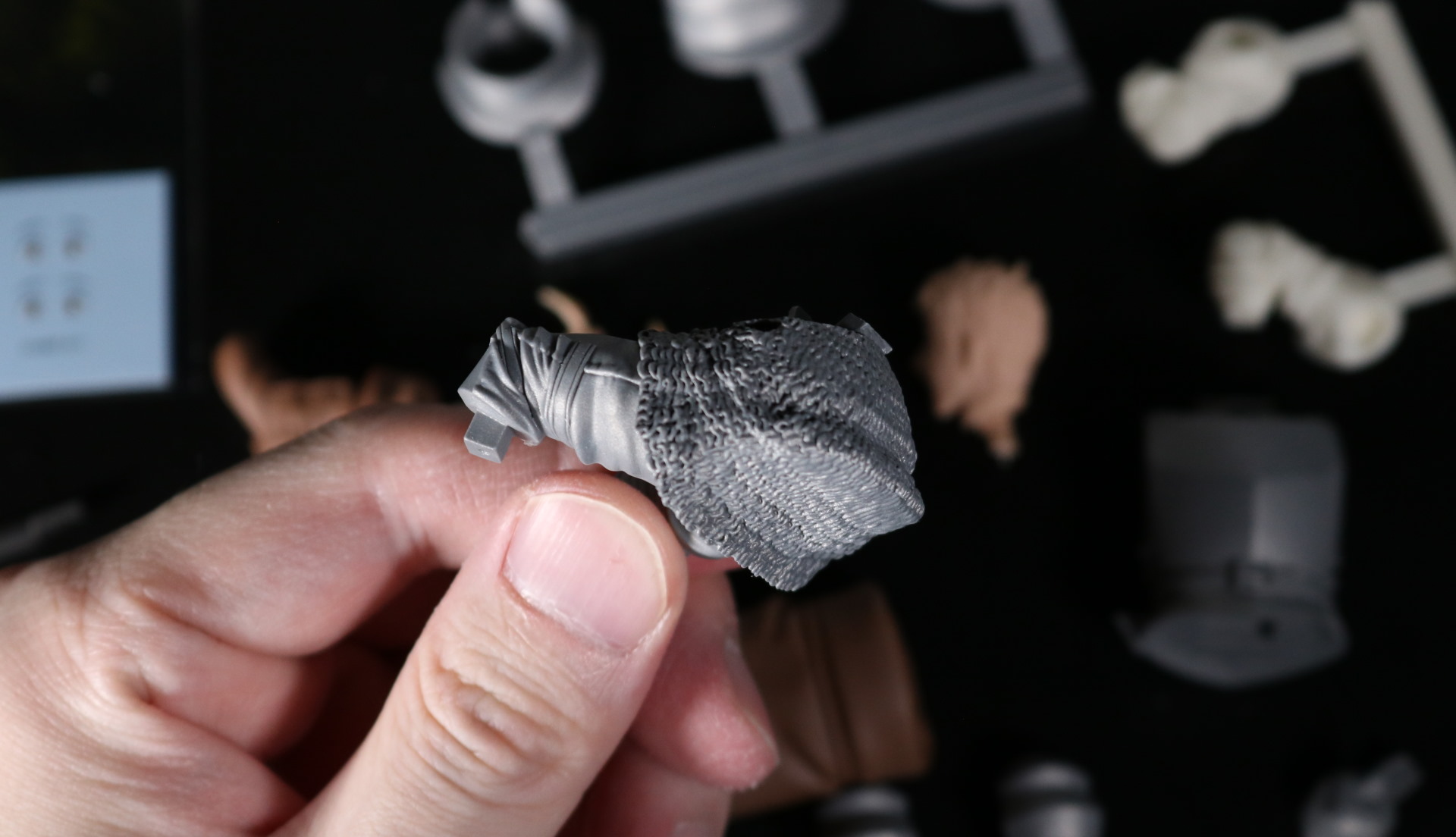 The amount of detail in this kit is quite good. It is hard to believe that this is a resin kit. An ordinary circle wouldn't be able to produce a chainmail resin part that looks this good.
For the chainmail, I am going to use Mr. Color 218 aluminum.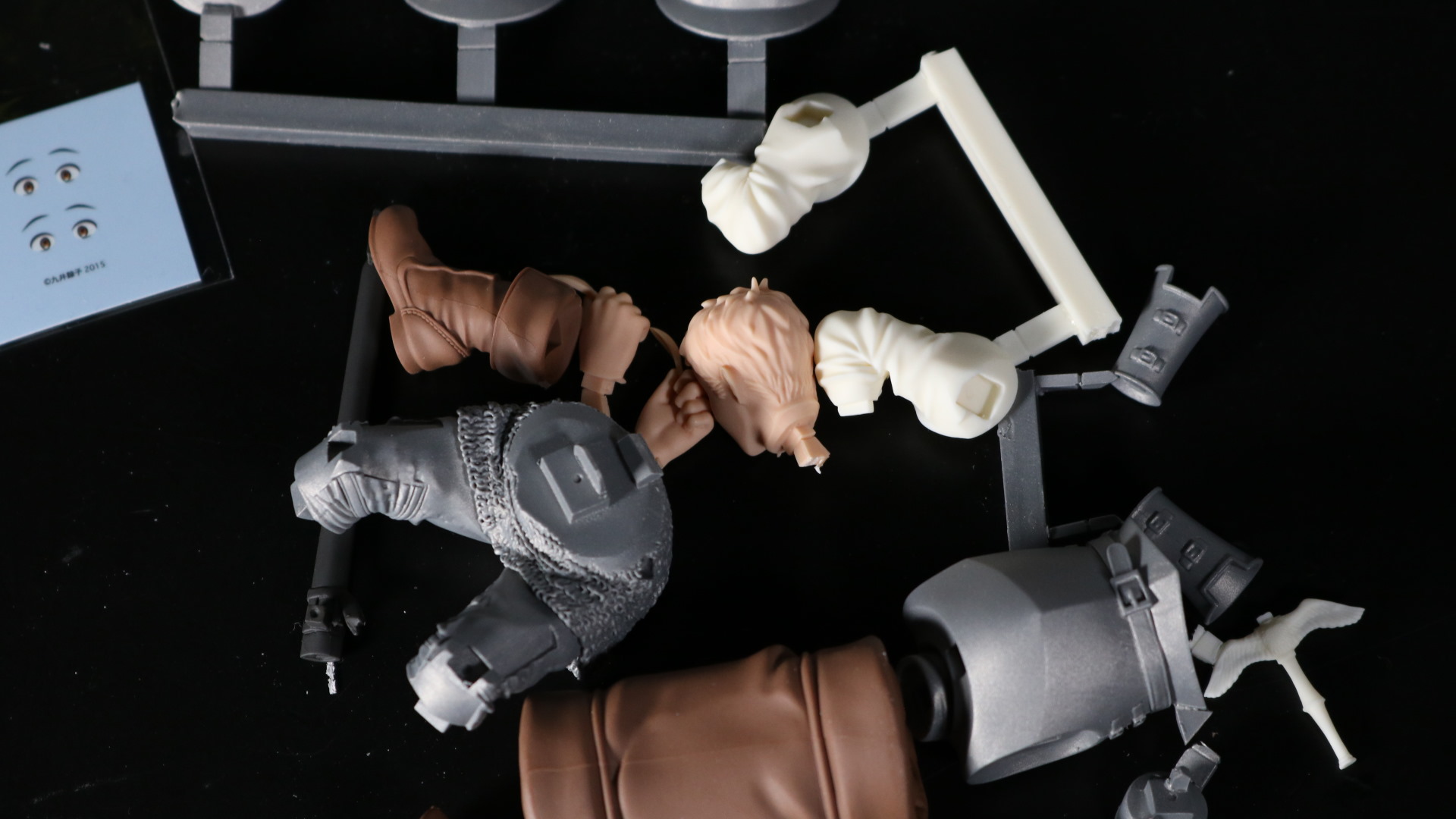 For other armor parts, I am going to use 213.
218 is a shiny metal paint while 213 is a dull iron gray metal. I am also going to weather the hack out of this figure since Laios literally lives in a dungeon. There isn't much time to look after his equipment and stuff.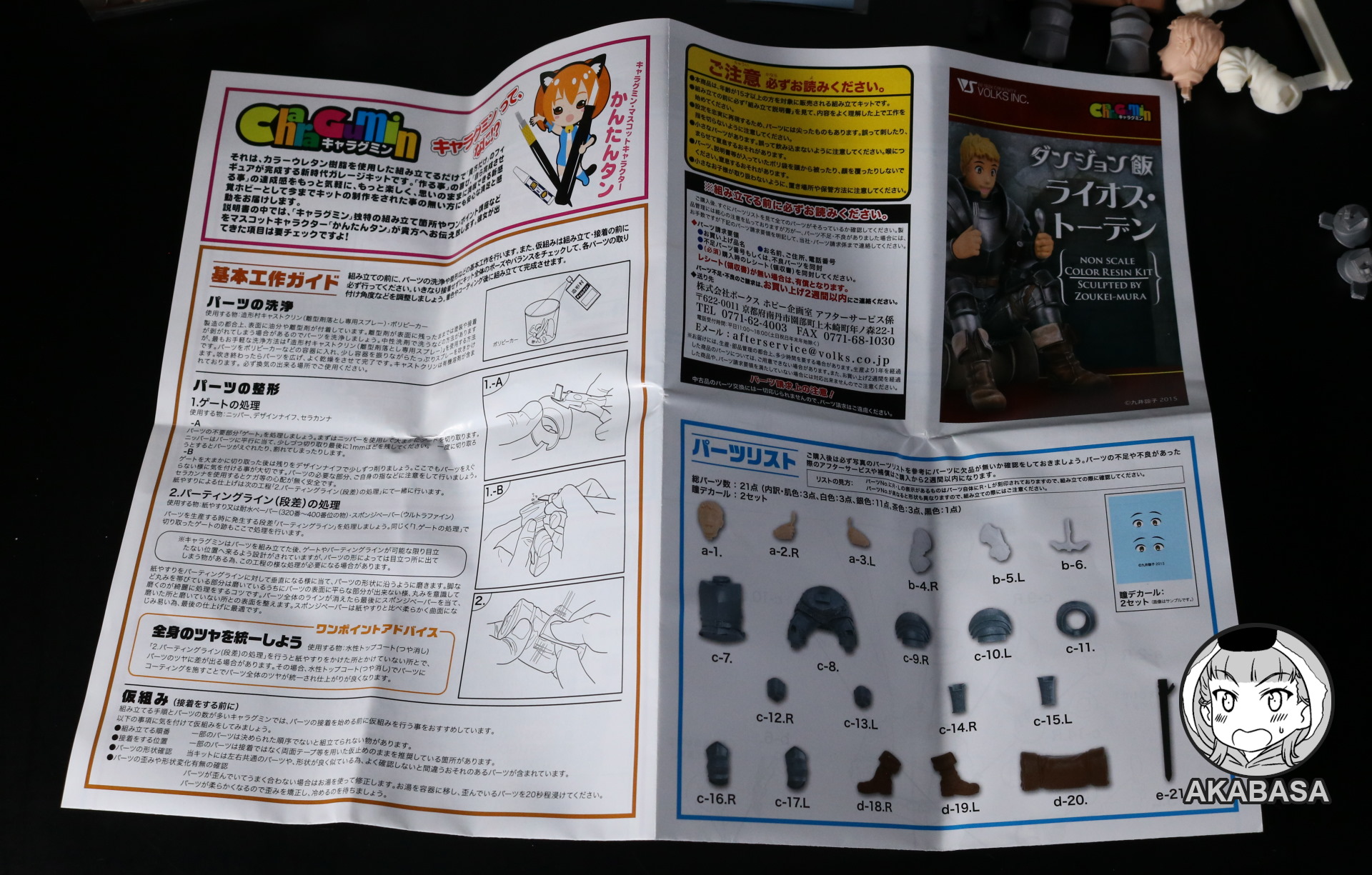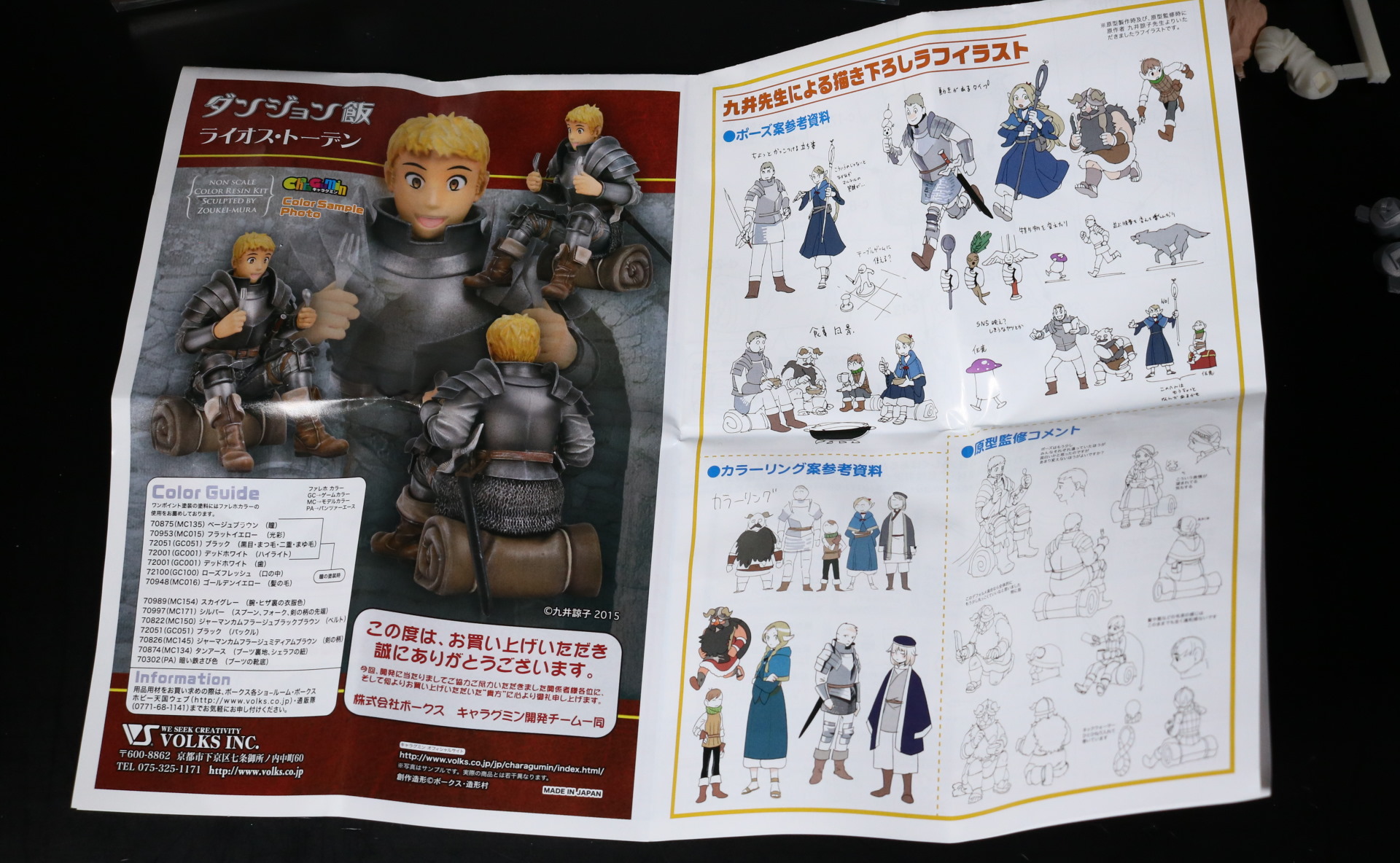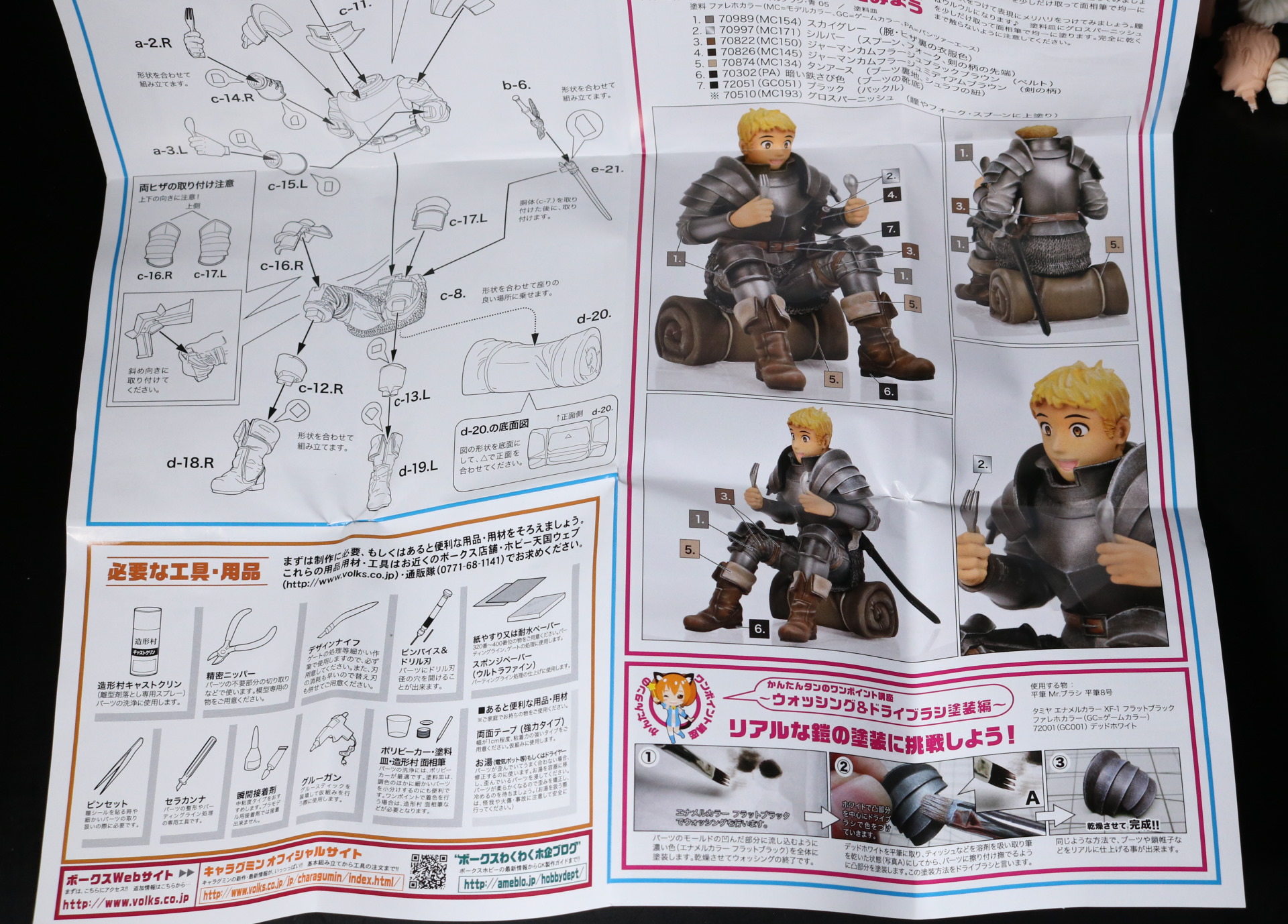 The instruction manual tells you exactly what to do and even how to paint. However, I won't be following it. A manual is a recommendation on how to do things.
This being a garage kit, I am going to use my own method.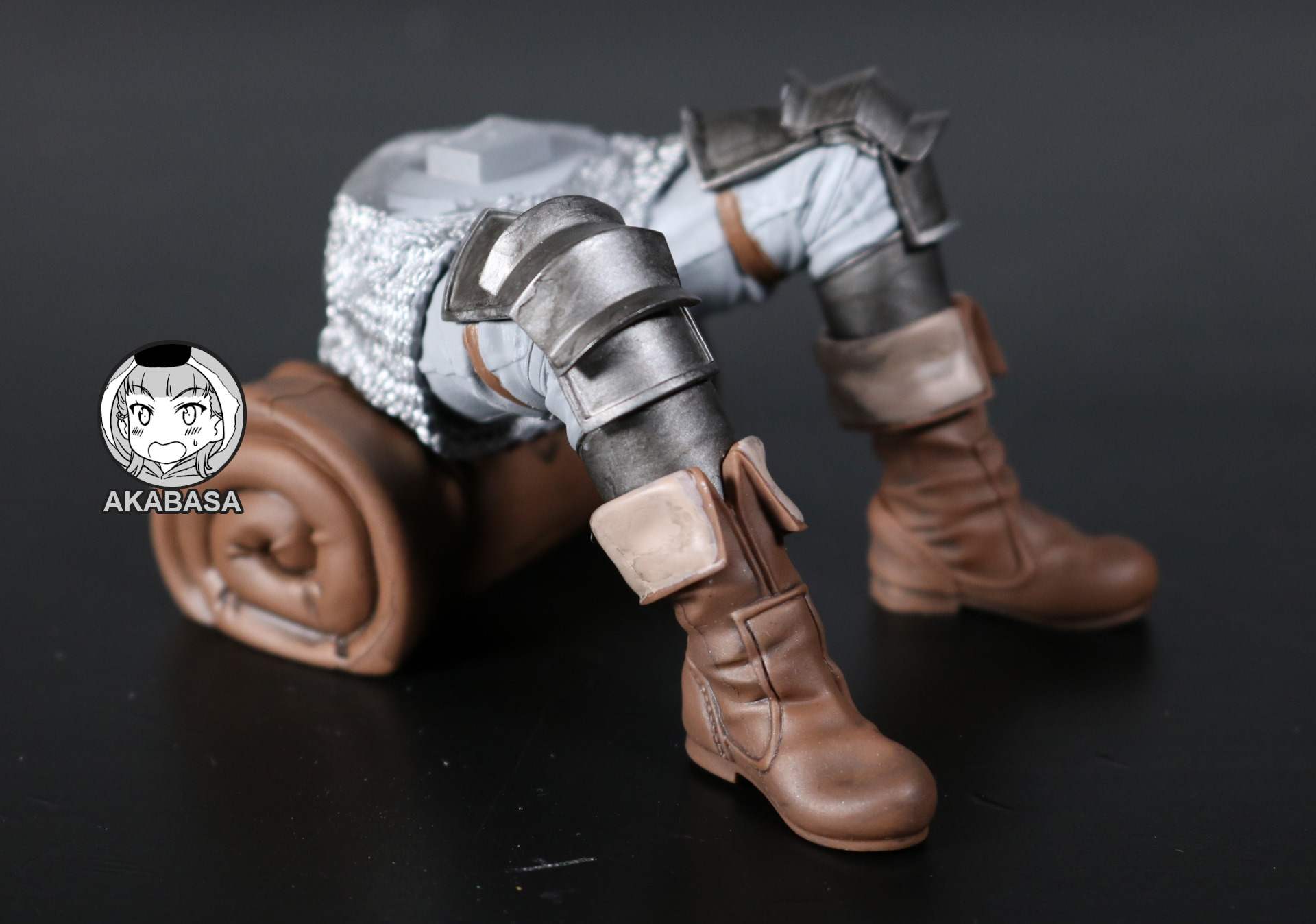 I have to say that it is turning out pretty good. You can see the difference between 213 and 218. 213 is his armor plate, and 218 is the shiny chainmail.
I've also weathered his boots as well as his bedroll. His pants are airbrushed in gray and then weathered in white because it's cloth. Boots are weathered by vastly thinned black paint. For his armor, I didn't have to do much. The 213 paint is really easy to use, bar the drying time.
Overall, I am really liking the progress so far. It's been rather painless and quick.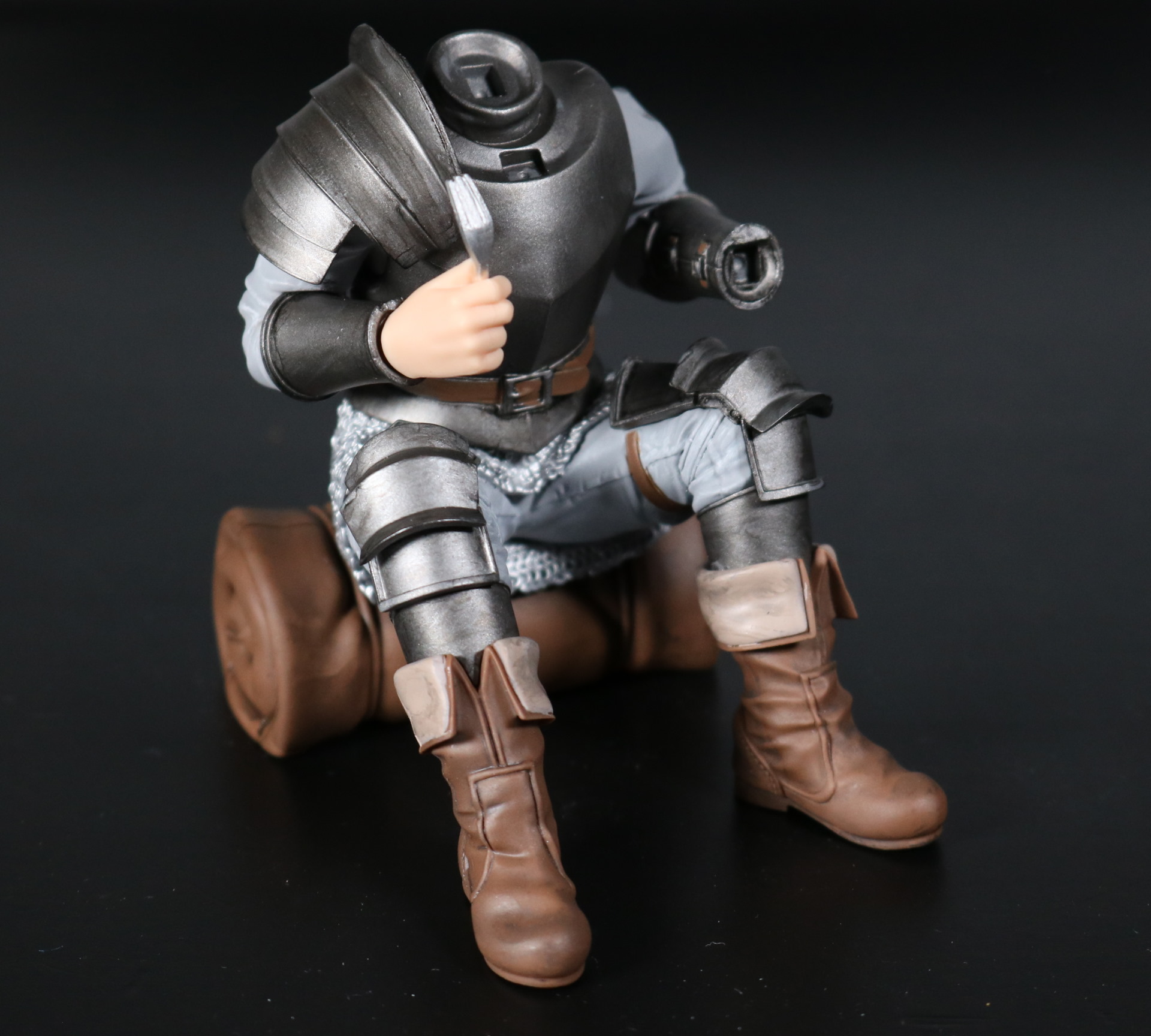 I've experienced no difficulty at all during this build. It's been really smooth as butter.
Therefore, I've decided to order the other three kits. Each kit, including this one, costs 6,200 yen each. I am purchasing directly from Volks online store. Ever since they renovated their online store back in 2019, they've been allowing international orders.
They charge a flat rate of 2,000 yen for shipping, plus 200 ~ 300 yen for handling. They use either EMS or DHL. Due to COVID, they've been using DHL only.
One important thing to note when ordering from Volks online shop is that you are not charged Japanese internet tax (10%) for international orders. Japanese price for this kit is 6,800 yen.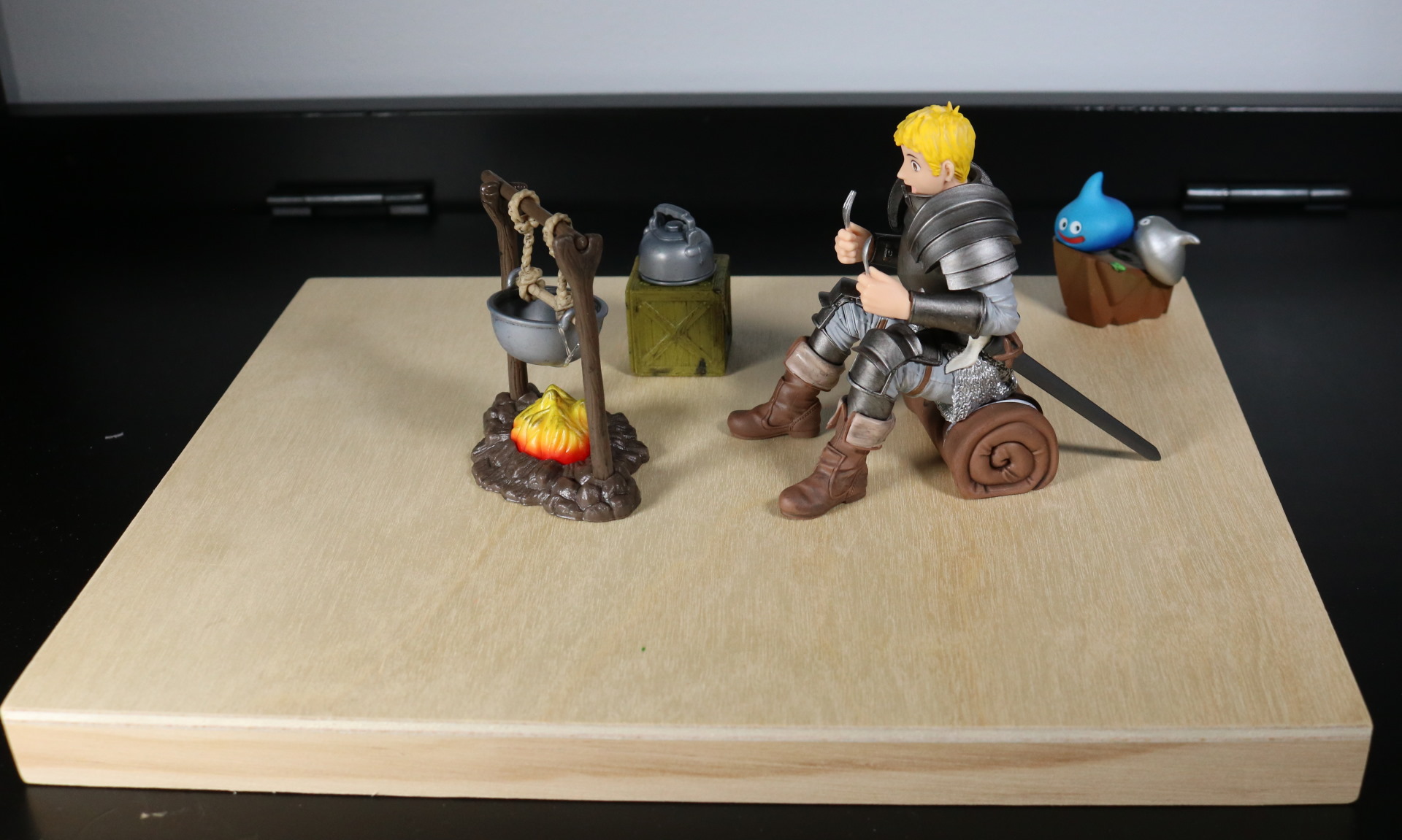 I've also decided to make a diorama out of these kits. This is just a beginning though. The wooden base is some extra I have lying around from another diorama project of mine.
The camping props are actually from a tent toy kit I purchased from Amazon. They just happen to fit so well that I've decided to just use them instead of building my own.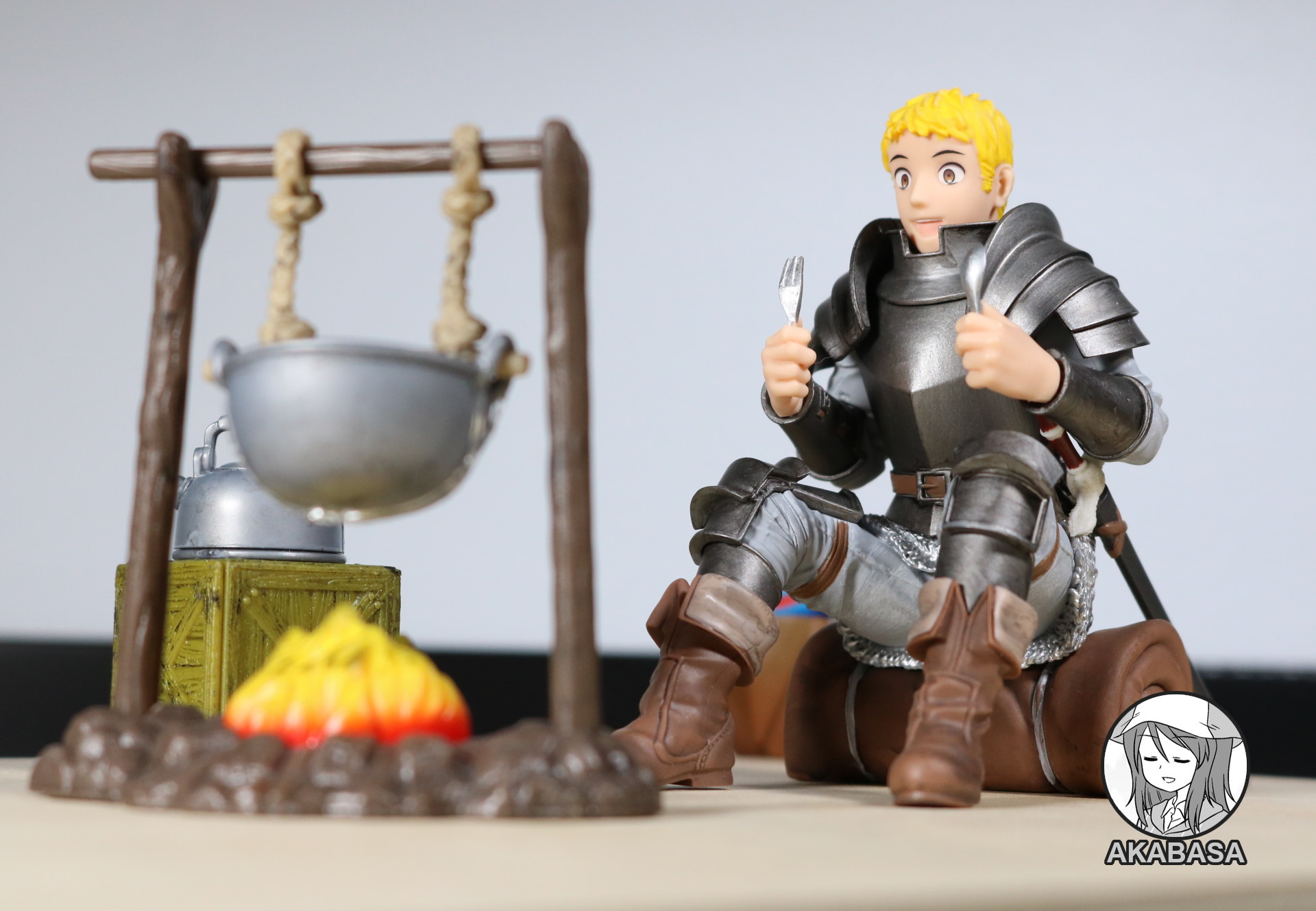 I've varnished only his head in order to set his eye decals. Varnishing the rest of the figure will kill his armor texture.
I am not worried about paints peeling off because the parts are hard-colored. I've simply added weathering paints. And I've never experienced Mr. Color paints coming off, so no worries about that.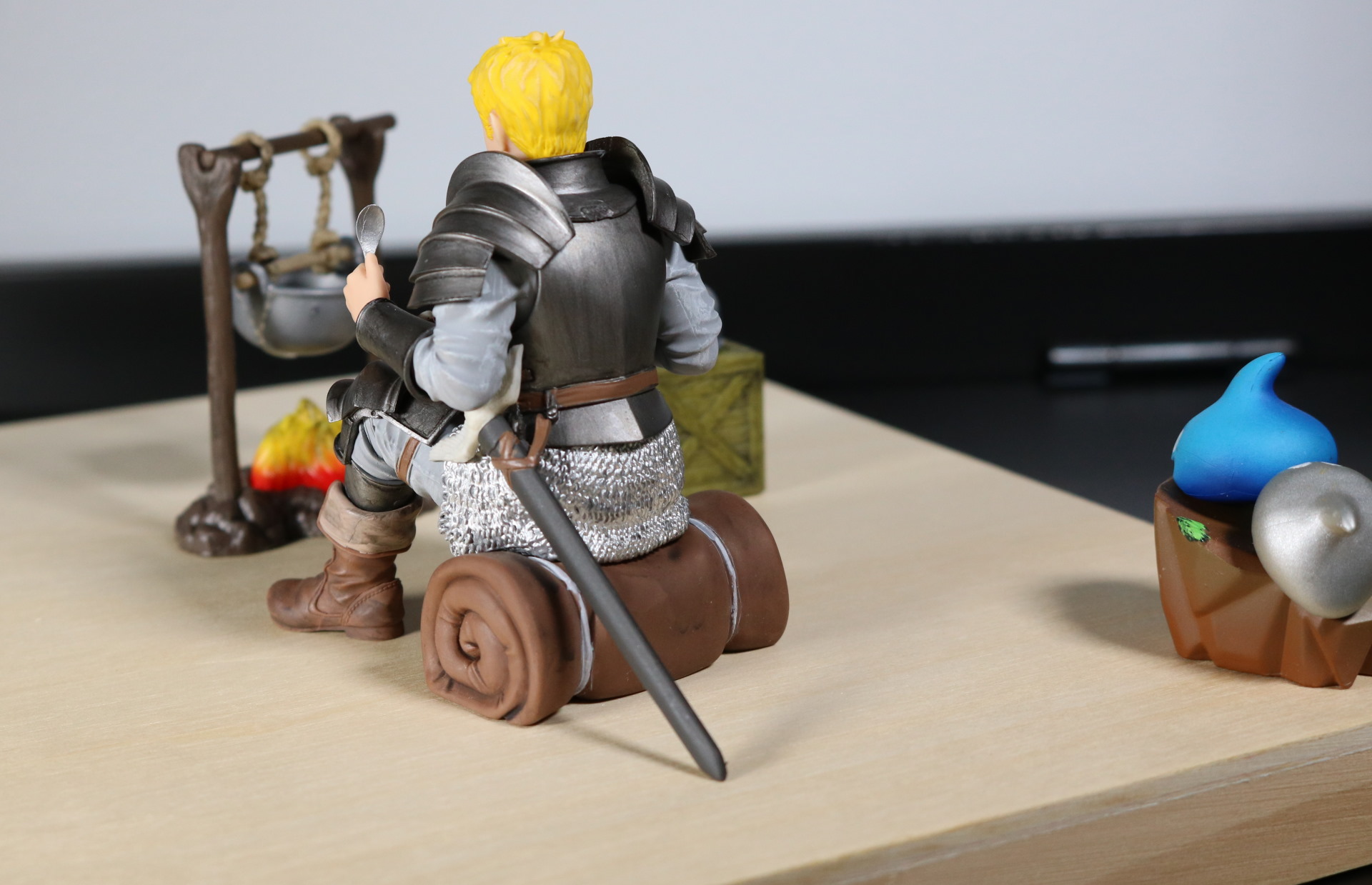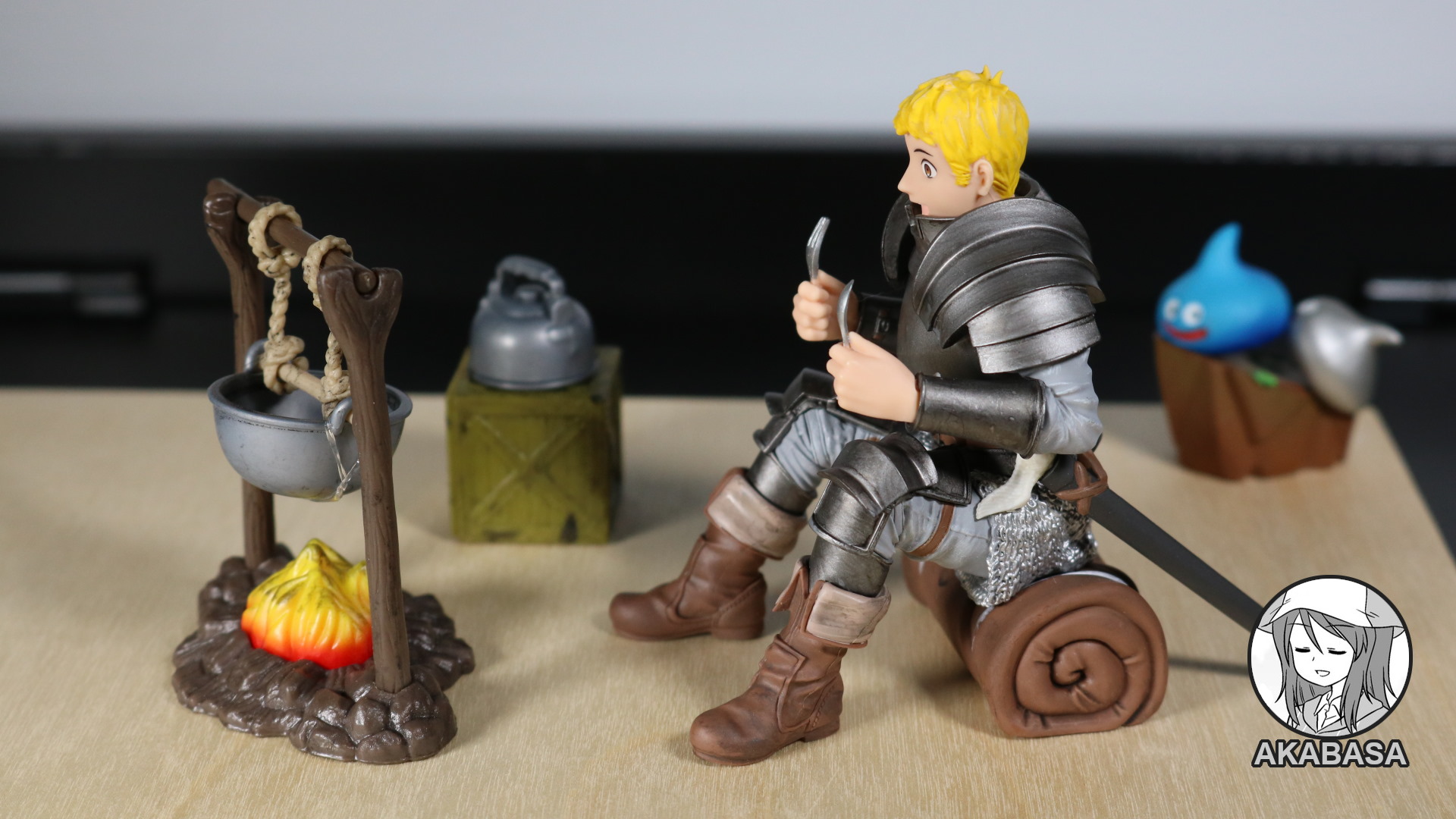 In the end, this is a really good kit. It has taken more efforts than other CharaGumin kits I've worked with but that is simply because I've weathered parts. Other CharaGumin kits I've worked on are from Girls und Panzer which didn't require weathering.
Now, it's time for me to think about how I will do the diorama itself….
Until next time.