[Amie-Grand] Katyusha 💓 Nonna 1/8 scale garage kit
This is a garage kit of Katyusha and Nonna by Amie-Grand. This kit caught me by surprise because I wasn't even aware of that Amie-Grand made these. Even on their website, I was unable to find this kit and their online shop doesn't list it.
It turns out that, while Amie-Grand manufactured a batch of these kits for the Wonder festival back in 2013 & 14, they weren't the ones who sculptured it, meaning they probably don't have the right to sell it on their online store.
I can easily see how it happens. If Amie-Grand has a facility to manufacture resin kits and gives out a discount for some circles to utilize their manufacturing line, some circles would well use it.
Regardless, when I spotted this kit @ 5,000 yen on Yahoo Japan auction site, I was pretty determined to acquire it. I normally use Neokyo as a middle man to buy garage kits but I had to use Buyee on this occasion due to Japan post being shut down. I had to use DHL which Neokyo didn't offer.
On the subject of pricing, their Carpaccio + Pepperoni 1/8 scale set costs 15,000 yen. The pricing was primarily why I was determined to get it.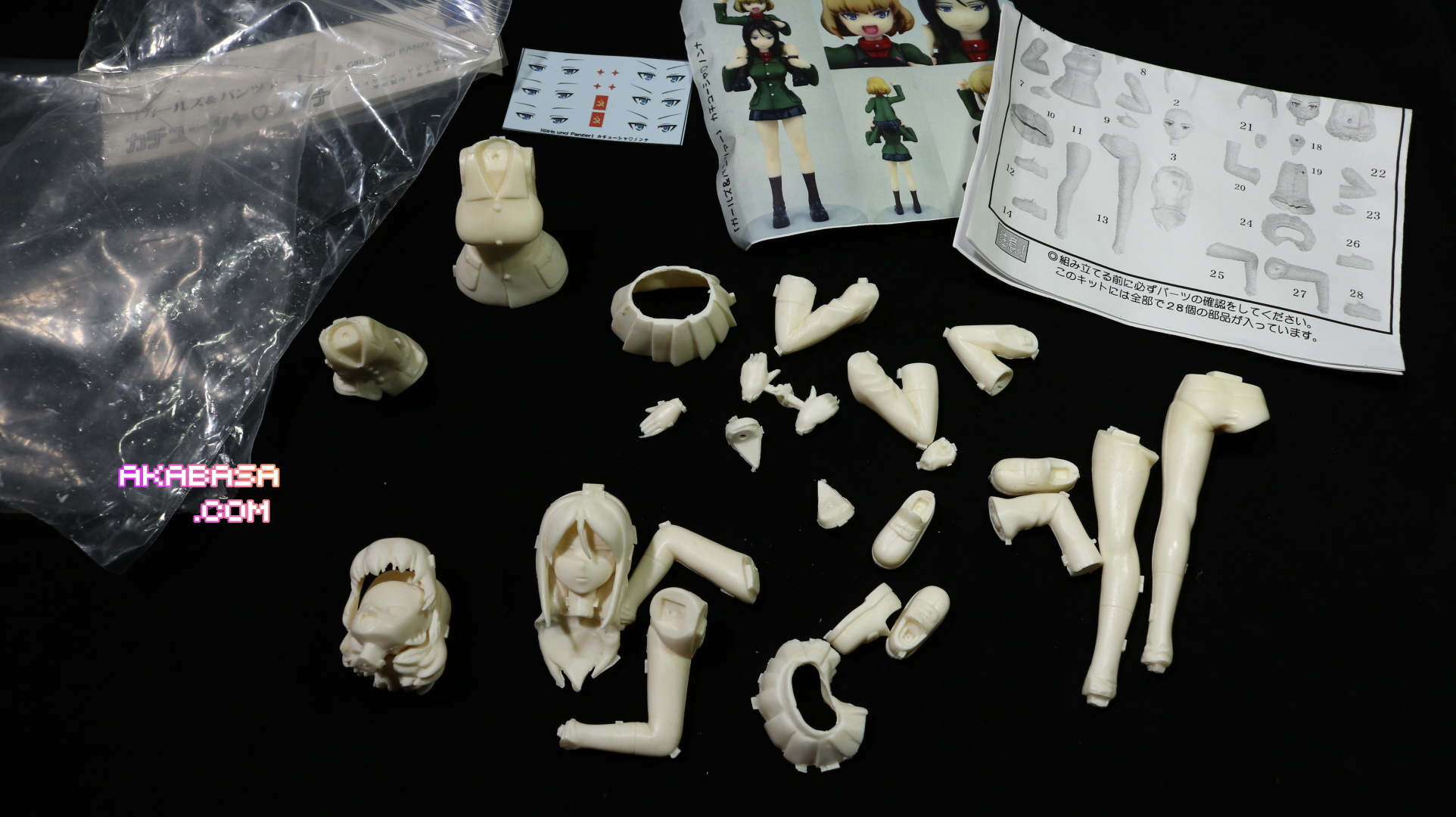 The parts are really good fits and mold injection points are not that intrusive. The resin parts are certainly far better quality than EBO Darjeeling 1/12 scale garage kit. You do need to be extra careful with eye decals though as it is not very scratch resistant. Handle it with extra care.
Thankfully, Amie-Grand always adds three pairs, giving you some comfort of mind in case of a failed attempt or damages.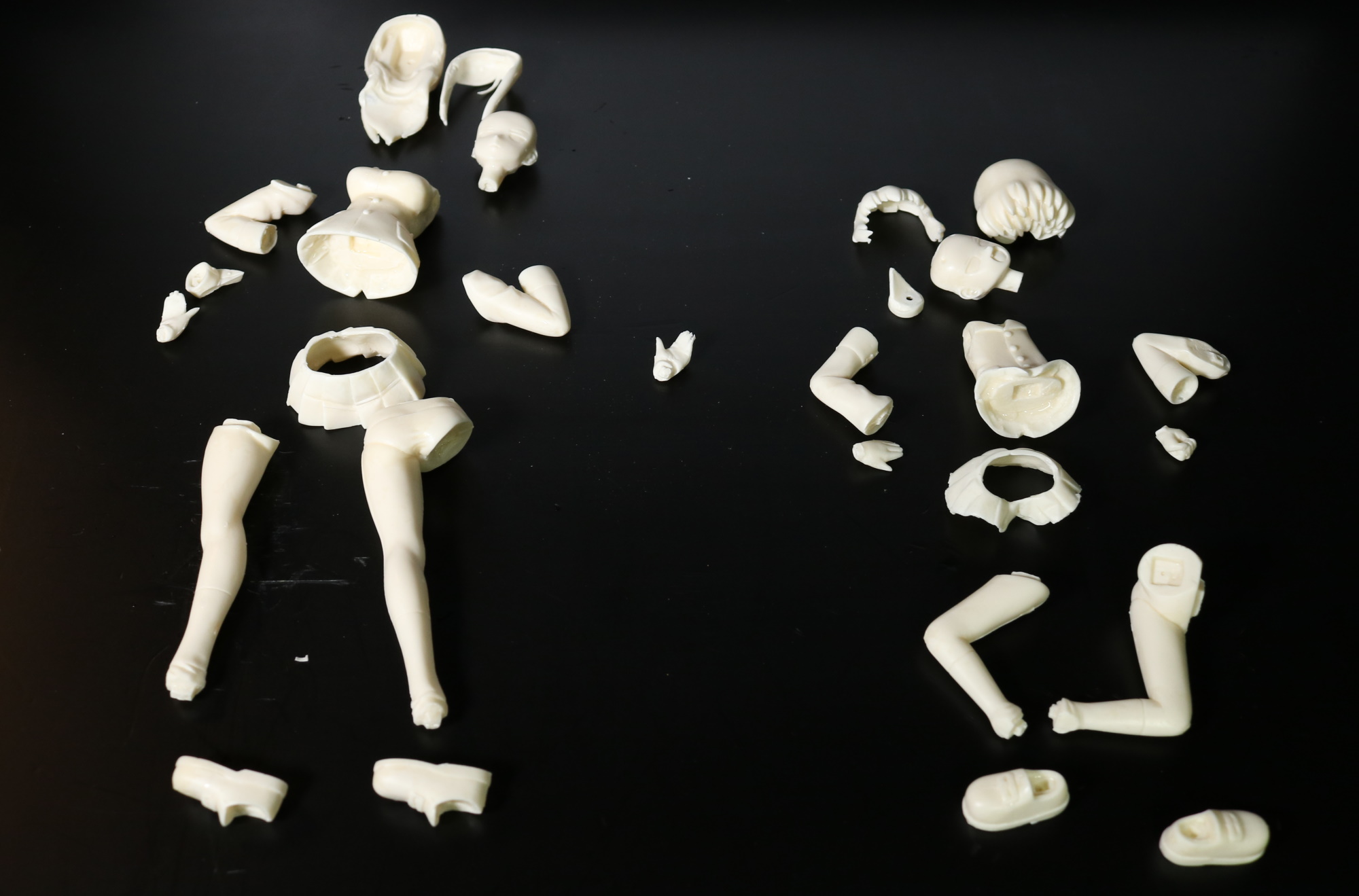 This is after chopping off mold injection points and cleaning in warm soap water. I should mention that this is my first attempt at doing a 1/8 scale resin kit. So far, I've been dealing with 1/35, 1/20, 1/16, and few 1/12 scale resin kits. 1/16 scale has been my bread and butter for over a year.
1/8 scale is considered large and it brings a different skillset and challenges.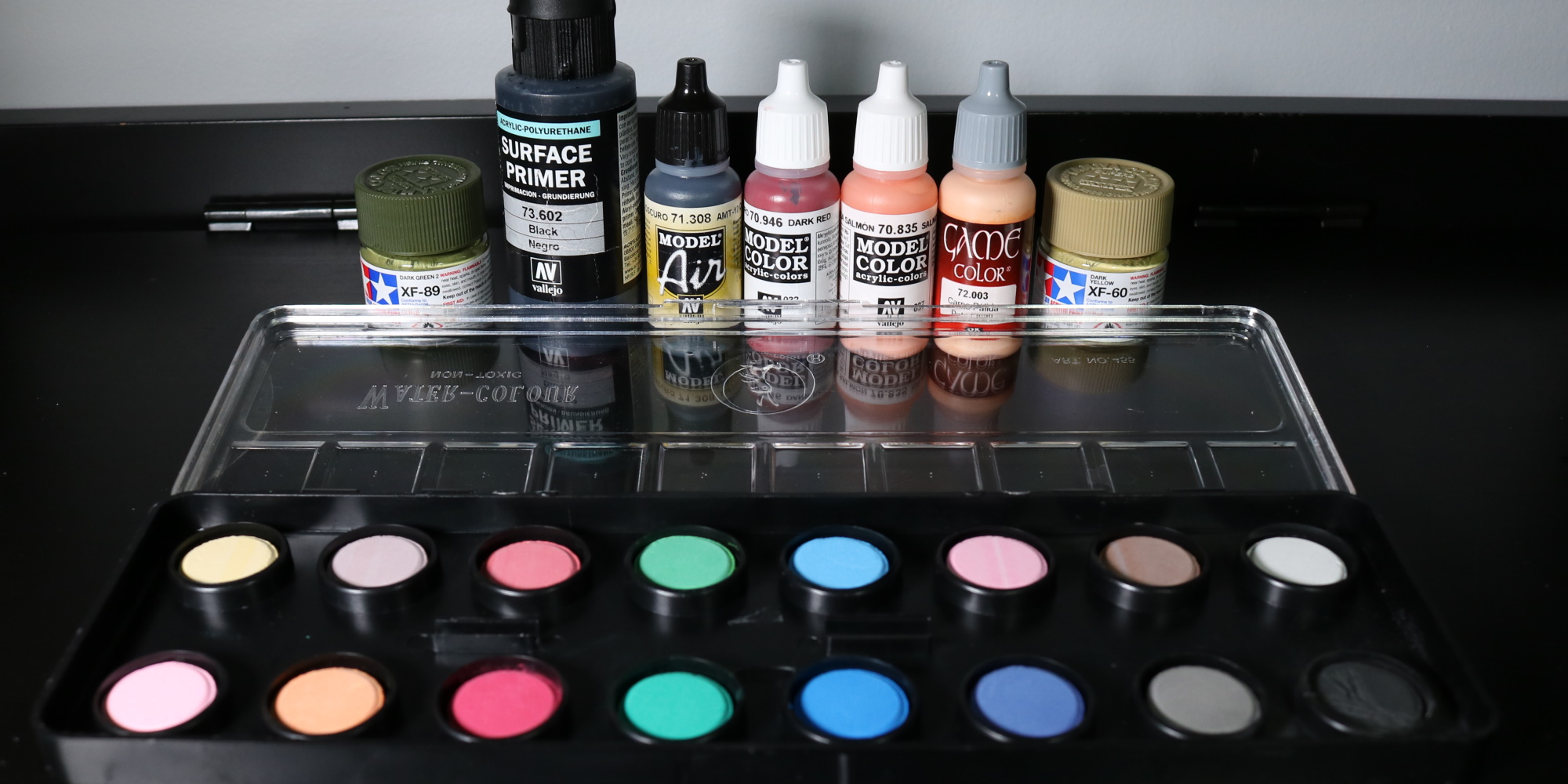 For the first time, I will actually be paying attention to underwear side of things. For small resin kits, I ignored this because parts were too small to be bothered.
However, now that the butt is big enough, I will properly paint Nonna's panties. Katyusha's undies will mostly be hidden, so I won't be paying too much attention to hers though. Besides, she is too loli.
I begin with Nonna's head.
I've got to say that Nonna('s head at this point) is looking pretty good already. Even when I was making a 1/16 scale Nonna, she looked good as well. Speaking of which, Clara looks pretty darn nice as well.
Is it a coincidence that two hottest females in GuP are from Pravda (Russia)?
Because I am essentially making two figures at once, things are getting rather chaotic on my work shelf. I am also working on others things as you can see at the same time.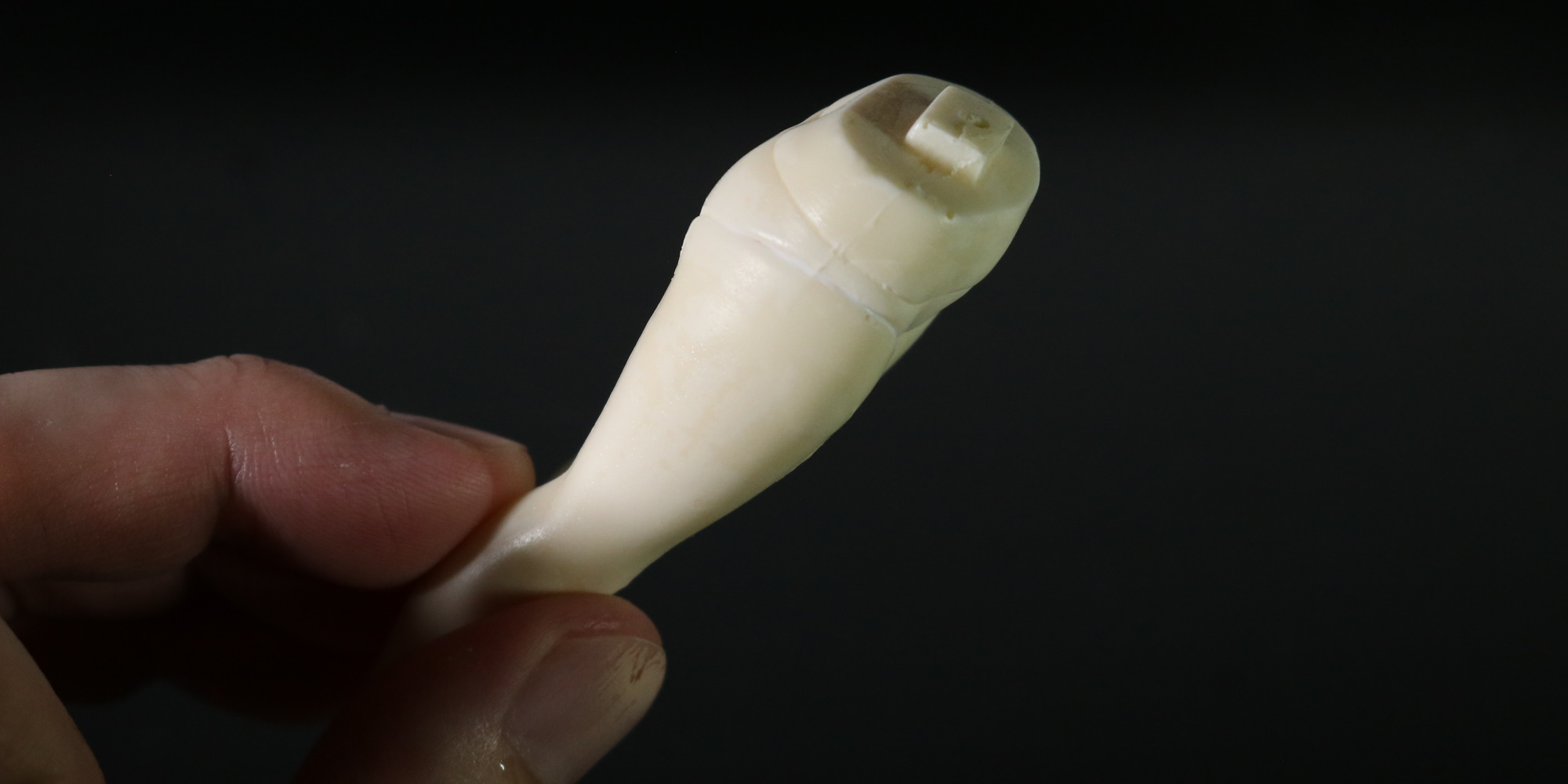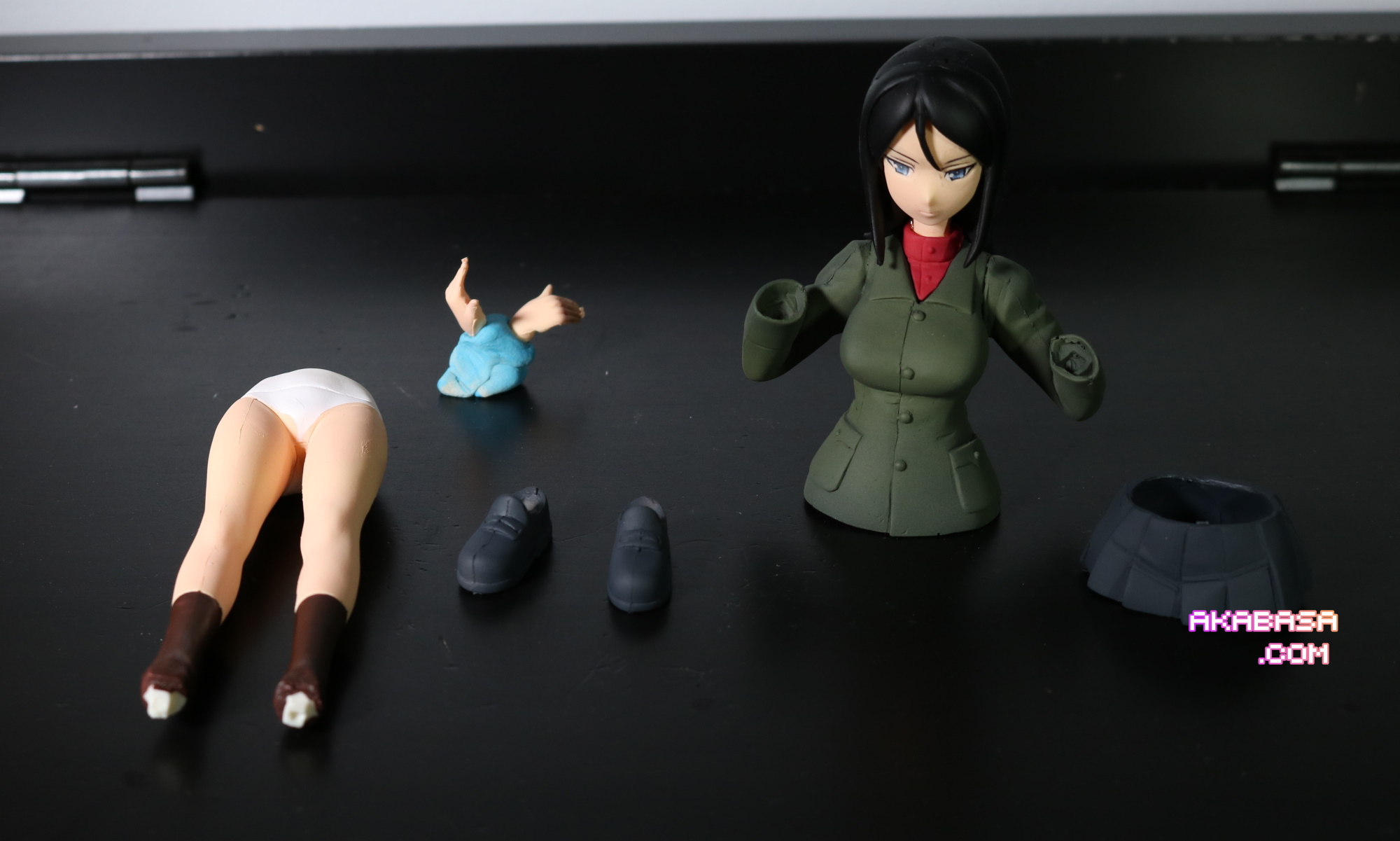 As parts got completed, I began to assemble Nonna loosely to see the whole picture. It was this point that I felt white panties was a mistake. You see, her skirt is so short that tip of her underwear is seen even without trying.
If so, then let's not consider her underwear a piece of an underwear but rather a part of her wardrobe. Thus, I decided to paint it black to match her hair color. I was going for gray but that color conflicted with her skirt color. If her skirt was a tiny bit longer, I would have stuck with white panties to be honest.
I also notice that this isn't a 1/8 scale figure. Nonna's actual height is 176cm. If this was a 1/8 scale figure, her height should have been 22cm here. However, I see 16.5cm. So, this is 1/11 scale which is a very awkward scale.
This figure won't get along with any other figures. Bummer. I am also having a doubt about the figure being able to stand on its own once Katyusha gets on top of her.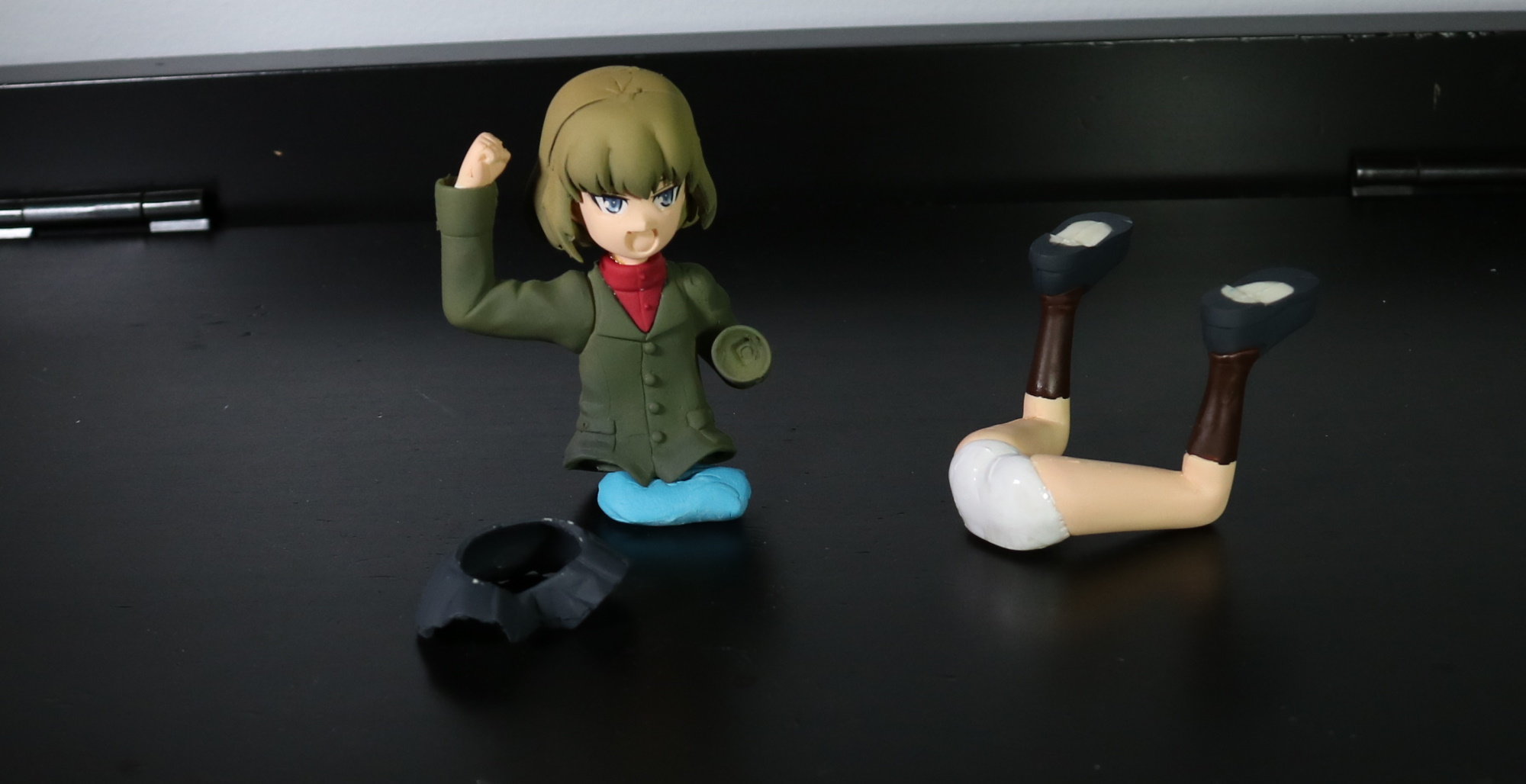 Speaking of which, Katyusha is receiving white panties. I had no doubt about that when making the decision.
The scale of this set is a little odd though. Katyusha seems to be a little too big. Her head and feet are too large for her size. It makes her look like a dwarf which she is not.
I guess I am seeing why this kit survived all these years without being sold out.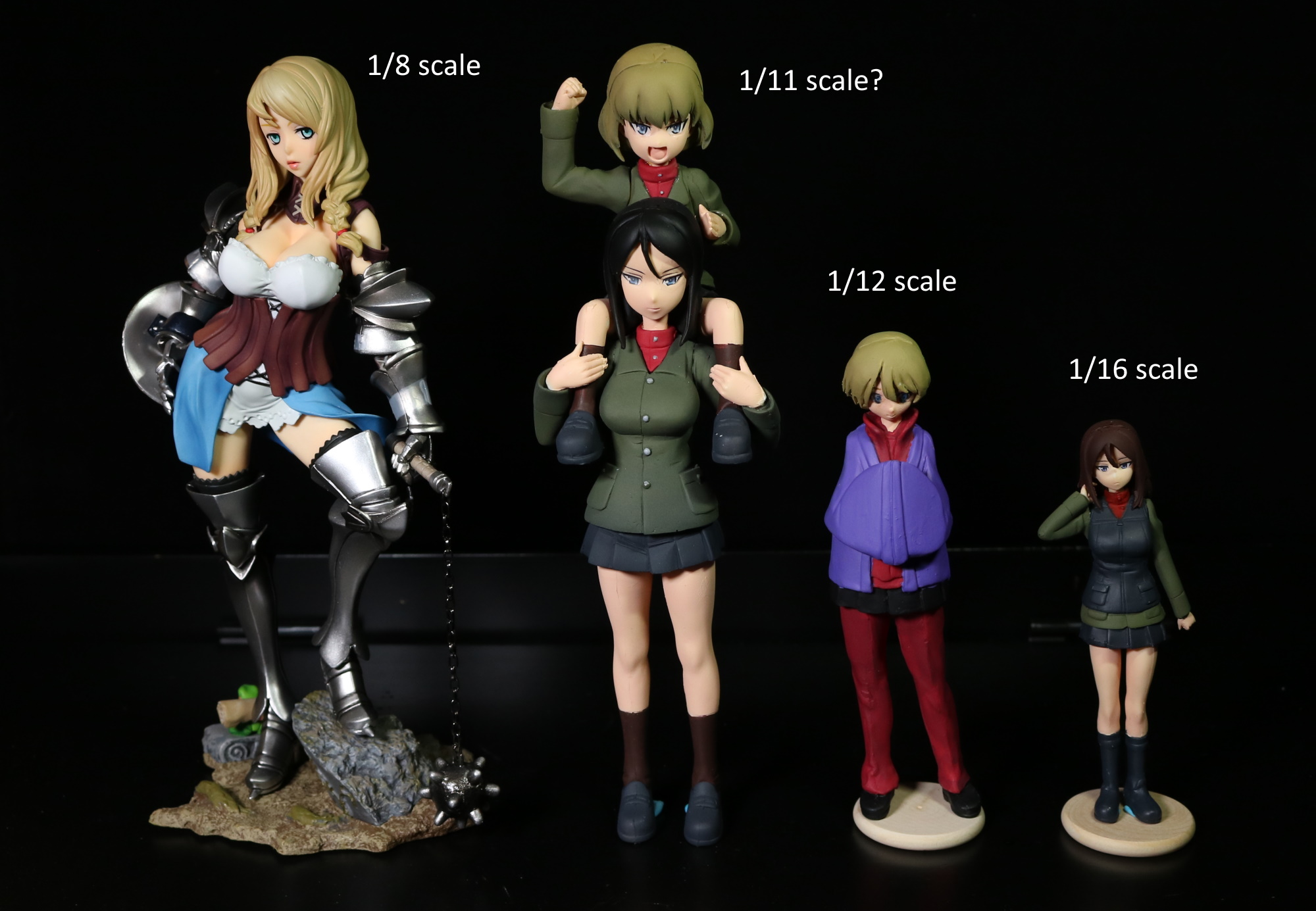 Once completed, I lined the figures with others of different scales. As you can see, it's no where close to advertised 1/8 scale. If they were talking about the figures as whole (Nonna + Katyusha) as 1/8 scale, then yes, it is indeed 1/8 scale. But that shouldn't be the case.
Additionally, it is a nightmare to keep the figures from standing properly. Because of Katyusha sitting on top of her, the center of weight is way up, making the whole figures very unstable. You are going to need a special support stand to keep the figure stable or a heavy base that drills into Nonn'a shoes to secure.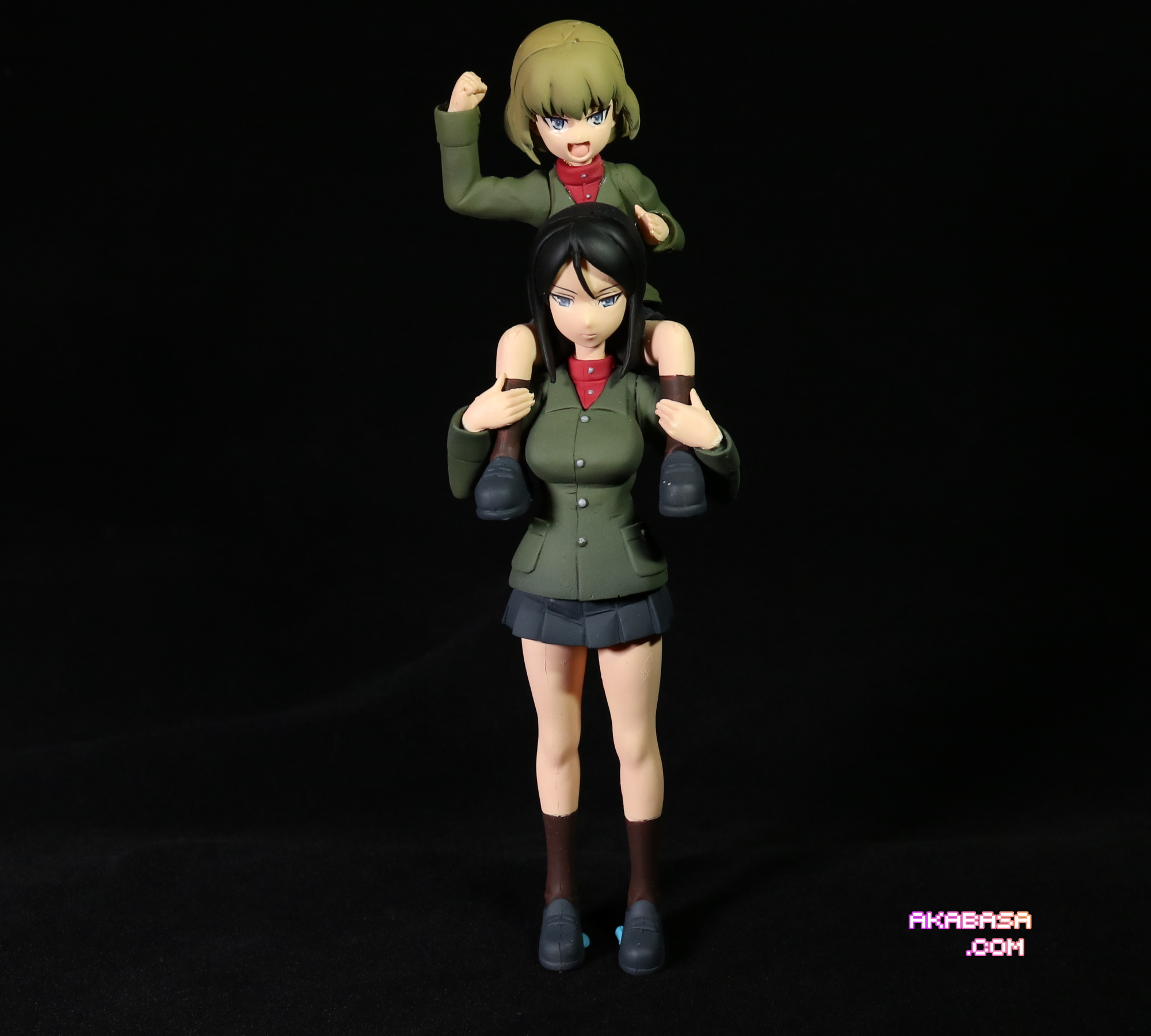 So, in the end, I cannot recommend this garage kit at all, mostly due to its awkward scale. If you do want something similar to this though, Volks have almost identical kit but in 1/7 scale. From my own experience, they are accurate about their scale rating.
If you are looking for individual figures, there are plenty for Katyusha. On the other hand, Nonna doesn't have that many. There are some but none is wearing her Pravda uniform unless you dig into garage kits.
Both Nonna and Clara exist in 1/9 scale garage kit by BzoneCircus. Really hard to find their kits though.