Hobby Boss Tiger 1/16 scale mid-production
This is Hobby boss Tiger 1/16 scale kit, mid production model. For a 1/16 scale tank kit, this is brutally cheap. You should be able to grab this at 75 USD. However, due to its massive box size, do expect to shell out a fair amount for shipping.
In my case, I had to pay around 60 USD in shipping. However, given other Tiger 1/16 scale kits cost around 400 ~ 700 CAD, the overall cost of acquiring this kit felt cheap.
The box is HUGE. It's about 28 inches (72cm) in length. It's not heavy though since parts are mostly plastic.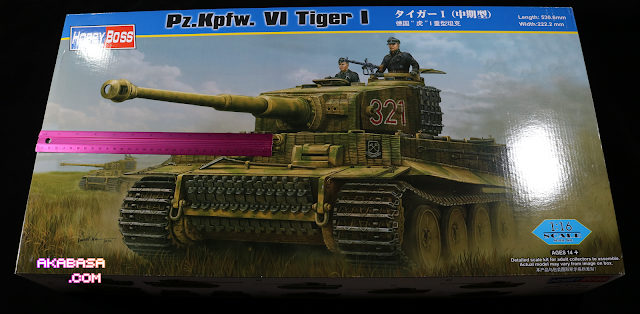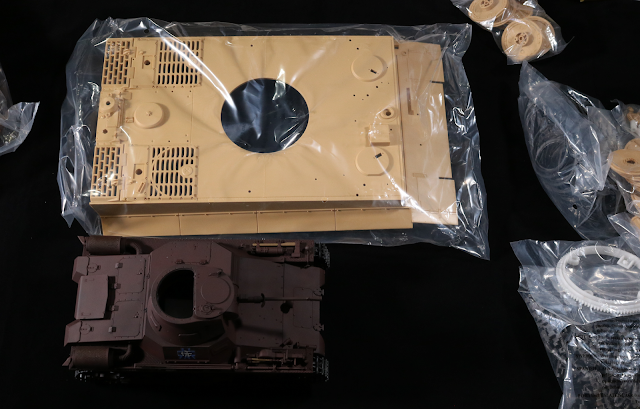 Now, I've built a 1/16 scale tank before but that was Panzer 1 light tank. You can see how a Tiger upper hull dwarfs the Panzer 1 tank.
I knew Tiger tanks were large tanks but, until this point, I didn't quite grasp the size.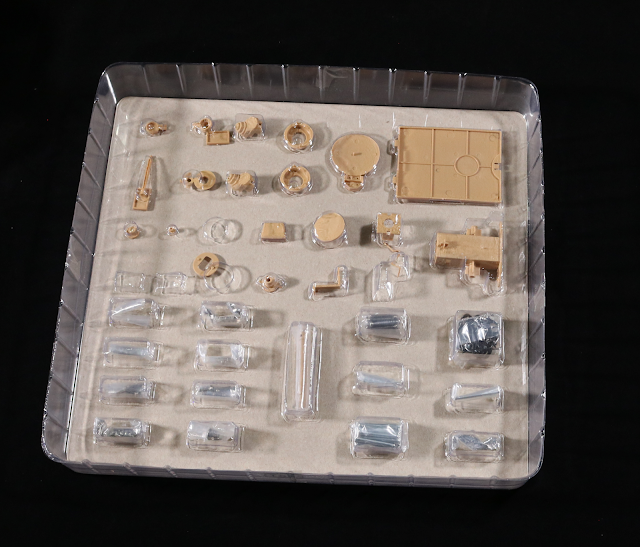 Because parts are fairly large, minimal gluing is required for this kit. Parts that will carry weight are attached using screws. And shafts are metal.
Now, there is another reason we are using screws here. It is that this kit is meant to be remote-controlled. In fact, I believe that this kit is what Heng Long uses for their RC Tiger with slight modifications.
FYI, Heng Long is a Chinese company that specializes in 1/16 RC tanks on the cheap. And I own a Heng Long RC T-34.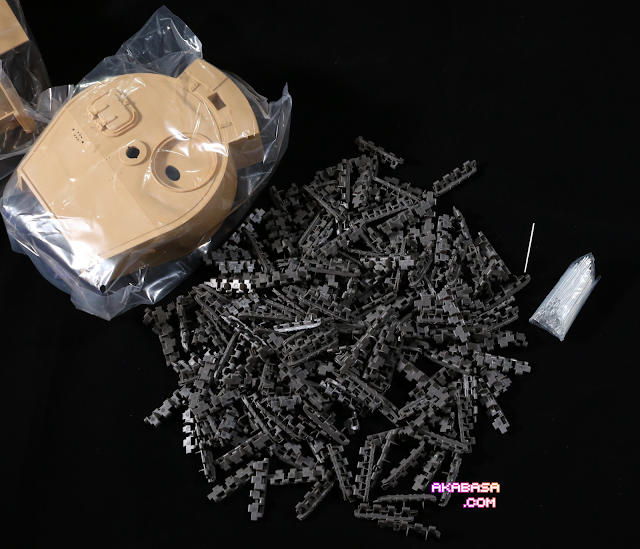 The tracks must be individually attached with metal shafts. Each track requires 96 parts. Assembling tracks was easy though since parts are big enough to handle with ease.
If it makes you feel better, they've included additional 10 metal shafts and track parts in case you screw up.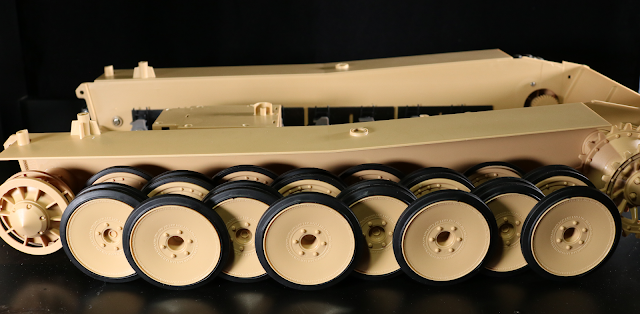 The black part of wheels are actual rubber which is a nice touch. I will need to take them off when painting though. The wheels can come off easily for either maintenance or repair.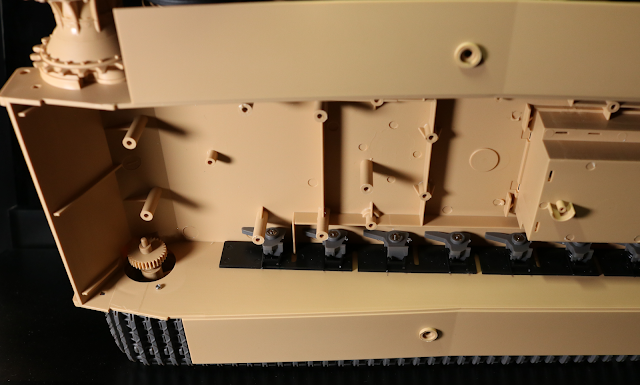 There is also a suspension mechanism for the wheels. Given this kit is meant to be RCed, this is no surprise. It took me a bit to understand how I could install it since manual gave me no description whatsoever on how to install it other than a single picture.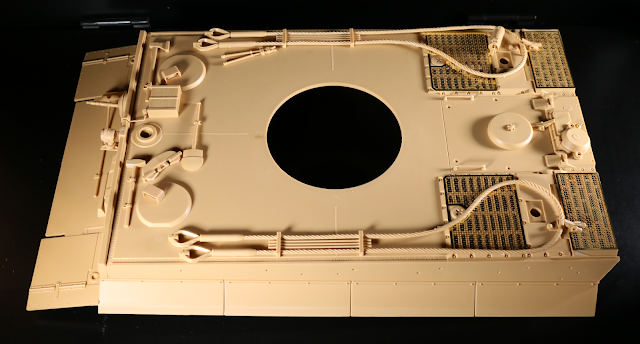 Now, this is where I glued parts, well some of them. I plan to take few props out because I generally like clean-looking tanks. The shovel on front is definitely going out for sure.
Meanwhile, I was quite let down by a fact that the hatches are molded. I really wanted it to be able to open since I have 1/16 scale Maho, Erika, and even Koume.
However, as I assembled the tank, I began to see why it was molded. First of all, this is a really cheap kit. It's neither going to be an accurate model nor have lots of operable parts.
Secondly, the top part is not easy to open once the tank is fully assembled. For me to install a figure that will stick out of the hull hatch, I will need to open the top. That's asking for troubles like breaking parts.
So, I accepted that the hull hatches are not going to be operable.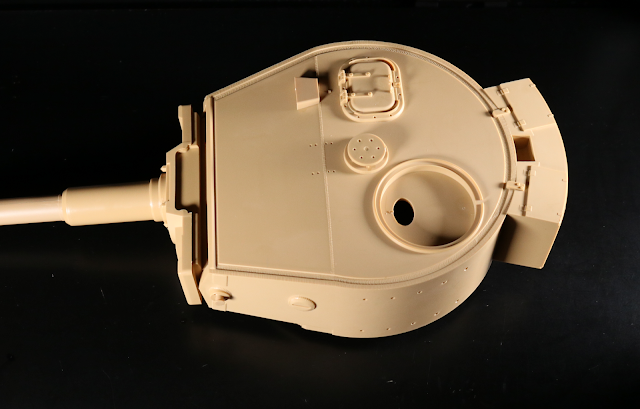 However, I could not accept that the turret hatch would be closed as well. There are two hatches on the turret. The square one is molded shut and the main hatch has a hole on it.
I reckon this is for BB ammo feed system. Since I won't be RCing this kit though, I decided to dremel out the hatch. The hatch is just large enough for a single 1/16 scale figure to stick out.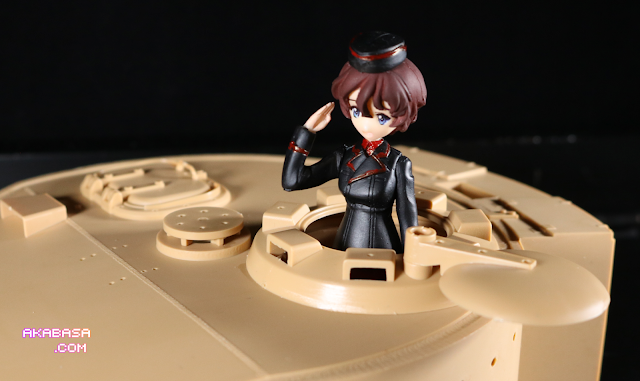 Now, that is better. I glued in a wooden plate inside to give a figure to stand on.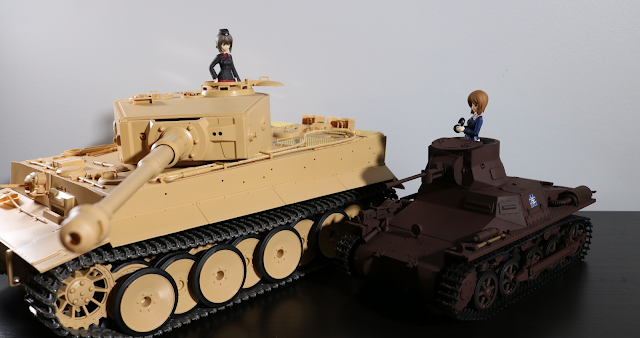 The top and bottom are attached with a pair of screws as well as a pair of latching mechanisms. Repeatedly opening the top will eventually break or wear off the latching mechanism, so I am not going to be opening the top unless I must.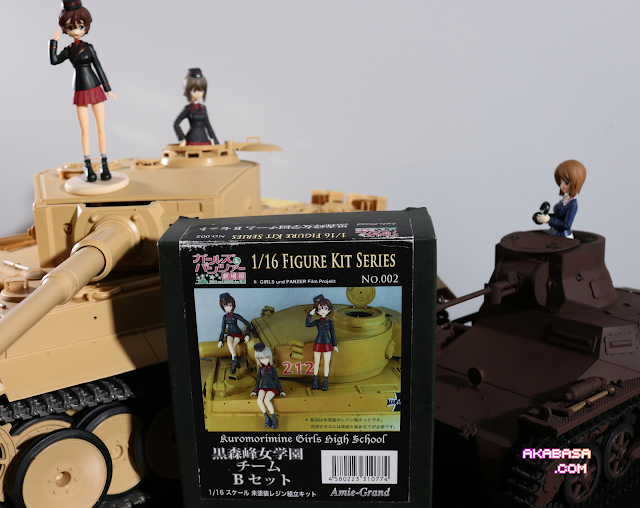 There is more to this.
I purchased an Amie-Grand garage kit back in early 2019. I ended up making only Koume since I did not think I'd end up having a 1/16 Tiger and I don't generally bother with seated figures.
Now that I do have a 1/16 scale Tiger though, perhaps it is time to assemble and paint Maho and Erika from the box.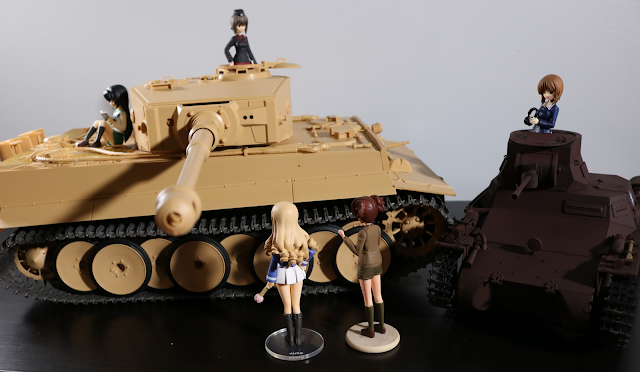 I now have a 1/16 scale Tiger 1, Panzer 1, and T-34. And I have a 1/16 scale Renault FT-17 coming next week which will obviously go to Marie.
I also plan to seek out 1/16 scale Sherman which will go to Kay and there is a new 1/16 tank kit coming out soon which is M5A1 Stuart which will go to Alisa.
Now, where am I going with this? I am planning a massive diorama for some photo shots and I am progressively approaching my goal. Anyway, I will need to paint the tiger. But that is for another time.