Probably the best 2U chassis for home users.
This review is for chassis only. I will build a new rig with this chassis later.
2U is the most ideal chassis for build all kind of computers. Its height is long enough for most components to fit unlike 1U where the height restriction is too brutal.
Now, there is only one issue with 2U for home users. It's how you fit a GPU. This isn't an issue if you are going to use an iGPU. If you want a dGPU though, your choices in 2U rackmount cases go down significantly. You are going to need a rackmount case with what's called "horizontal rear basket". Those are somewhat rare but still fairly easy to find.
Now, you could opt for a half-height GPU such as AMD 6400 or even Nvidia A2000. It won't change a fact that your choices will be very limited.
Then there is another caveat: GPU nowadays are quite tall as well. You need some clearance. To make this easier to understand, allow me to show you two pictures.

As you can see, not all cases with horizontal rear basket will be suitable. The first one won't have the clearance for you to plug in power cables. The second one, however, has ample clearance.
And finally I wanted an aesthetically pleasing chassis as well.
After days of searching, I've located two.
The first is MaCase K248L.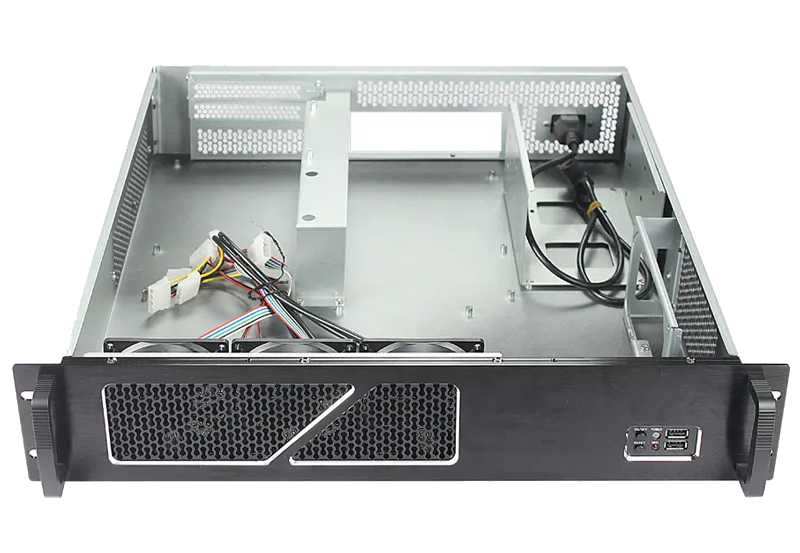 The GPU clearance on MaCase K248L is tight but seems good enough. You can purchase this only from Alibaba. The case itself is about 50 USD. Shipping is 150 USD. I ultimately passed on this but I feel this case is good enough if you are looking for a 2U chassis with an ability to mount a proper dedicated GPU.
The second is Chenbro RM24100-L.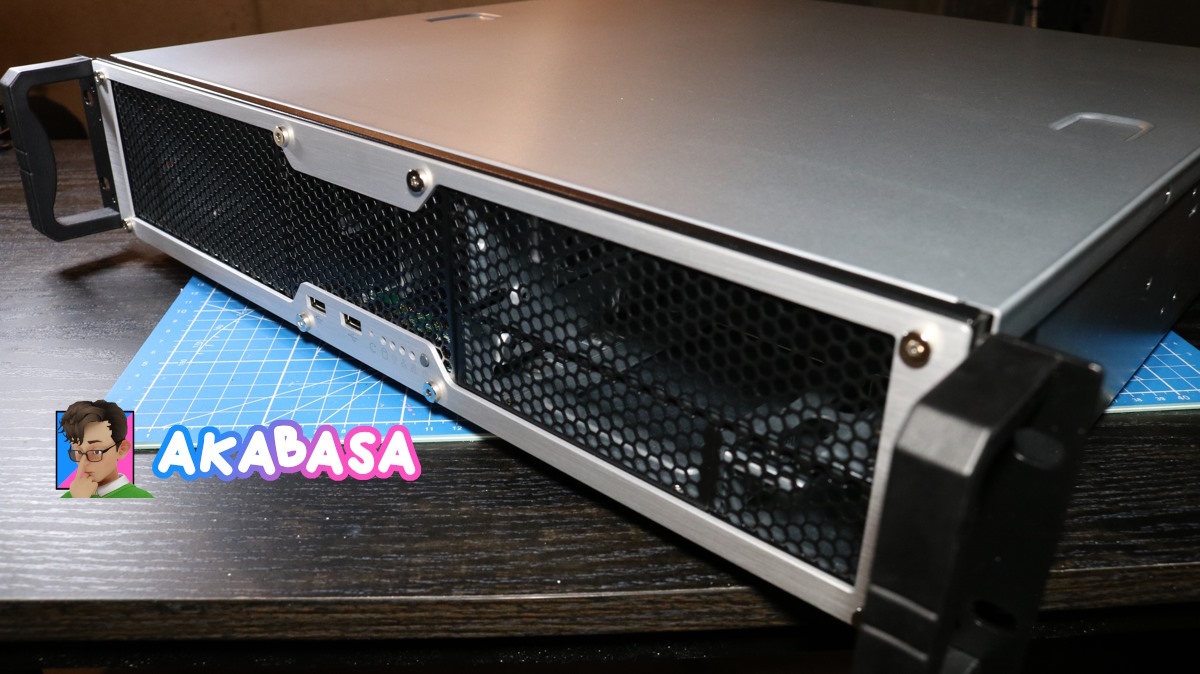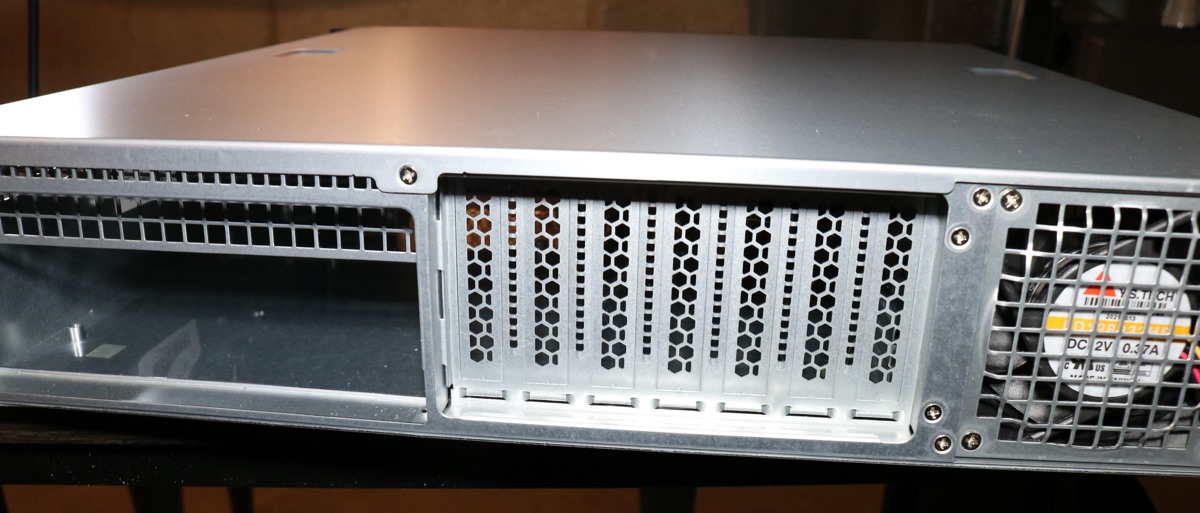 I am quite familiar with Chenbro. They've been around for decades, and I've had their chassis previously. This one came out in 2015 which is relatively young for a chassis design.
Within Canada, I could find RM24100-L2 which has the same internal design but has lockable doors instead. I tend to avoid lockable doors for home uses. Besides, I felt that RM24100-L's aluminum bezel is clearly superior aesthetically. So, RM24100-L is what I've got here.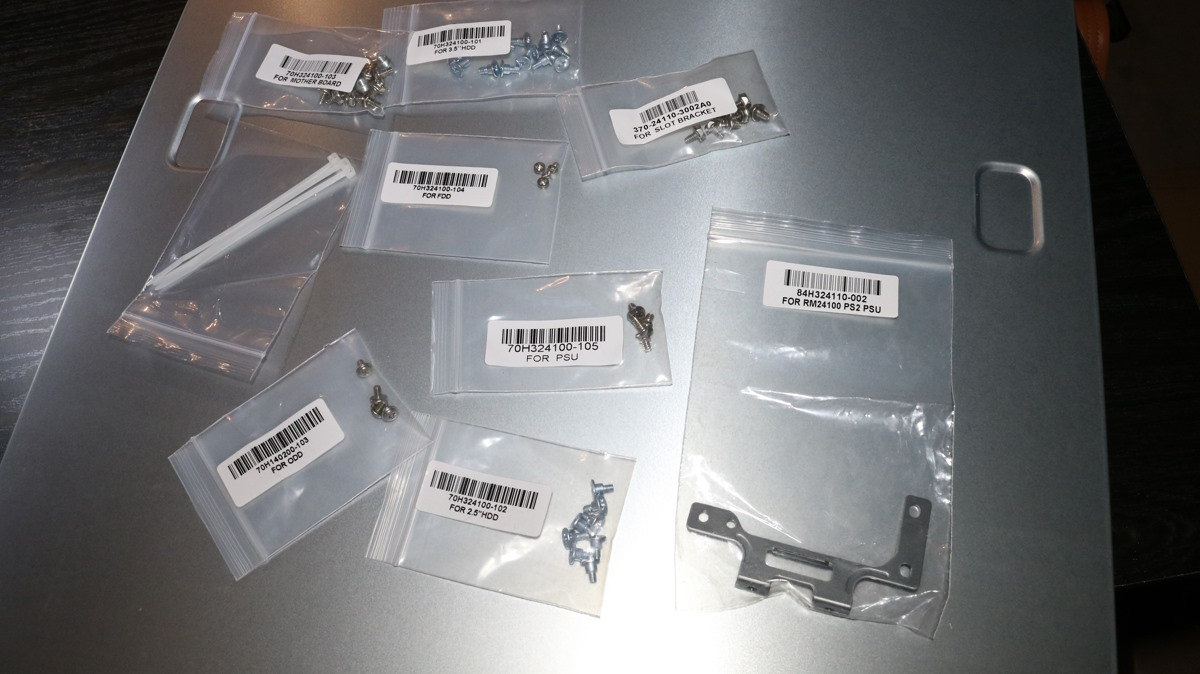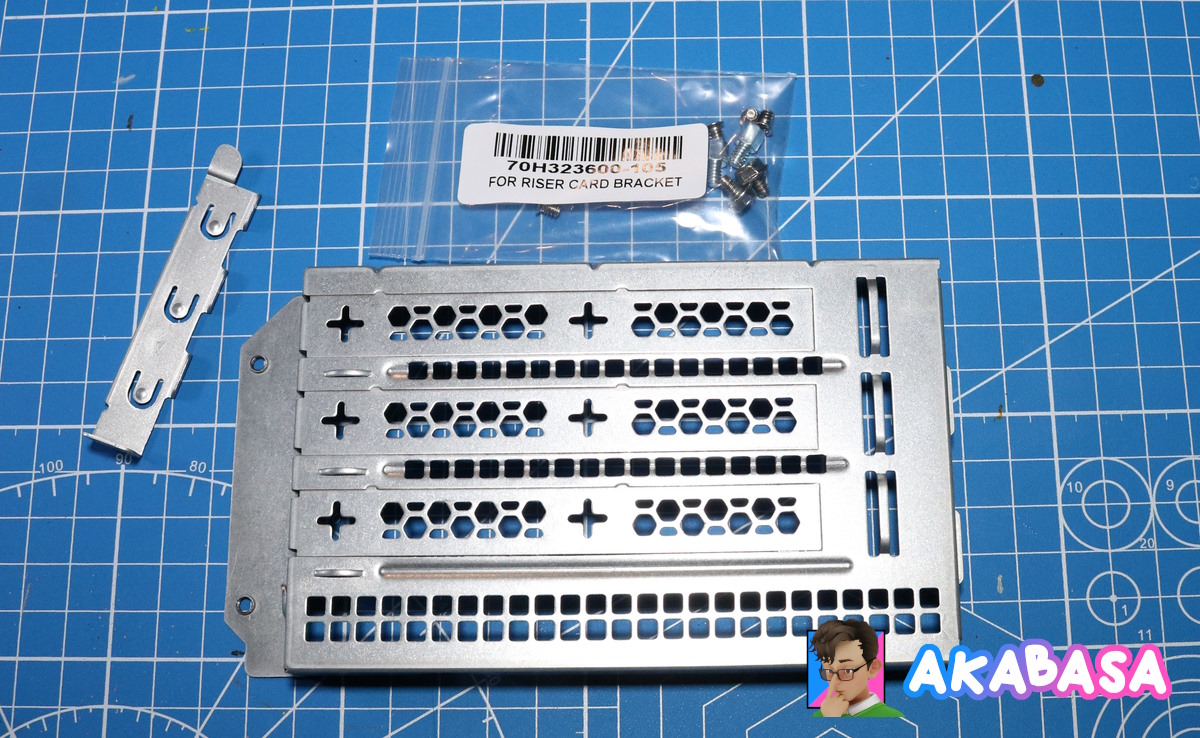 RM24100-L series has an interesting feature. You are able to purchase a horizontal rear basket to replace half-height rear basket. Thus, I've purchased the horizontal rear basket as well.
The chassis itself cost 200 CAD. The horizontal rear basket cost me 20 CAD.
Let's mount it into a rack.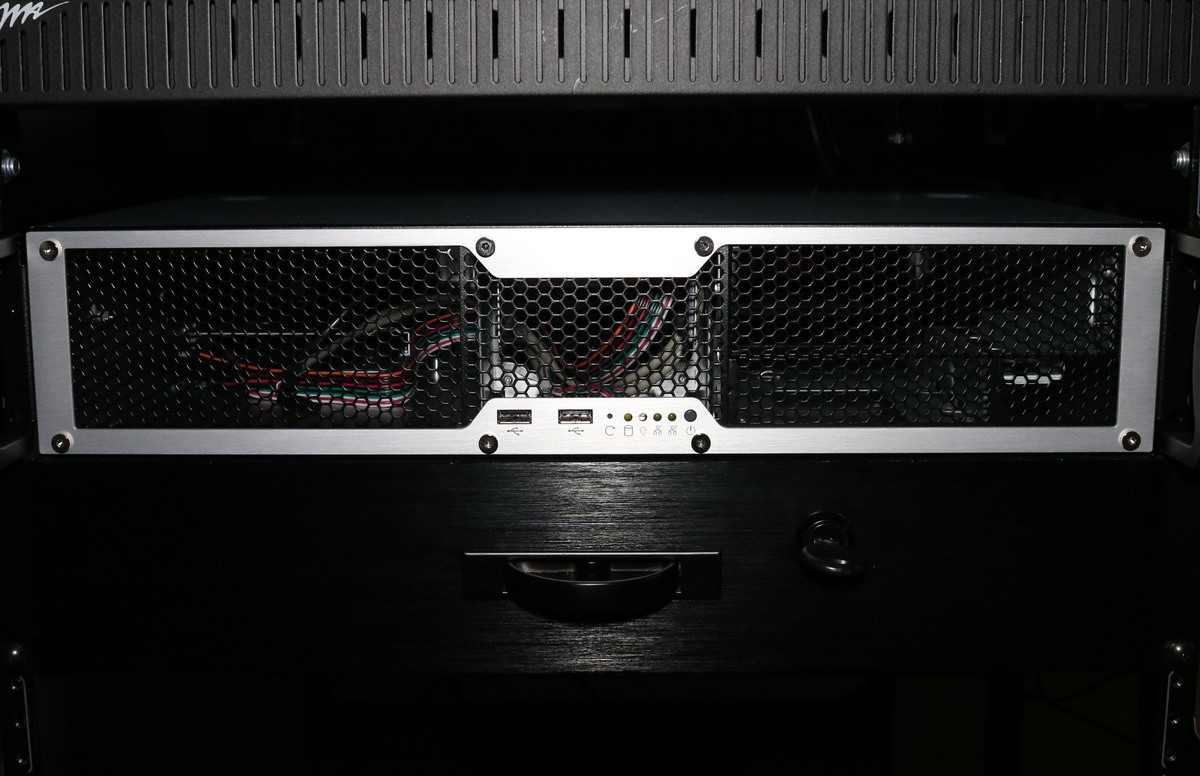 Yes, I do find the front to be really aesthetically pleasing. Interior wise, the way you install a PSU is a little awkward. It's probably important to mention that you cannot use a modern PSU in this 2U chassis because it won't be able to breathe since there won't be any gap on top and bottom.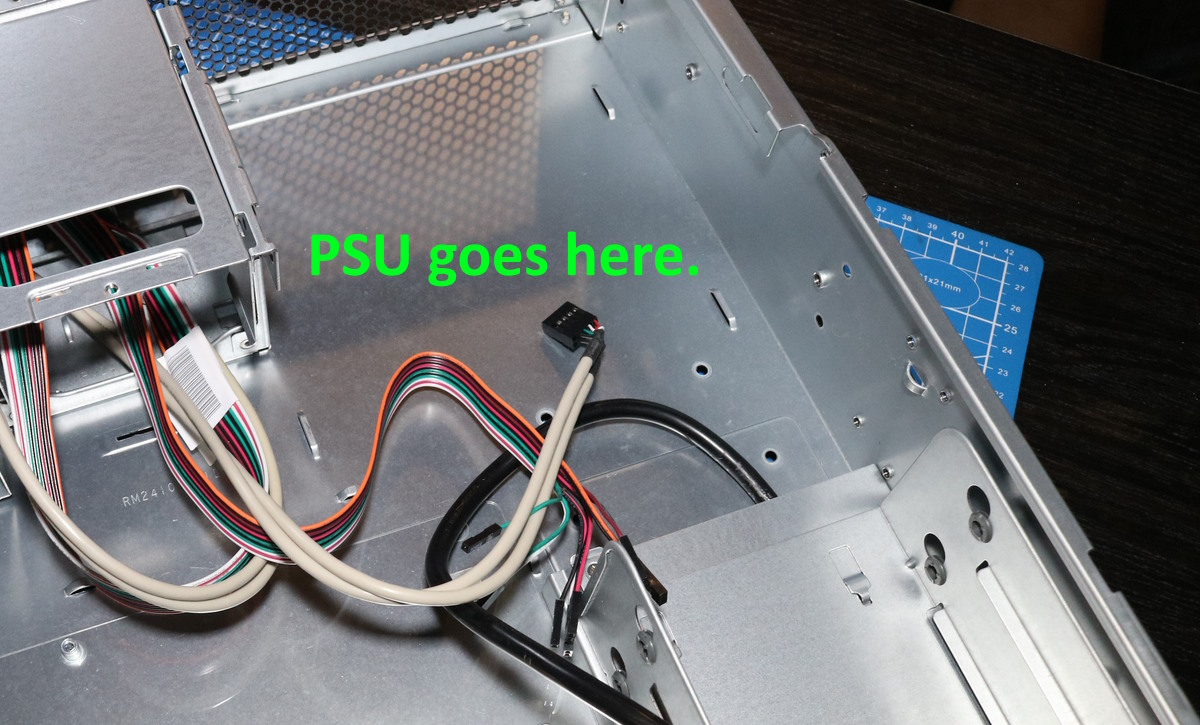 My solution / recommendation? Use a SFX PSU. That will solve the issue.
Other than the PSU issue, everything else is pretty standard. This chassis can take a full ATX motherboard but I tend to use m-atx nowadays due to its superior compatibility with other cases. I used to favor ITX but, at one point, motherboard makers started to charge what's called "ITX tax". ITX motherboards used to be way cheaper. Not anymore though. Since then, I've mainly used m-ATX.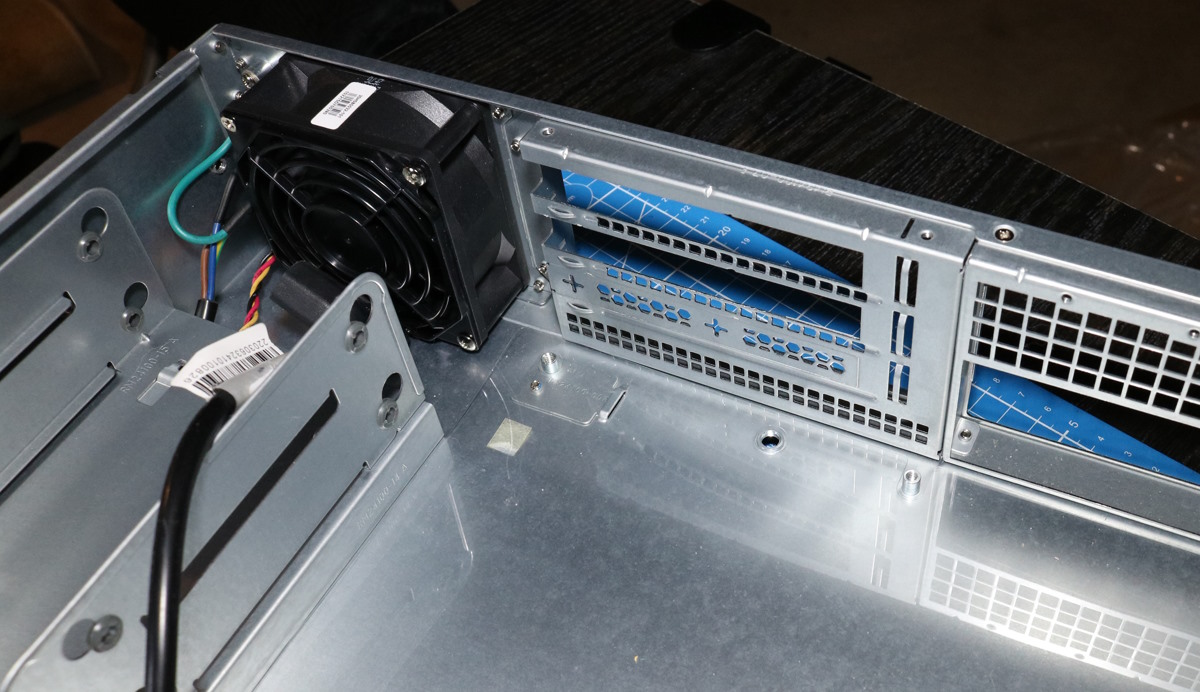 Overall, I do like this chassis. It looks aesthetically pleasing, and its size is not over-the-top. I am talking about chassis depth which stands at 46cm. A depth of 30cm is probably the shortest you will find for a 2U unless you choose a ITX oriented chassis where a chassis can be as short as 25cm.
The most notable feature is the ability to swap out its rear basket. You can choose to use half-height or full height in which case you are able to use any GPU you want. This is a rare feature in rackmounts. Additionally, being a Chenbro product means that it will meet certain quality standards. They are better than run-of-mill random manufacturers.
Now, the downside: The only issue I see is lack of cooling. It's got a single 80mm fan in the back and that is it. There is no other active fan within the chassis. But then, this is a general issue with a 2U. Some cases get around this issue by having a blank front where up to four 80mm fans can be installed. You can see an example of that from MaCase K248L mentioned in this very entry.
Chenbro could certainly have made space for a 80mm fan in middle on front. Well, we will see how this chassis will fare in the future.
Now then, this is it for the chassis review itself. There will be another entry for a build blog.
See you later.