Dynatron A18 versus. Gelid slim silence
This is about Dynatron A18 and Gelid slim silence.
How I ended up with both is a bit of a long story. Basically, when I was building my 1U machine, I needed a 1U cooler.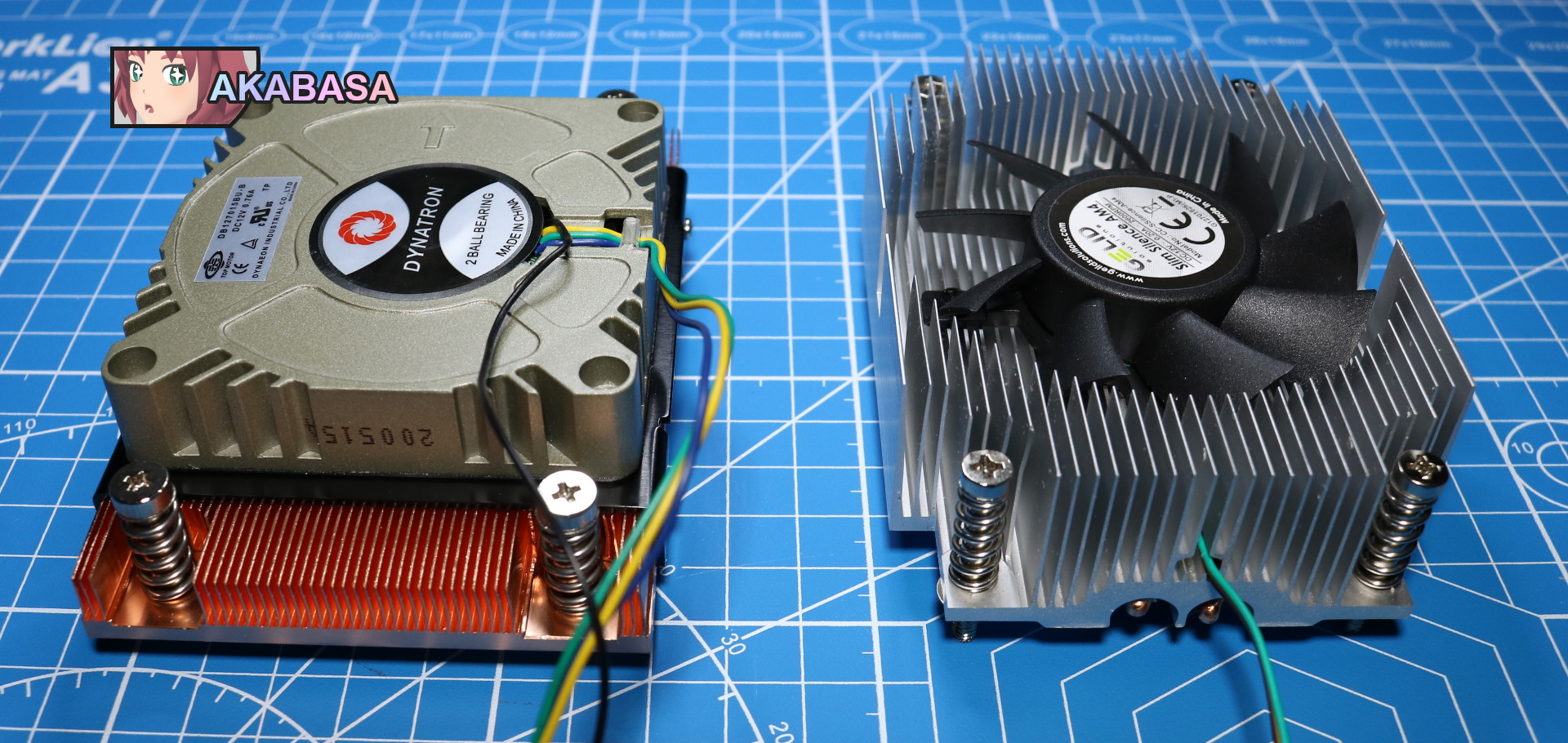 Initially, I chose Gelid slim, and it was shipped from Hong Kong. However, the shipment got stuck in DHL's New York hub due to flood.
Having been told that they do not have any idea when my shipment will move, I made an order for Dynatron A18 in haste from Newegg. I stopped using Newegg a while ago due to their worsening customer service and they no longer had the cheapest prices anyway. But Newegg were the only one who could ship it fast.
Long story short, my Gelid cooler was held in New York for 3 days before it moved and it arrived a day earlier than Dynatron A18 did.
I tried to return Dynatron A18. The whole shipment wasn't even open. I could have refused the shipment, but a customer service rep from Newegg advised me strongly against that, telling me that some couriers handle return shipments badly and it will likely get lost, meaning I might lose my item and won't get my refund.
Well, it turns out that there was a reason they didn't want me to refuse the shipment.
When I found out that Newegg would deduct 50% of its original price for an item that wasn't even opened, I gave them a middle finger and decided to keep it.
No more Newegg for me. I ain't going to use them again.
So, in the end, I figured I'd at least compare the two and post the result.
Gelid Slim Silence AM4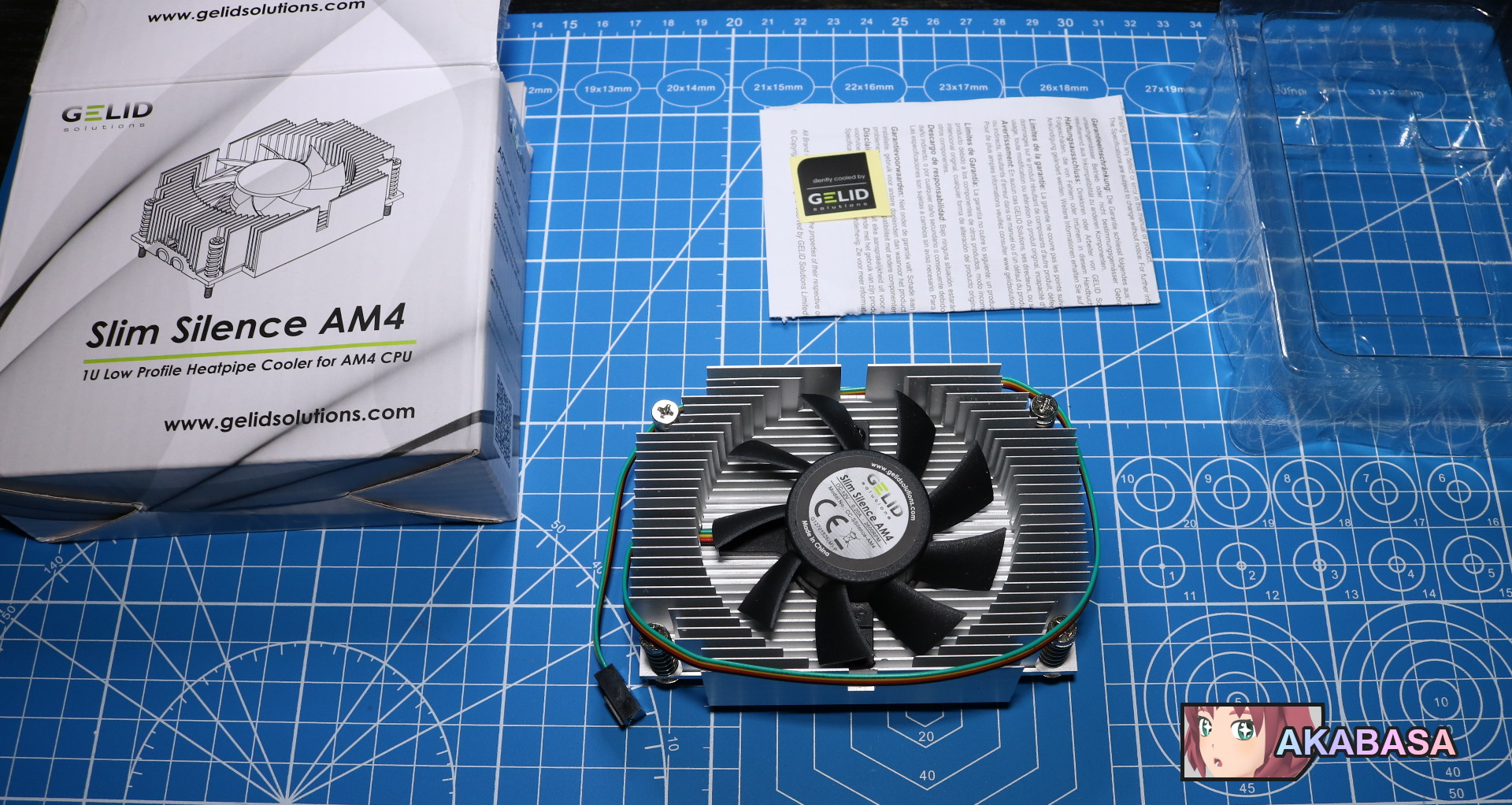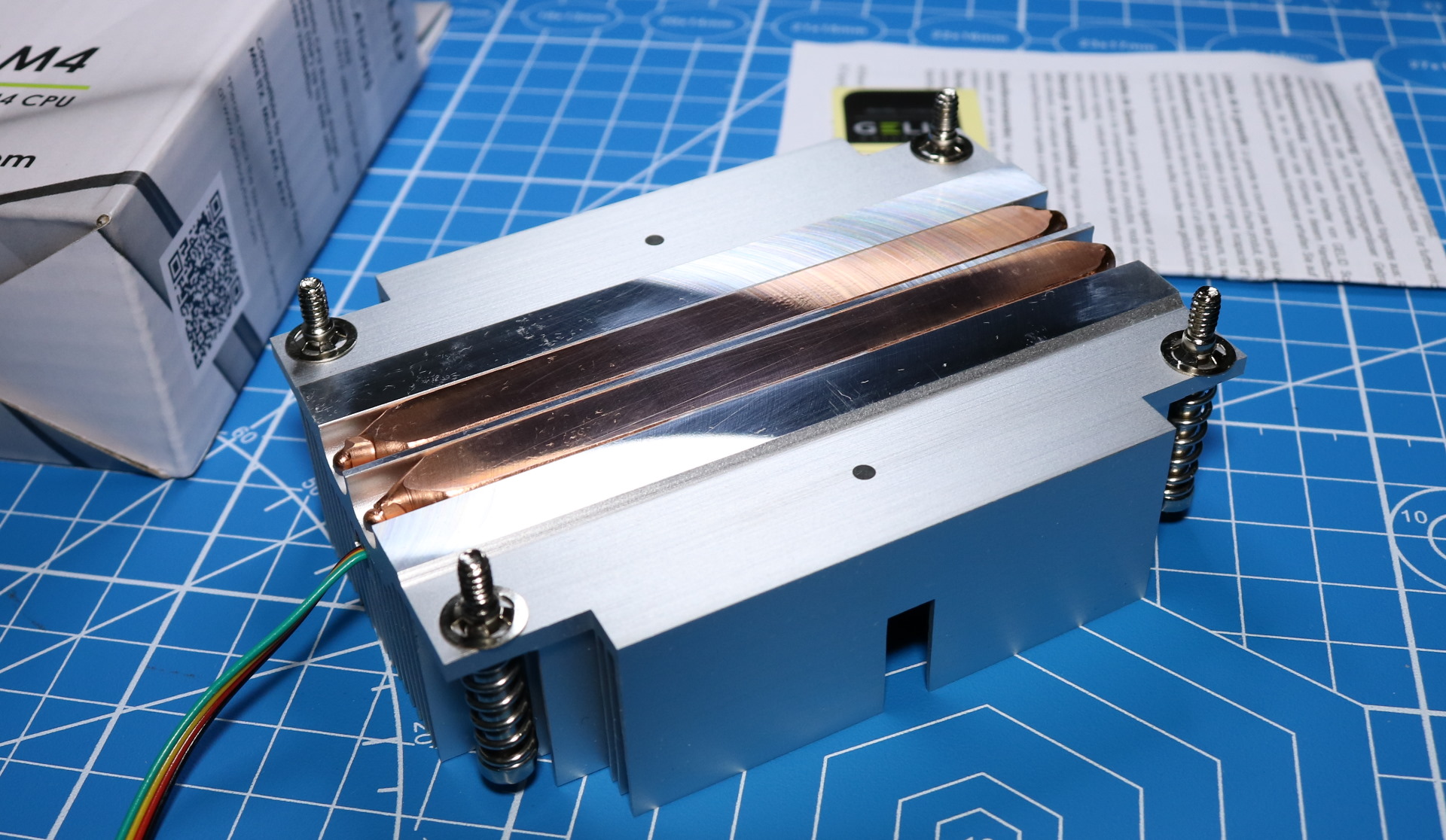 The Gelid cooler is made of aluminum extruded body with two short copper heatpipes. This AM4 version is specifically for AM4 socket.
The TDP limit for this is 85w with "good case ventilation". Since AM4 CPUs are mostly Ryzen which is either 65w or 105w TDP, you are looking to downvolt/downclock the 105w TDP CPUs.
I doubt it should be used for a 105w TDP CPUs anyway. 65w or lower is recommended.
This cooler is meant to be silent and is designed to be silent. Its fan speed is from 1200 to 2600 with 15 ~ 28 dBA. Its 65mm custom fan is PWM controlled.
It costs 22 USD.
Dynstron A18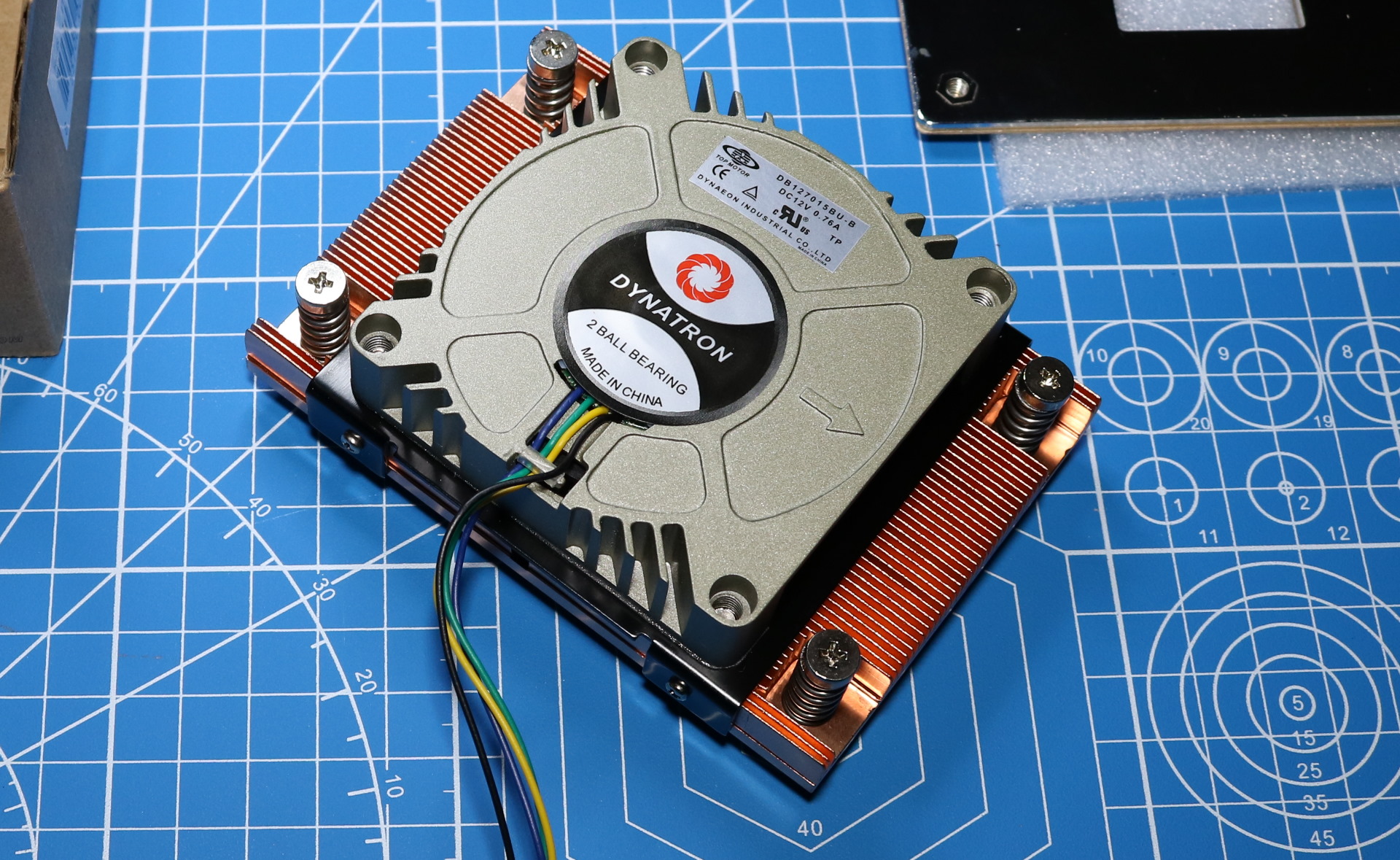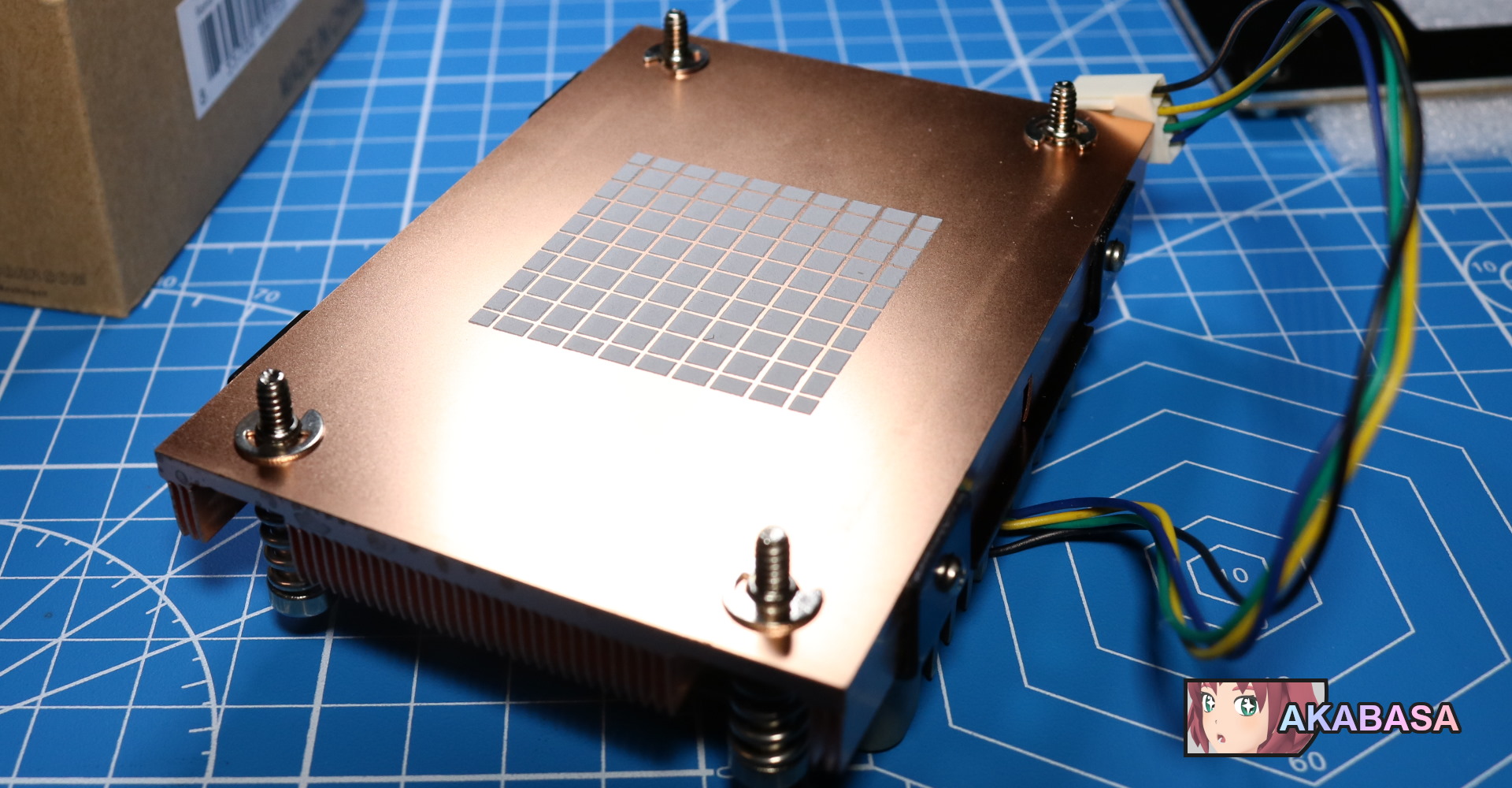 "It's heavy" was what I felt when I unboxed this cooler. It's tiny but heavy. It has a full copper base + fins. It uses a blower fan. I feel it's important to mention that even the fan casing is metal.
This thing is rated for 105w TDP and is a server-grade cooler, meaning its dBA rating is actually pointless in reality. It is meant to be used in datacenters.
But let's have the info anyway.
Its fan speed will go up to 6,000RPM with 54 dBA. Basically, it's loud. The fan size is 70mm. 54 dBA is about as loud as a handheld vacuum cleaner.
The setup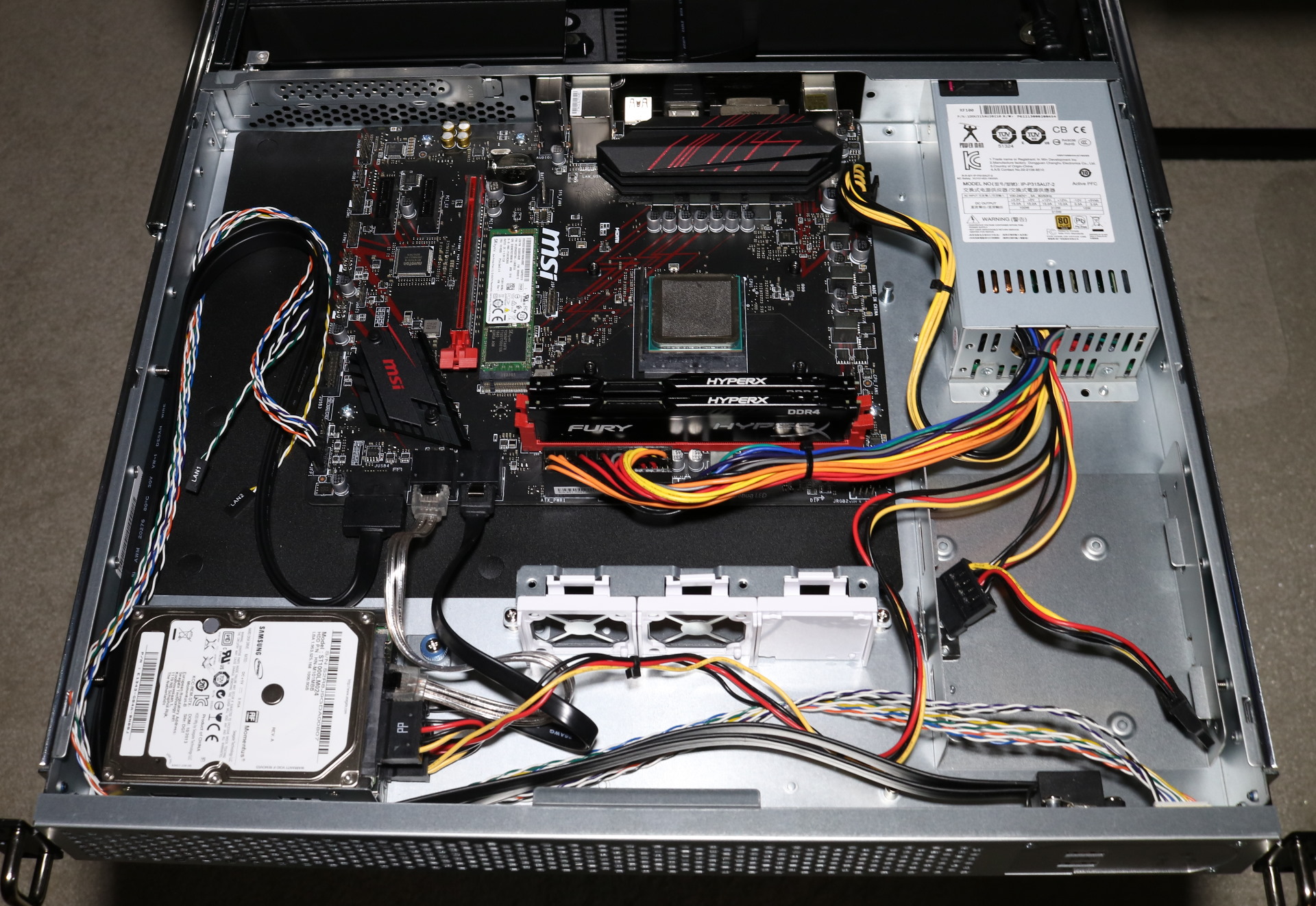 The coolers will be tested on an AMD 3000G CPU within a 1U setup. There will be barely any airflow inside. The only active fans are the CPU fan and PSU fan. There is no other.
The CPU is rated for 35watt.
The cover will be closed when testing. Ambient temperature was 25c.
The testing method
There are two tests for each cooler. I am going to run a Blender file in 2 settings.
One is by using 4 threads (100% load). The other is using 2 threads (50%) load. The PWM setup in BIOS is as below. The tests will be run 10 minutes each.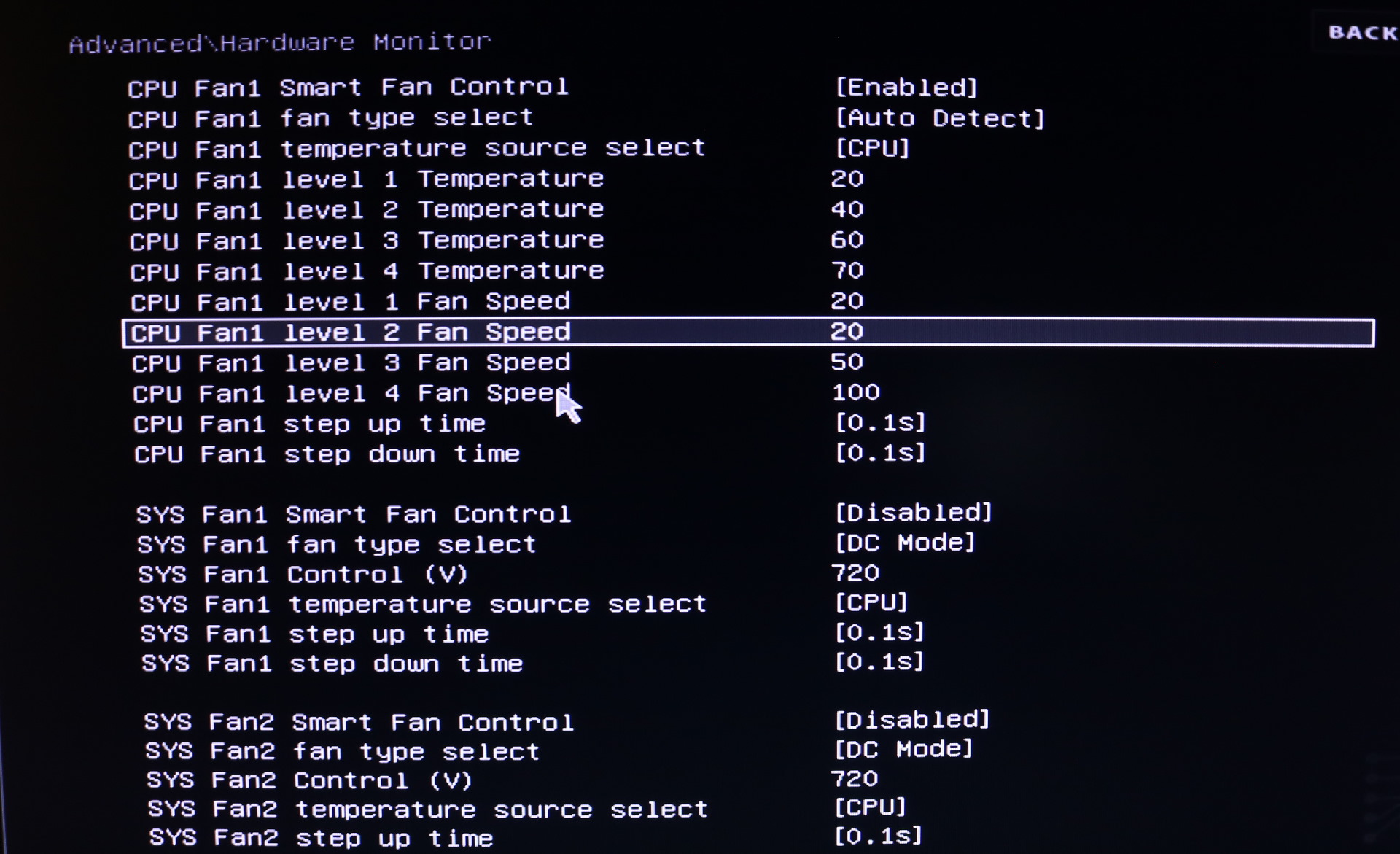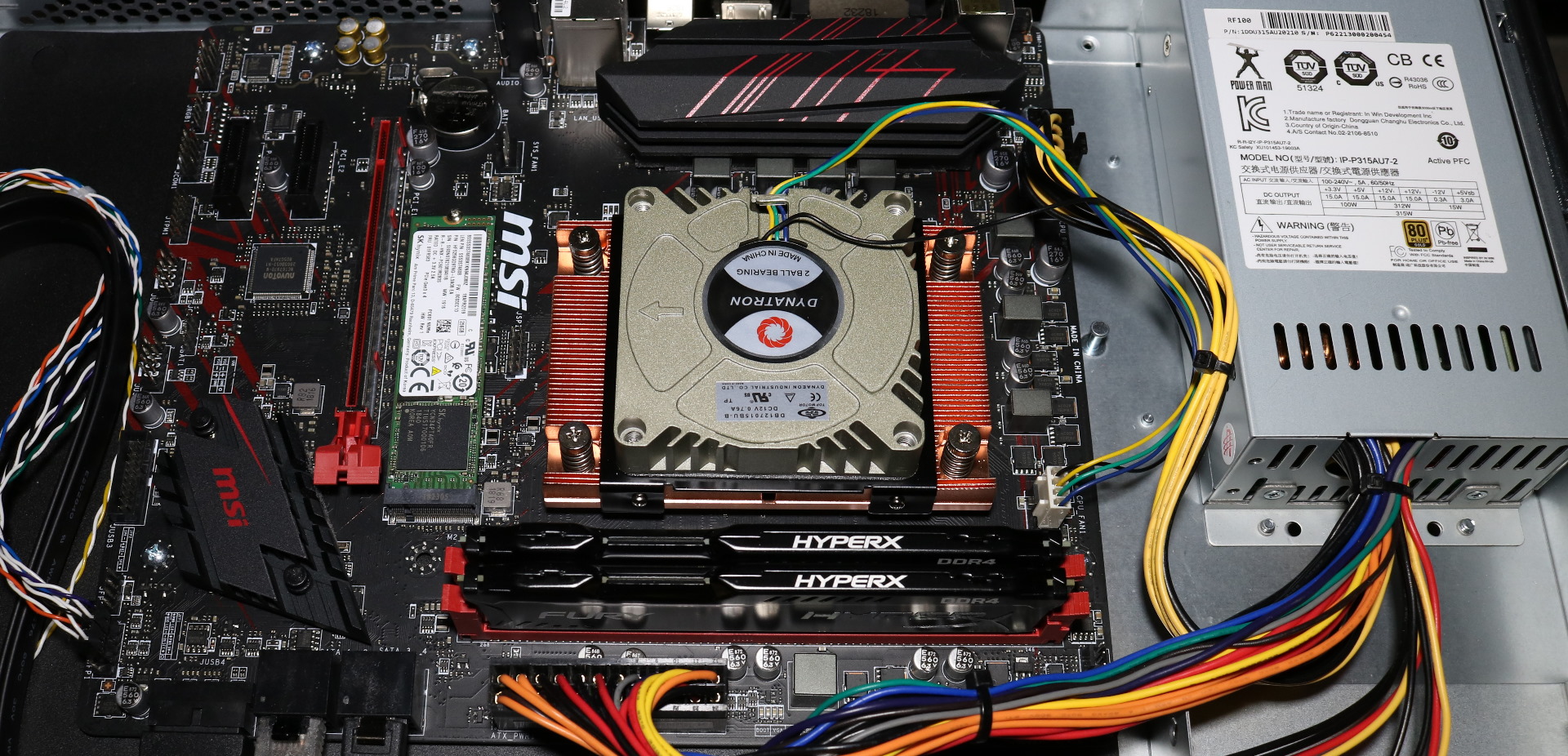 The results
The Dynatron cooler was clearly superior. But then its fan also runs a lot faster.
Gelid slim silence AM4 was 72c at 50% load and 86c at 100% load.
Dynatron A18 was at 63c at 50% and 76c at 100%.
Do note, at this point, that the max RPM for both coolers are 2,600 and 6,000. A18's fan spins more than twice faster.
The sound level
I am not going to measure dBA level because I don't have the tool, and objectively the Dynatron cooler is going to be louder. I will give my subjective opinions briefly however.
At 100% fan speed, the Dynatron cooler was clearly objectively louder. However, the Dynatron cooler was clearly superior in terms of cooling, meaning you could get by setting PWM setting lower than Gelid cooler. At 50% fan speed, the Dynatron cooler noise was tolerable. If you set it at like 25%, I doubt you will hear it.
At the same time, unless you set its PWM setting very strictly, you are going to notice A18's fan spinning up and down because its fan speed varies greatly.
GSS (Gelid slim silence) does not have this issue until its fan kicks in at 100% speed.
My conclusion
For a quiet setting, I would prefer GSS.
At the same time, A18 isn't that bad, either. Either one works is what I am trying to say. A18 will need a more strict PWM setting in BIOS whereas you could go easy on GSS's PWM setting.
A18 was readily available within North America whereas there was no GSS. I did find it in UK and Hong Kong.
A18 was 59 USD. GSS was 22 USD.